Let's start with understanding who this article is written specifically for. If you're interested in hiring a website designer for your business or next web design project, you're certainly in the right place.
If you are seeking actionable steps to ensure you make the right choice on your next web design project, this is for you.
Whether you're a small business just starting out, a professional organization looking to increase digital presence, or something in between, this is for you.
If you're a business owner, and you're thinking about redesigning your website, this article is for you.
If you're a system admin or an employee of an organization looking to improve their current website, this is also a great starting point for you.
In this article, we endeavor to get straight to the point and give you the resources necessary to make informed decisions. We also will admit that many of our competitors, other website designers and developers, probably don't want you to see this information. Many web designers cloak themselves behind technical wording and difficult explanations, and don't like their processes to be put out into the open.
We on the other hand believe in transparency, and we like to explain our processes from beginning to end on how to hire a website designer. We will walk you through our exact process for getting the job done right the first time, and the 6 most common mistakes that you want to avoid.
Mistake #1 – Paying Too Little
There are many mistakes that can be made when looking to hire a web designer, the first mistake: Paying too little. There are reasons why companies will pay too little for a website. In many cases, it has to do with budget constraints.
In a perfect world, budget isn't an issue and one could go and hire the best designer and developer in the world to build their new website. The reality is different in most cases, there can be predetermined budgets set out by the administration or other reasons why a website project requires a smaller budget. While we certainly do not advocate that you overpay for a website, we also want to make a point that not having an appropriate budget can drastically and negatively affect the outcome of your website design. Being seduced by a low price or discounted offer, oftentimes is correlated to cutting corners and not taking the steps necessary to ensure a successful project. One must consider the opportunity cost and the risk that comes with it.
What is Opportunity Cost? How Does It Relate to Web Design?
Opportunity cost is an item that is of great importance, risking spending your time and energy as well as money and not getting what you need in return has a tremendous cost, more so than just the dollar figure. Your time is something that you cannot get back and you do not want to waste time iterating something that eventually will be redone. When you have a low budget, you essentially are saying that you want to hire a low-cost web designer which primarily means compromise and lack of experience. This lack of experience could show itself in the;
Utilizing a pre-made theme or the same theme for all projects.
Not getting the full package
Not benefitting from a breadth of knowledge
Not "Speaking the Language" (CSS, JS, HTML)
Paying for someone to learn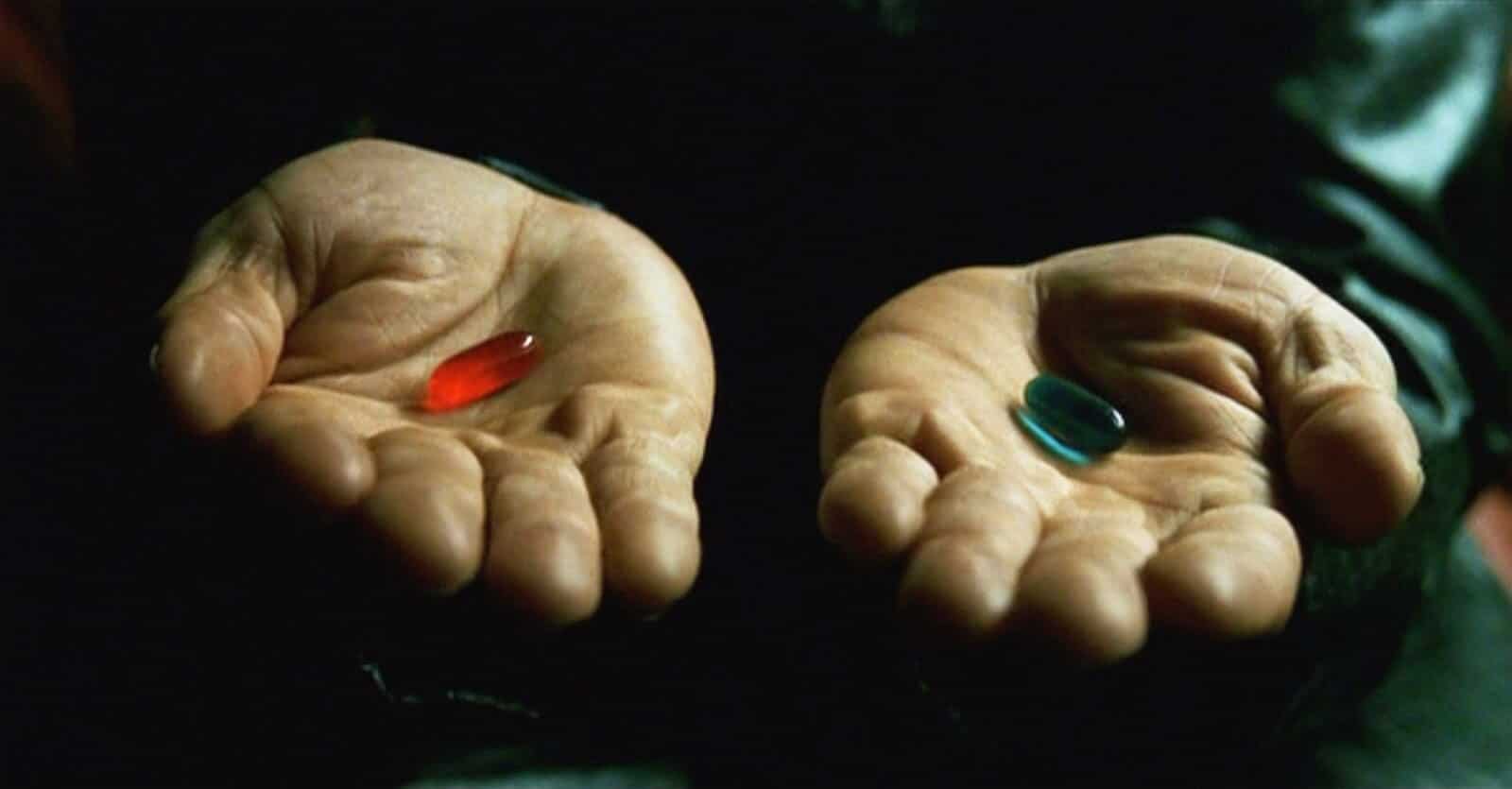 Many people go into a website design project thinking that they have a certain budget and the less they spend, the more money they'll have for other expenses. Therefore, when they opt to use Squarespace or Wix or some other drag and drop website, and they think that they've saved money and time, while not considering the opportunity cost associated with this decision.
Instead of going into a web design project, thinking "How can I spend the least amount of money?" Consider opportunity cost and think about while you may "save money" choosing a discounted web design service provider, you are not considering your personal time, effort and energy you will eventually put into a project, and likely not be able to do it at a professional level. Hiring a website designer near me or someone that understands how to properly create your website, while more expensive, will reduce your workload.
Some questions to ask yourself about opportunity cost:
What will be your overall profit in return for the additional expense?
What is the value of your time?
We often hear website owners intend to manage their website themselves. We explain that the value of their time usually is not worth the expense they incur when hiring us to do the work. If an owner of a website will spend three hours attempting to update something on their website and they can have us fix it in 15 minutes, whatever the fee may be, this is a better use of their time, allowing them to focus on operation and sales relating to their business, not website management.
Additionally, spending time with a website designer that doesn't have the right skillset also means that you were spending time and resources that you can never get back. Let's use an analogy of building a home. Could you potentially build a house for yourself? Maybe, could you do all the electrical and plumbing? possibly. However, no matter how much time and effort you put into it, you are not a professional home builder or electrician. And therefore, the quality of your work will never meet the standard of that professional. We believe that this analogy holds true with web design since most do not have the skillset to be professional digital marketers or web designers, nor do they understand how to get traffic and how to understand the users that are interacting with the website. So not only do you spend time building a website that is not as effective as it should be, but you are also not getting a high-quality product from somebody that does this type of work full time.
Potential Scams
Something else to consider when working with a lower budget web designer is the risk of a scam. Within the web design and development field there are limited barriers to entry. WordPress and other similar website platforms are open-source, which means that any designer from anywhere in the world can affect updates. It may be interesting to find a low budget individual to work on your website, but what happens when you compromise security? What happens when you don't have the knowledge to understand that this individual could potentially cause long-term harm to yourself, your customers and your reputation based on their actions on your website? Therefore, the price per hour should not be the only consideration when looking to hire someone to work with you.
Before paying too little, remember that your website is a representation of you and your company. It should always be the best version of who you are and what you are about. Make an investment in quality, and spend accordingly.
Mistake #2- Paying Too Much
The second mistake that can be made when hiring a web designer is paying too much. This is the exact opposite of mistake number one. There is a myth that if you hire a professional company then you will receive a "real website", in reality, every website is primarily built from the same foundations, whether it is a $50 template or a million-dollar website.
Whether these are major retailers and brands or any other website on the web, when looking at the source code, it is all the same. The fundamental foundations for all websites include:
So, taking this into consideration when hiring a web designer, it's not that you're really getting something different, but you are paying for expertise and a much higher quality version of effectively the same product.
Many people have the idea that working with a large agency to build their website is a good idea because they're going to do a better job. How about the huge office, bloated staff, and ping pong tables? Who's paying for that stuff? Well, you are. The price of your website will reflect all these expenses. You are at risk for paying for someone else's large staff and rental space. Often these huge companies have enormous bills, and they pass those bills onto you, the customer. Don't be lured in by super modern offices or the belief of one-of-a-kind solutions. Nor should you give too much credit to technical slang and jargon. Don't pay someone else's office rent, just focus on the result and the benefit to you. Do your research and find the best options available to you.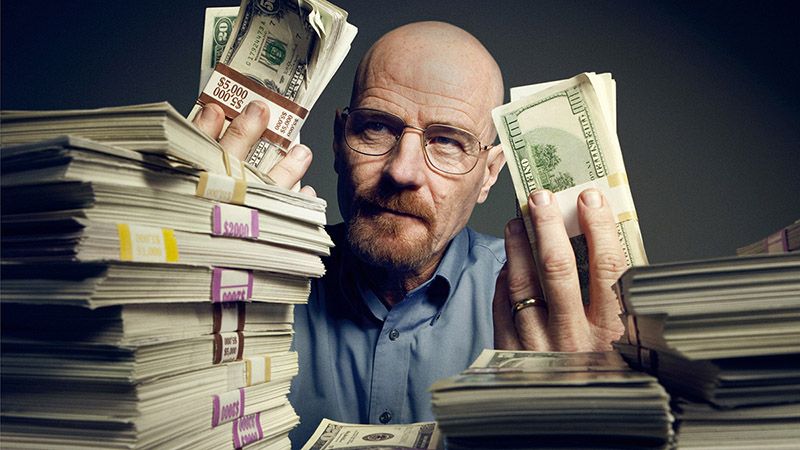 What all of this essentially comes down to… the end result and whether it is worth it. Can you hire a large company and pay a huge sum of money for a website, yes. Can you probably hire a smaller company that will do the same work and charge you less, absolutely. Depending on where your business is at, this should likely dictate how much you spend. A startup has different needs than an established business and vice versa. Don't overspend in an attempt to get something unique or that's a unicorn, when spending more appropriately for your particular business type or position may make much more sense in the near term.
In these large agency situations, we believe in general that you will work with a lower-level employee that is new to the team, and you have very little interaction with the higher up staff.
At the end of the day, you must focus on the end result.
Do you like the work of the agency?
Are you satisfied with the individual that you're in contact with?
Do they have a great portfolio?
You need to follow your gut. In these cases, you may end up with a great website, but you have paid too much, and instead have less money to invest in promoting your brand online, on Google Ads, social traffic, et cetera. You will risk being disappointed if you do not get an extraordinary product.
Mistake #3 – Hiring A Designer To Build Your Website
The third mistake that can be made is hiring a designer to build your website. Let's make a few things clear.
A designer needs to focus on design
There's a term in the web development sphere called full stack. What it essentially means is that an individual is both a designer and a developer. These people are hard to come by. One of the mistakes we find often is hiring a designer to build your website. A designer is essentially a graphic artist that works on the aesthetics of the website, they design in tools like Adobe XD or Figma, focusing mostly on the front-end user experience and not on the development part.
A designer is not a marketer
These designers, although good at what they do, don't offer what you need because they do not able to understand and express the purpose of the website which is to convey value about your product and service in order to bring you more business. This individual may not be able to understand and express what the purpose of the website is. At the end of the day you want to hire someone who knows what they are doing and will not waste your time or your money. So, what is the primary purpose of a website? Is it to look good? We don't think so. We think that primary purpose is to explain your product and service and bring you more business.
Having an agency or a web designer that understands marketing on your team is the best step you can make. They can identify who are the different types of people that are coming to your website? What are they specifically looking for? What steps do you want them to take? And understanding how to take that information and make them convert into leads and then customers is what the name of the game is all about.
A designer is not a developer
When you hire a designer to build a website, this can be a costly mistake. Designers should be focused on front end elements, not on development inside of WordPress or Shopify. These are two very different skill sets and need to be done by different individuals. A developer has a true understanding of coding language. While may not be a designer themselves, they can take an approved design and build it perfectly inside of a content management system. This skill takes the best version of the content created by a designer and gets it built by a developer on the platform. Do you see the difference?
In conclusion on this subject, having a designer build a site and having a designer be your marketer or developer, these are all mistakes. Make sure that when you choose a website designer, you are focusing on the end goal, not on the design only. Make sure that your team understands mobile responsivity and builds with that in mind. Ensuring that you have the right people in the right places will become a huge benefit for you in the long term.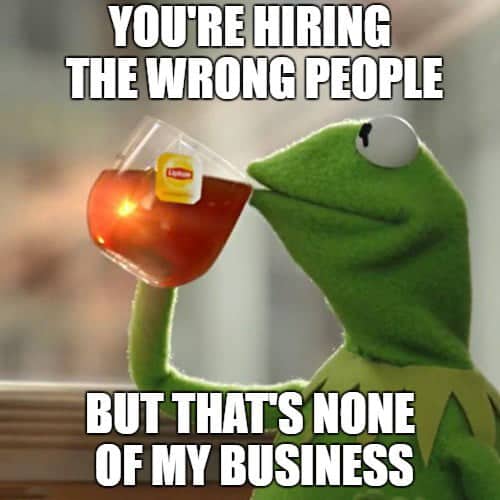 Mistake #4- Content Management Systems
When hiring a web designer, the fourth mistake is not getting a content management system, which allows you to make updates and edits as needed. There is nothing more frustrating than not being able to make simple updates to text, posting a blog, etc.
Having the ability to edit content, change design elements, add different elements with just a few clicks of a button is what it's all about. Its time saving and it's cost effective.
When building a website many people only think about the front end, meaning the aesthetics and how the website looks. They don't take the backend or the content management system into consideration. Having a content management system in place for your website will save you time and energy and be beneficial to the longevity of your website.
One of the most well-known content management systems is WordPress, it is a relatively easy, they can behave differently and have limitations.  There are many drag and drop options like Wix and Squarespace and others, all of which can have benefits and drawbacks.
Before you hire any company or web designer make sure that you understand what content management system and backend you are receiving. Make comparisons with other companies to make sure you are getting the best option possible for you.
A website that requires custom coding for basic elements, as opposed to a simple backend that you can edit almost anything on has a big difference of time and energy and is important to the longevity and health of your website.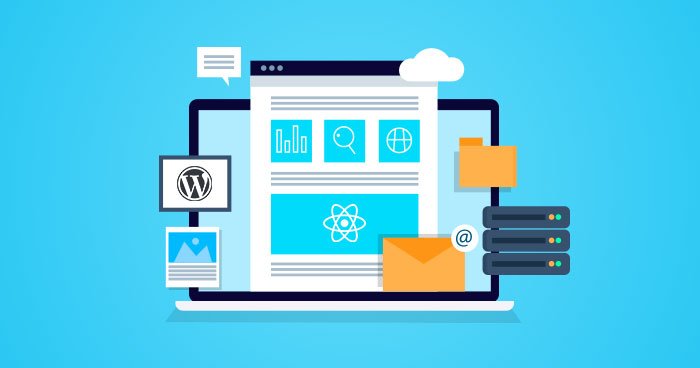 Consider this chart for populatity of content management systems (There are plenty more available). While you have many options, we feel that choosing WordPress or Shopify is the right choice in most situations. Of course, your particular case may be different, and its important to do a thorough needs assessment to choose the right CMS that works for you and your business.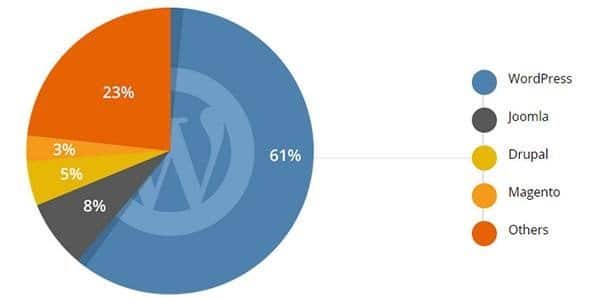 To wrap up this section, make sure that you have the right people in the right positions, (or you hire a company that has the right people in the right positions!), having a designer build your site, or a designer be your marketer or developer, these are all mistakes. Make sure that when you choose a website designer, you are focusing on the end goal, not on the design only. Make sure that your team understands mobile responsivity and builds with that in mind. Ensuring that you have the right people in the right places will become a huge benefit for you in the long term.
Read more: Common Web Design Mistakes
Mistake #5 – Not Doing Due Diligence
One of the most basic things that anyone should be doing is ensuring that the web designer you are going to hire has great reviews. Check them out on Yelp, on Google, on LinkedIn and other sources online. Do your due diligence.
You never go to a new restaurant without looking for reviews, right? So why would you hire a company without doing the research?
As yourself these questions:
What are people saying about the company?
Do they deliver what they advertise?
what their portfolio looks like?
how does their own website look?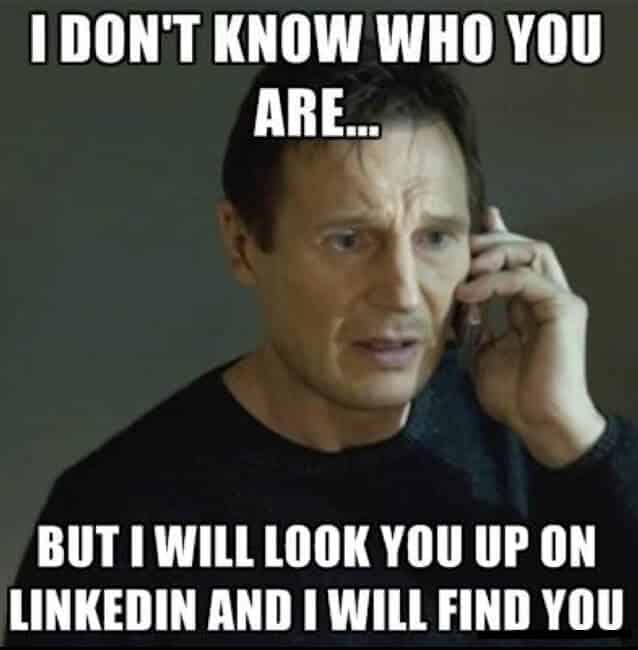 You don't want to hire a web designer whose own website is not excellent. Another main thing to look at is the experience that they have, and will their experience be beneficial to your company.
Go into detail, ask for references, and a list of websites that are examples of their work. Now, it is not absolutely necessary to have relevant experience with your particular business. Why do we say this? Because each website is a custom design, and should reflect your likes and dislikes, and be a representation of you. Therefore, the designer doesn't need immense experience in your field specifically, they should have a keen eye for design, and be at the cutting-edge of their fields. A great designer will be able to take your requests, and develop a mockup that is fantastic, and a great representation of you.
Make sure that the provider of web services that you intend to hire gives you a crystal-clear agreement on what they are doing and for what money and timeframe is involved.
Next, what does their work product look like? How is their website? What is their portfolio like? Check out how these websites look on mobile devices, on your phone, on an iPad. Much traffic comes from those sources and it's very important to see how these web designers interact and create a mobile interface. While many designers are very talented, ensure that they have experience relevant to your specific field. Make sure you feel confident in their process and how they go about developing and designing their work. This will ensure that you have the best success possible.
Read More: Does Your Website Need A Redesign?
Mistake #6 - They Don't Lead By Example
Mistake number six is not leading by example. Make sure that the web designer that you hire doesn't just talk the talk but that they deliver results.
You want to make sure that they are actual leaders in the area that you intend to hire them for. You want to make sure that your personal trainer looks great, your dietician understands food and nutrition, and that your chef really, really knows how to cook.  Remember that you want to hire a web design team that values your time and gives you the necessary details to make an informed decision. You don't want to invest in a designer who will not deliver what they say and will not do what you are asking of them.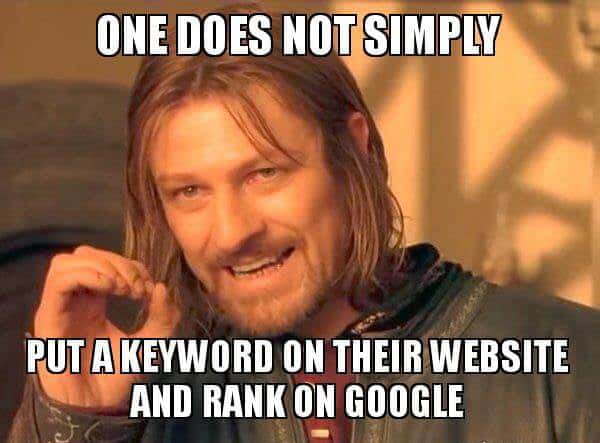 How does their website look? Is it fantastic? If they are providing search engine optimization services, do they show up on the first page of Google? Make sure that you are comfortable with the conversations and that it is very clear on the result of what you are getting. Are you ready to hire someone to design a website for you?
So you've seen these mistakes that many people make when hiring a web design company. And you know you need to answer the question of, I need someone to build my website for me. Allow us to make you an offer.
Read more: 20 Questions to Ask a Web Design Company Before Hiring Them