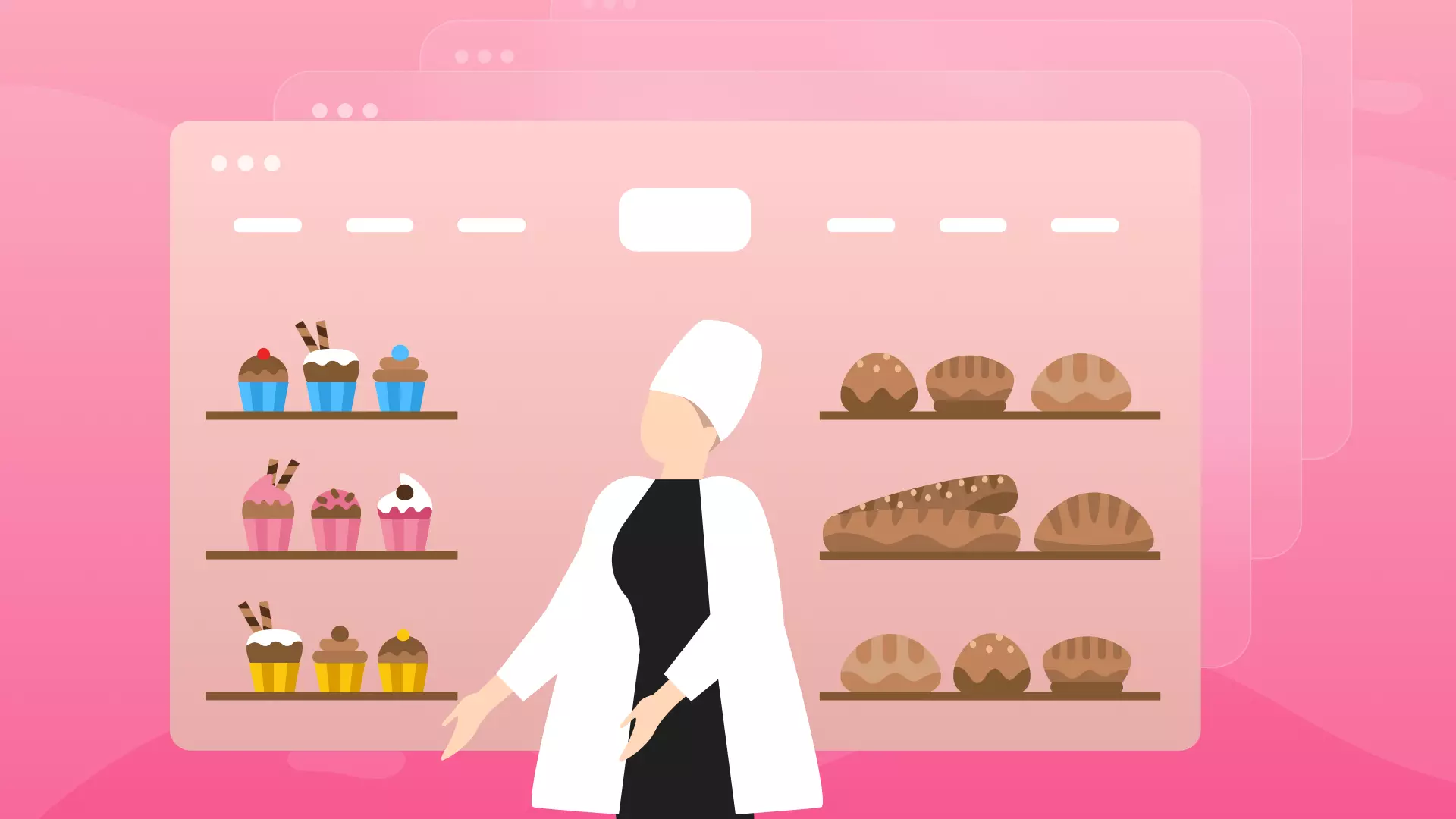 Bakery websites are a convenient way for customers to explore the expansive world of baked goods. But with so many options available today, the best bakery websites need superb design to stand out.
In this list, we show you the top examples of bakery web design to inspire your next project.
1. Magnolia Bakery
Why it works: Magnolia Bakery is on our list of best bakery websites, thanks to its use of bright colors, custom illustrations, and navigation. The product placements with stylized photo compositions are also a nice touch.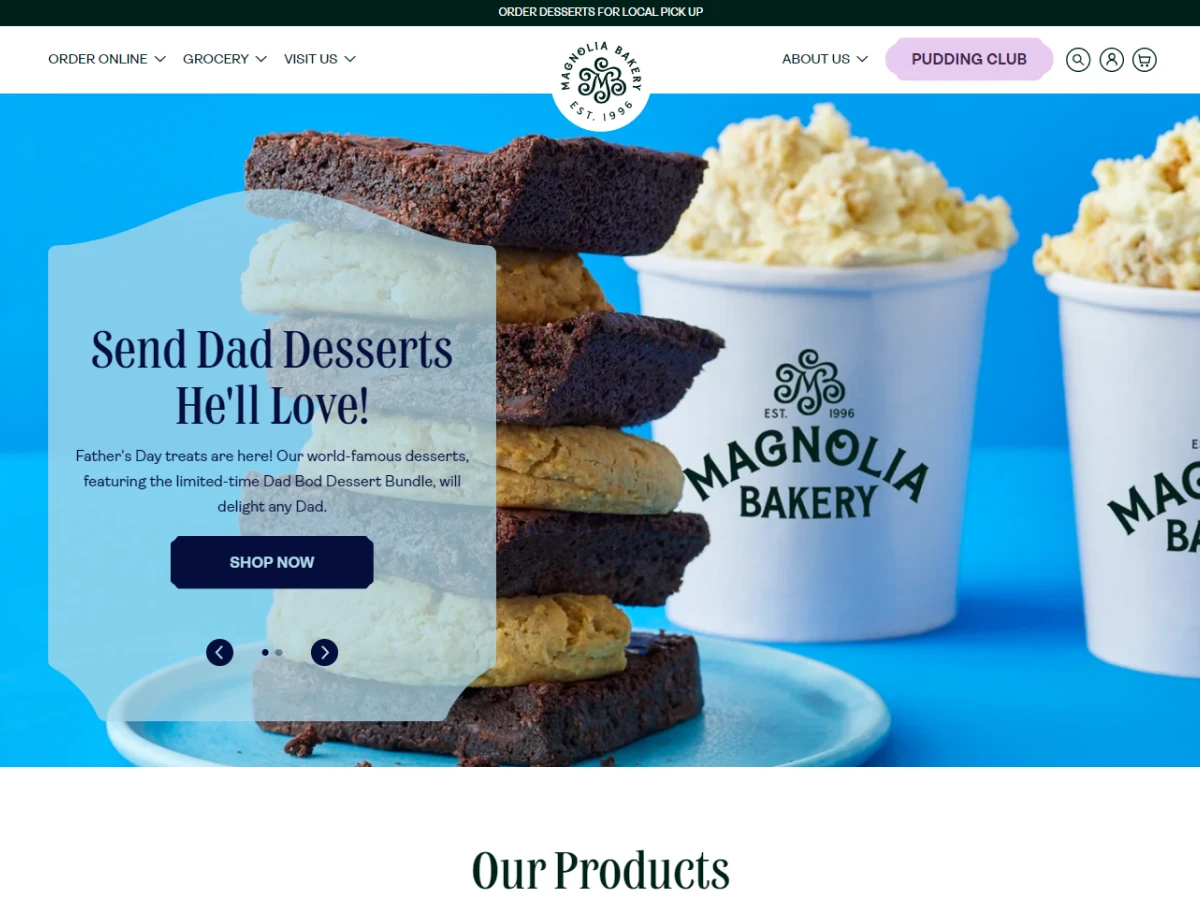 2. Mah-Ze-Dahr Bakery
Why it works: Mah-Ze-Dahr Bakery makes a good impression, from the opening hero video to the brilliantly crafted product cards and photos positioned throughout the site. This design is very well polished.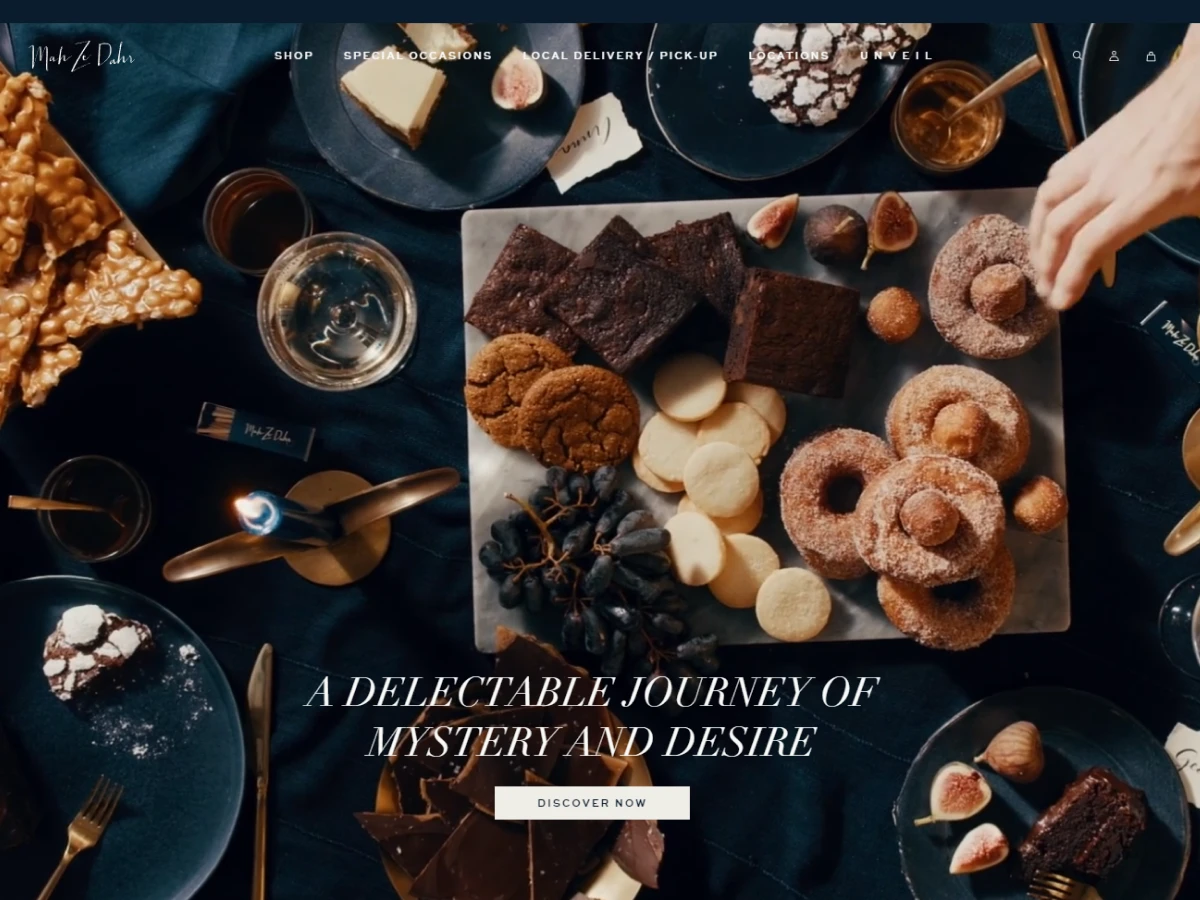 3. Alessi Bakery
Why it works: This bakery website has a beautiful branded tabletop photo as the hero image. It also benefits from a simple navigation menu and helpful secondary navigation options.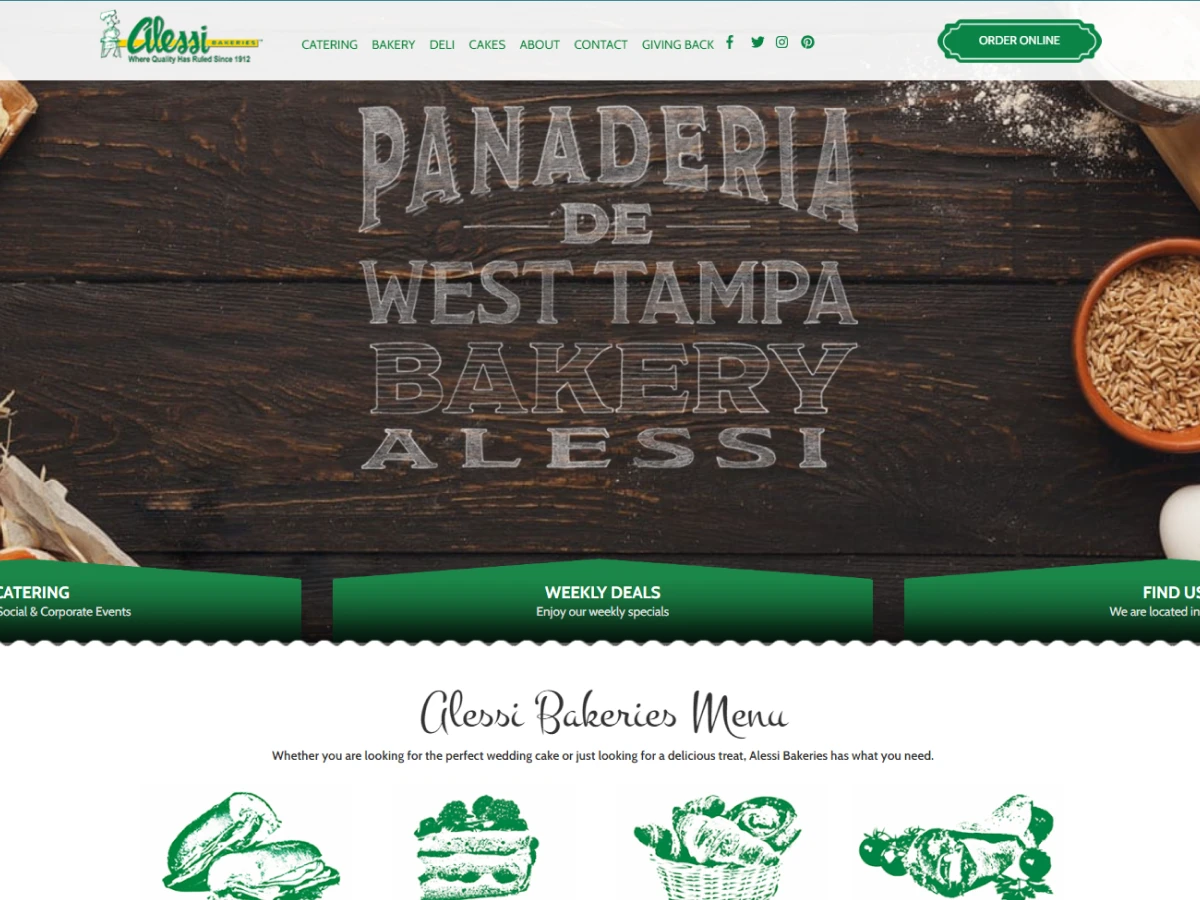 4. Carlo's Bakery
Why it works: If you want an example of a website that uses photos the right way, look at Carlo's Bakery. It's packed with dozens of excellent product photos and images.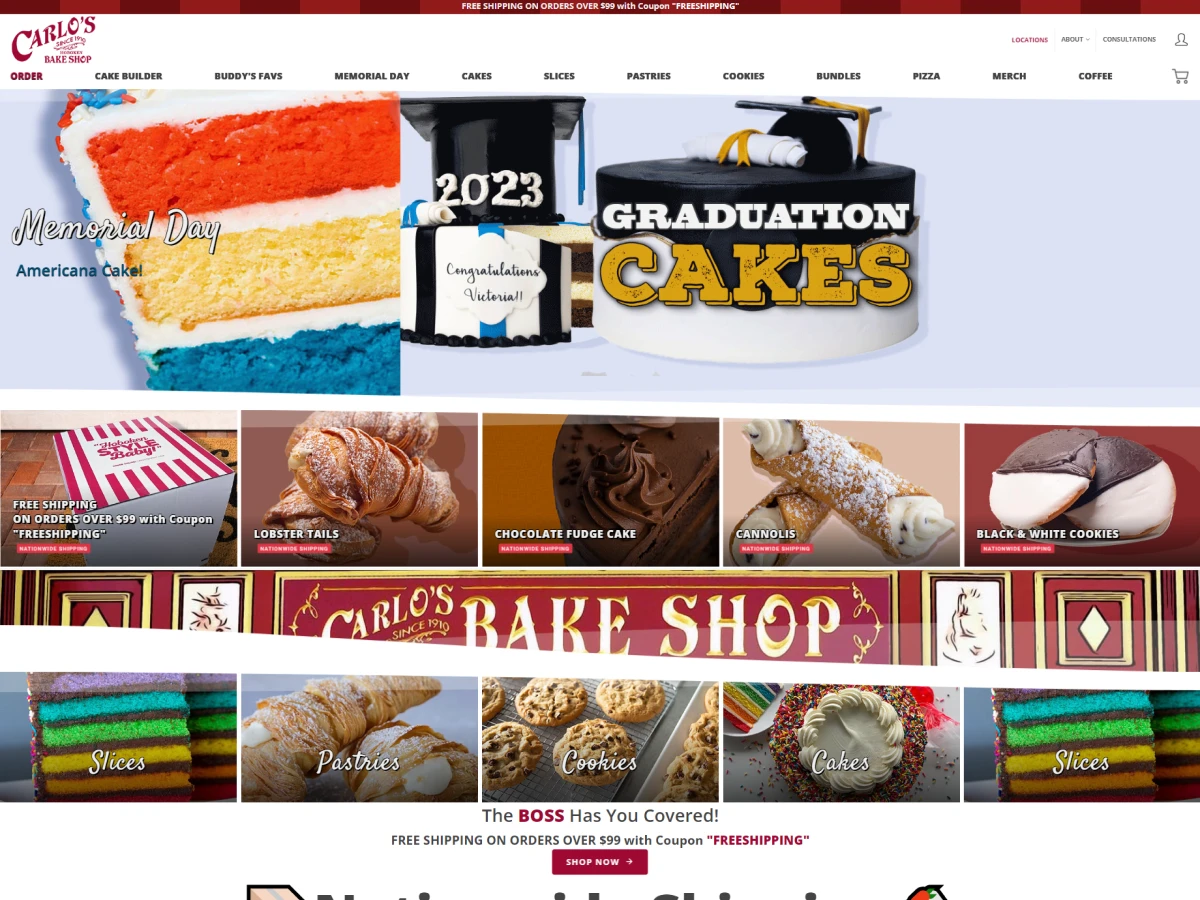 5. King Arthur Baking Company
Why it works: King Arthur Baking Company strikes an excellent balance between the use of images and text. The website also effectively utilizes product reviews and testimonials.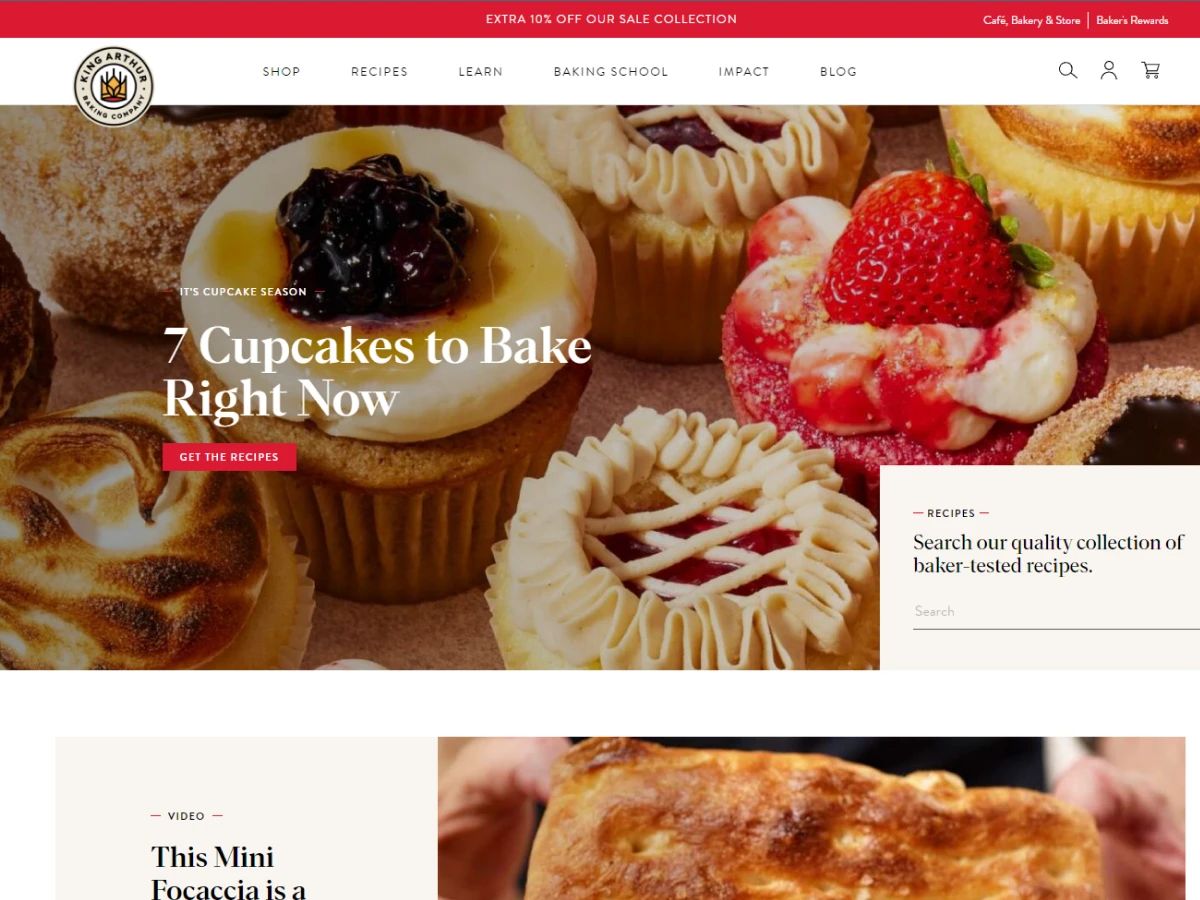 6. Sweet Mae's Cookie Company
Why it works: Right away, the dynamic text and custom-shaped frames caught our attention. There are so many amazing elements like this on this bakery website.
7. Levain Bakery
Why it works: This site effectively uses clipped product images and navigation cards with custom illustrations.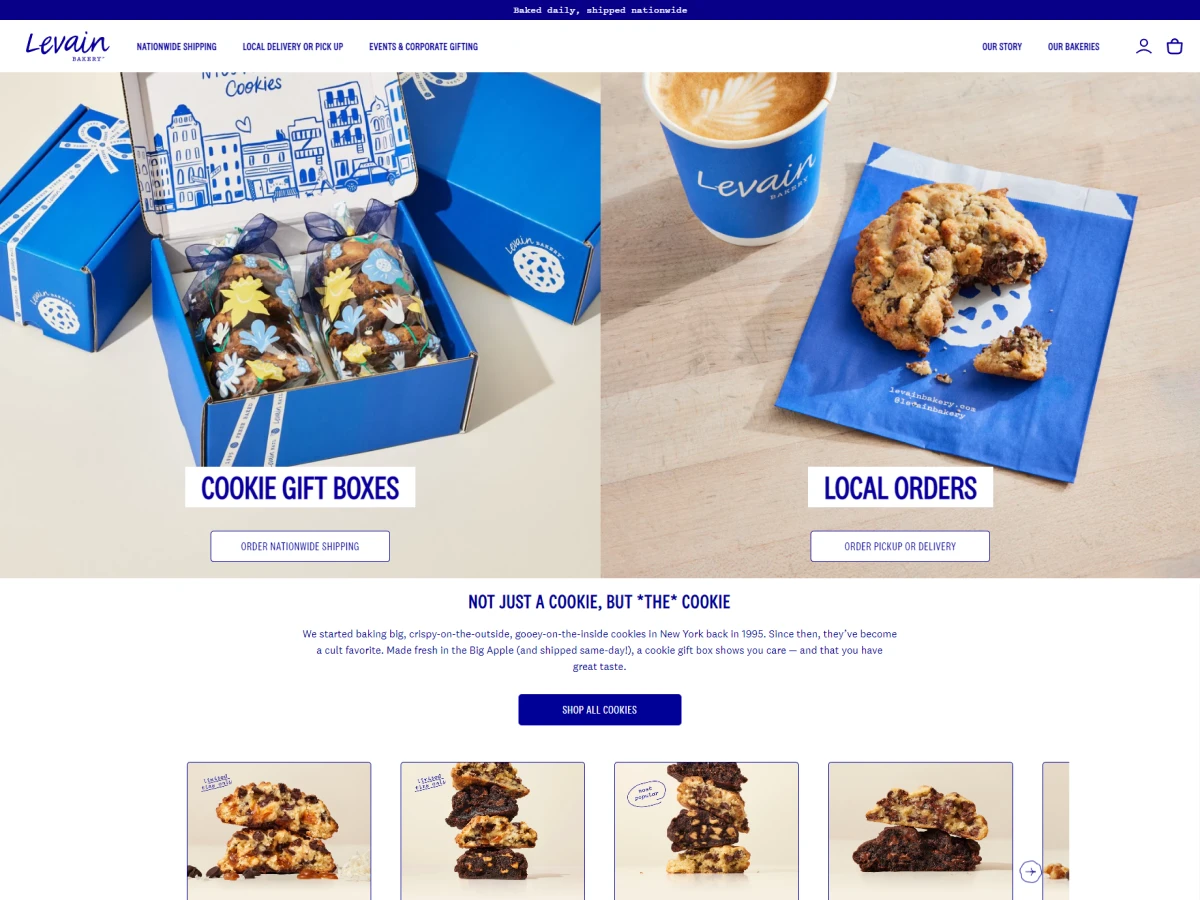 8. O&H Danish Bakery
Why it works: Some bakery websites have a brand feel that generates interest right away. O&H Danish Bakery's website is one of them. A great logotype, interesting product choices, and authentic family photos combine to make for a top-notch design.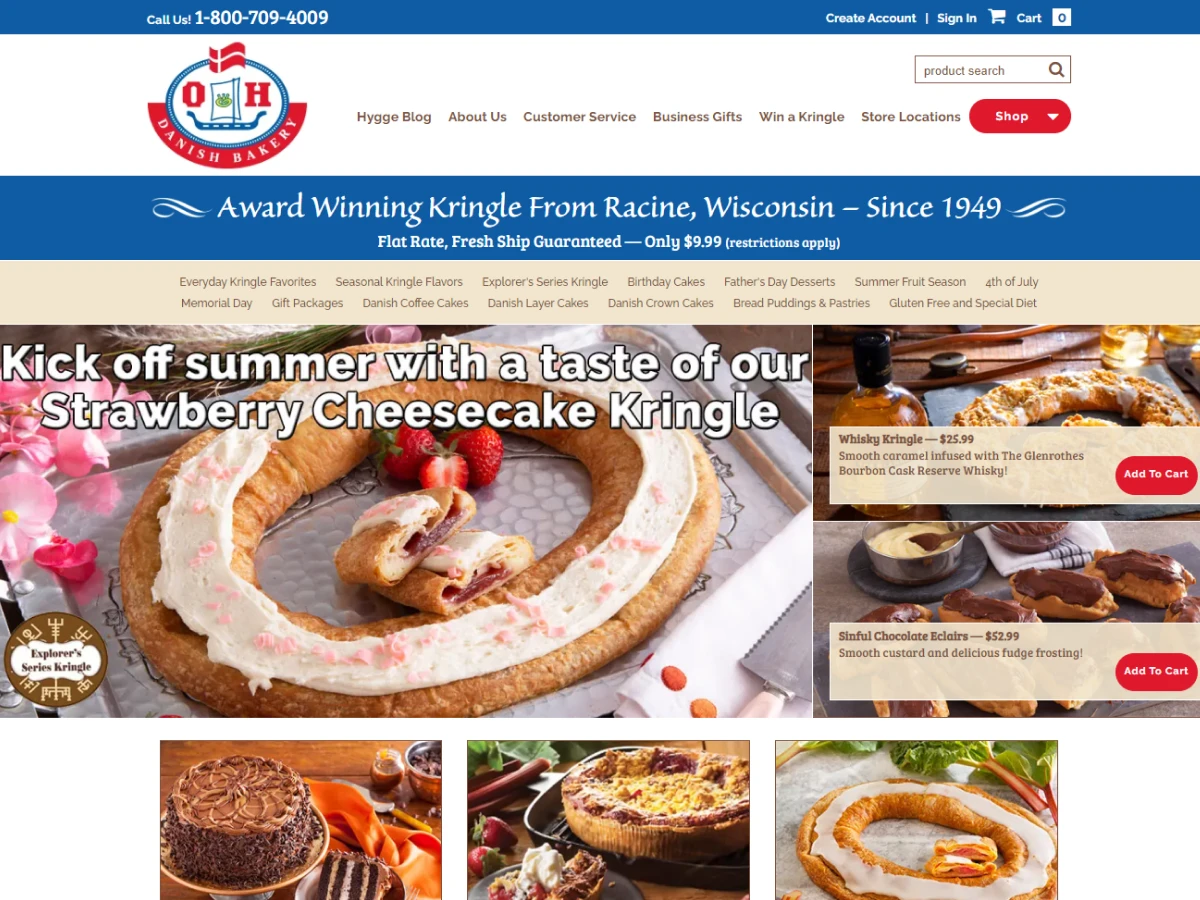 9. She Wolf Bakery
Why it works: Sometimes simpler is better, as is the case with She Wolf Bakery. This bakery website does a fantastic job of utilizing a minimalist design. There is plenty of whitespace, the text is spare and to-the-point, and the product images are excellent.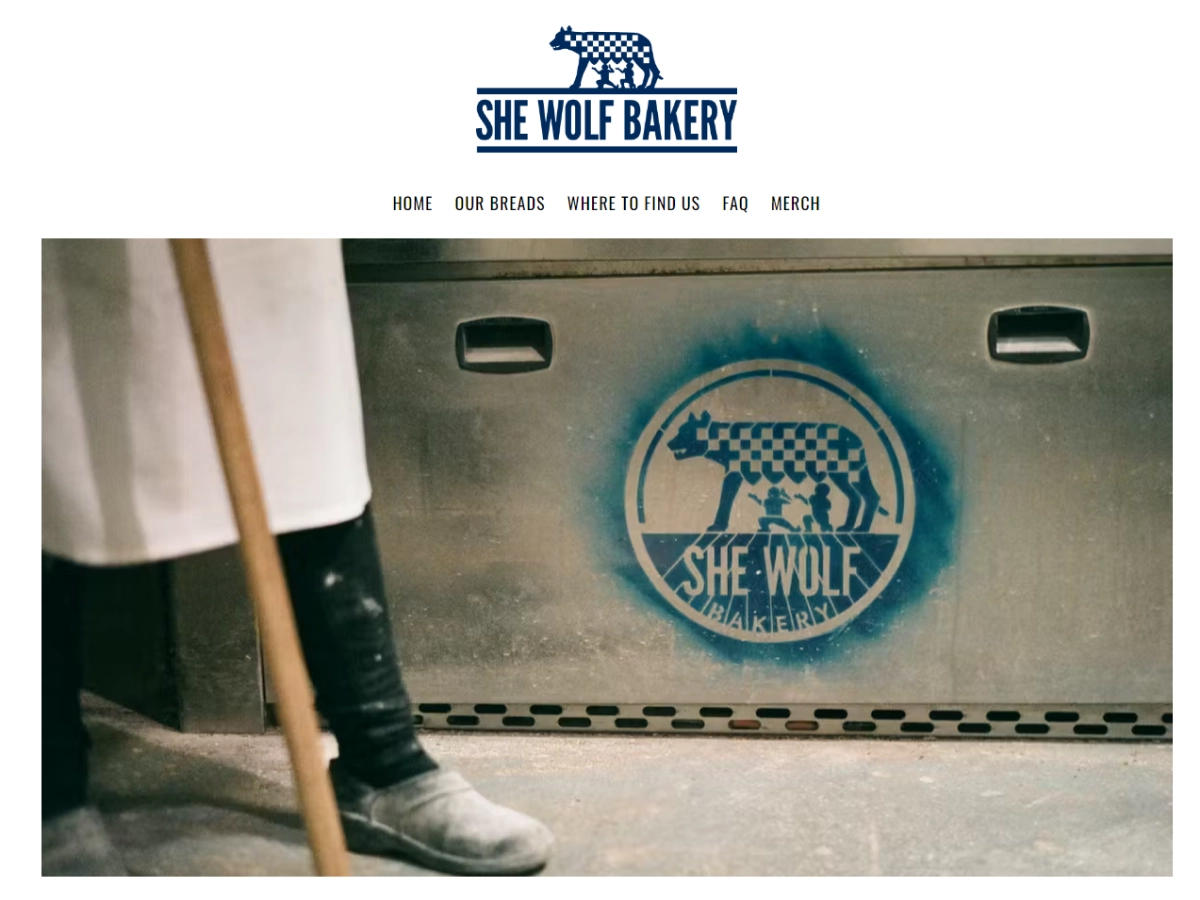 10. Five Daughters Bakery
Why it works: Five Daughters Bakery has a fun centralized logo, easy navigation, and an effective grid layout. We like the simplicity and heart-warming feel of this authentic bakery website.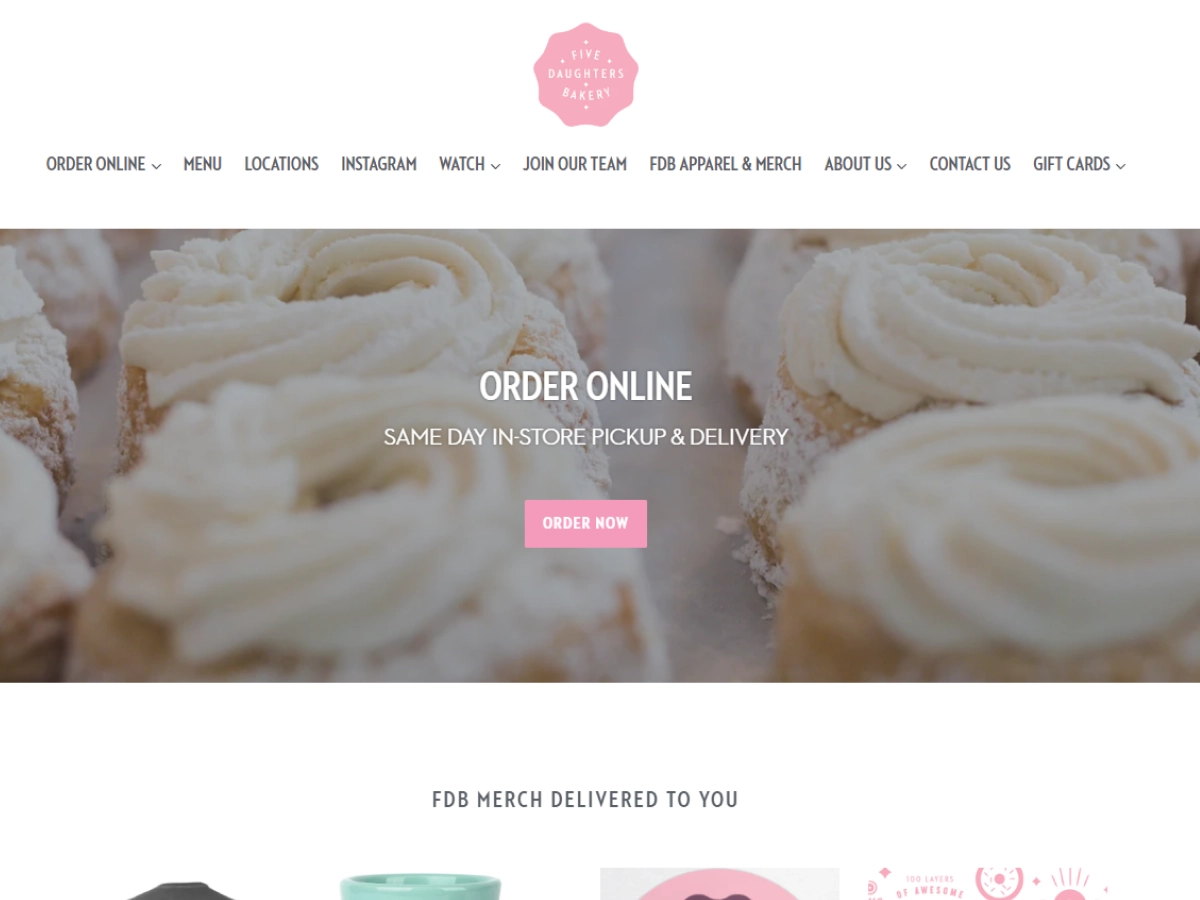 11. Ithaca Bakery
Why it works: Ithaca Bakery's website has an unusual and delightful navigation menu. The entire site revolves around the unique navigation, which makes it feel like you're standing in front of a brick-and-mortar store.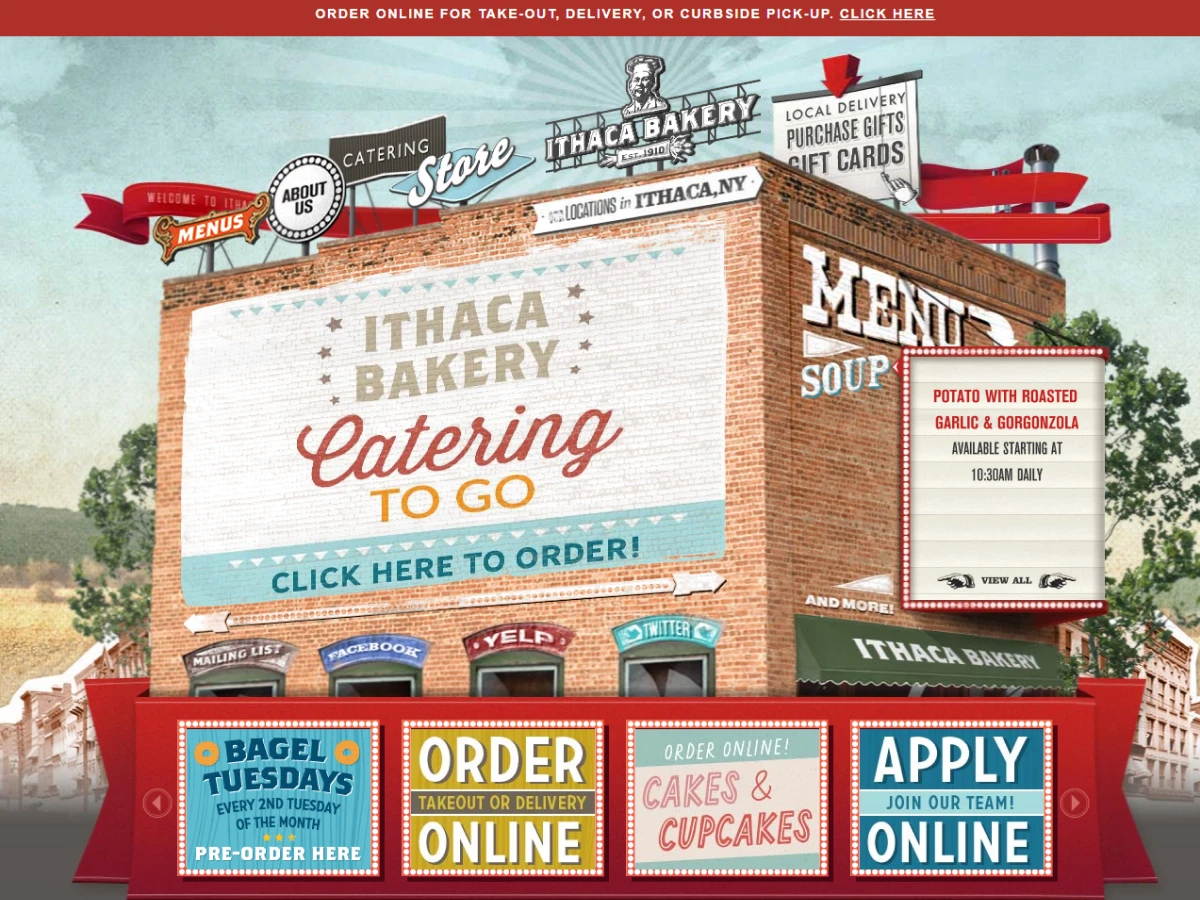 12. Emporium Pies
Why it works: Emporium Pies opens with a lovely header image that sets the tone for this creative bakery website. There are several excellent design elements on this website. Some standout sections include the Pies page and the Order Now page.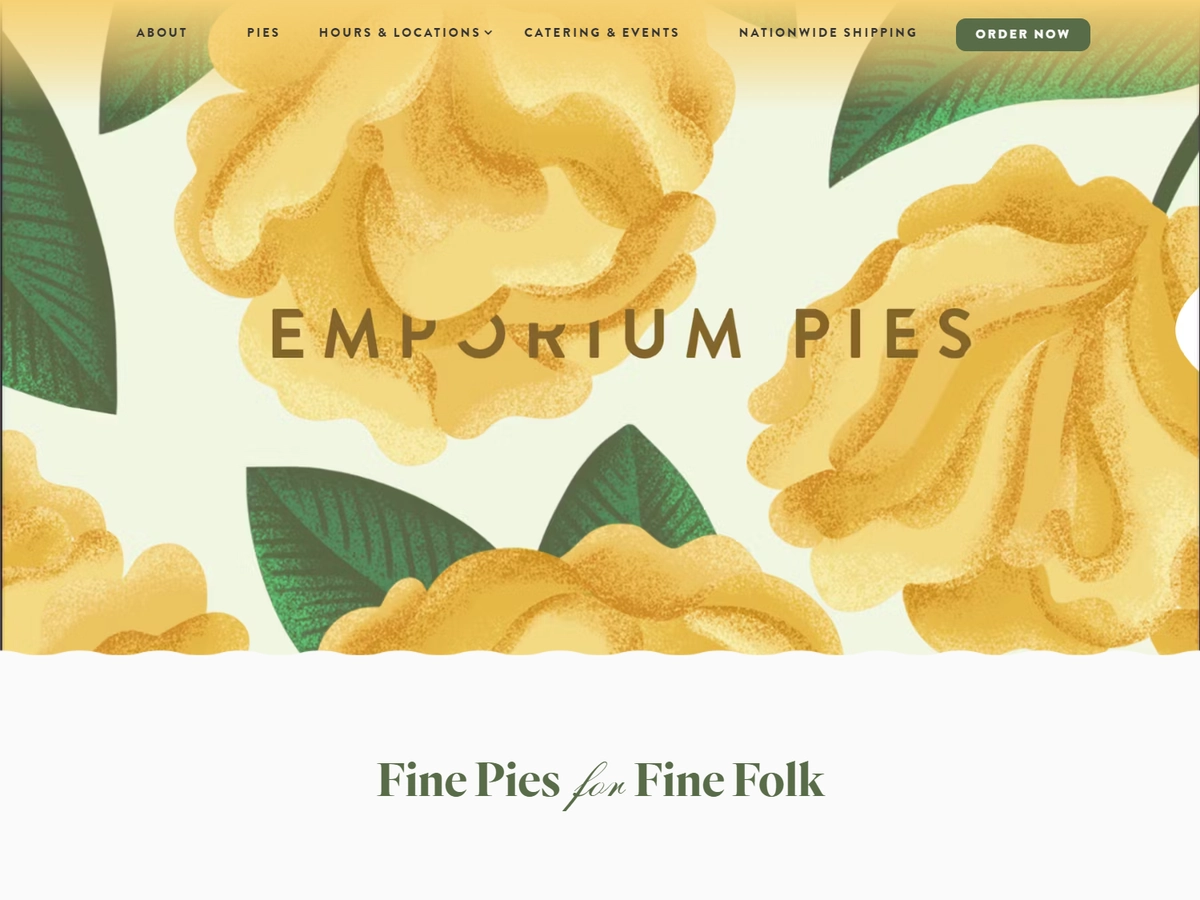 13. Porto's Bakery
Why it works: Porto's Bakery is a superb example of a professional bakery website. This is one to emulate if you want ideas for how to utilize CTA pop-ups, or arrange product photos in a split-layout image carousel, or create a compelling Menu page.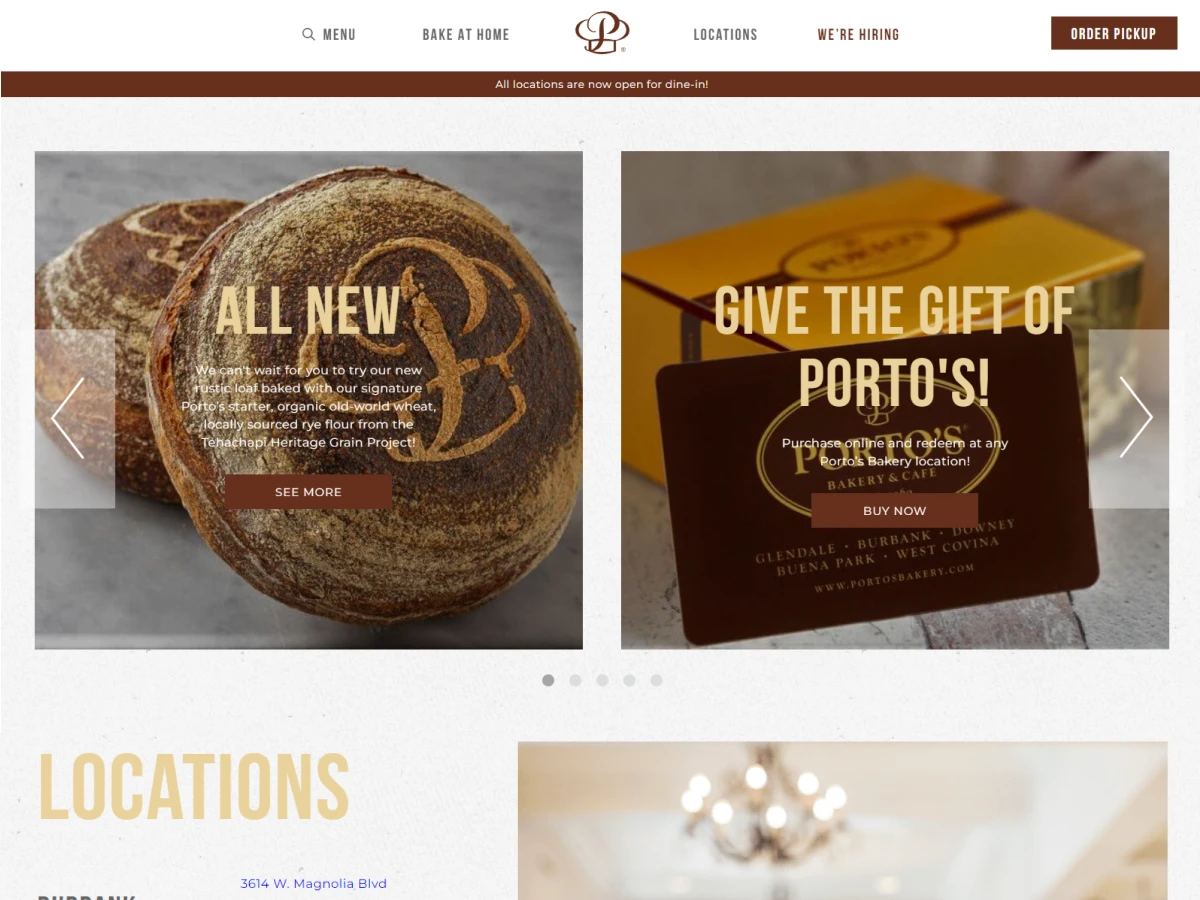 14. Bakery On Main
Why it works: Of all the websites on this list, Bakery On Main possibly does the best job of showcasing its products. This can be seen in the products that dominate the hero image to the various product pages in the main content. Products are everywhere!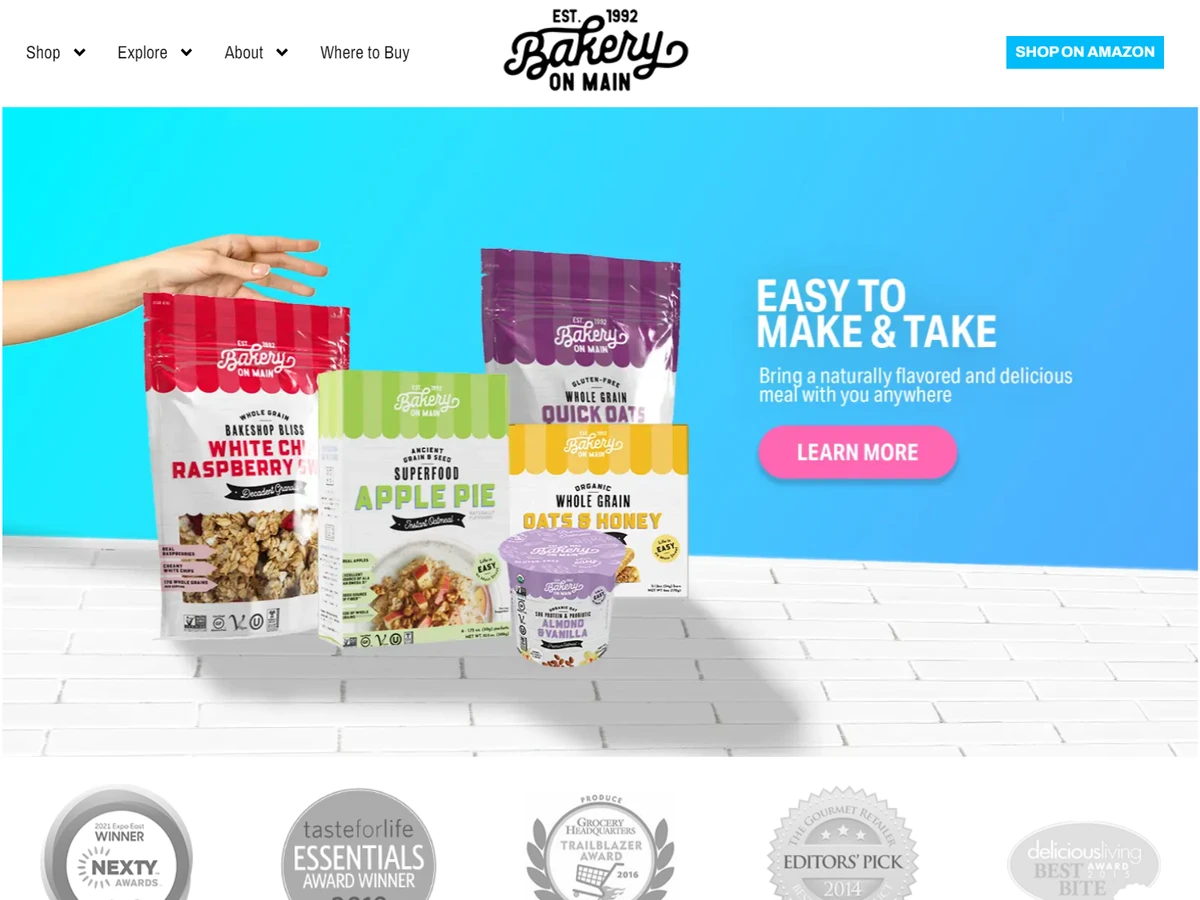 15. Bakery Nouveau
Why it works: Bakery Nouveau's website expresses the company's unique brand with beautiful menu photos and straightforward pages.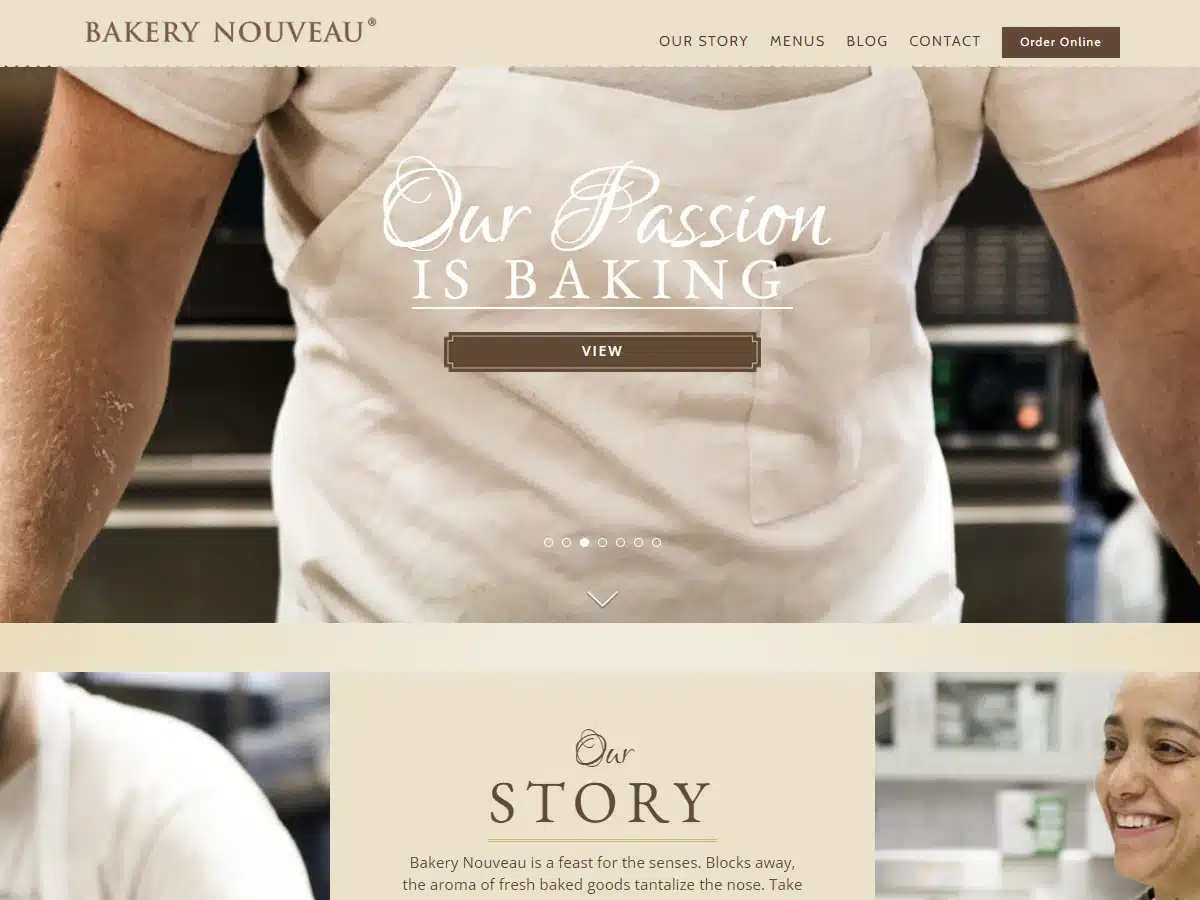 16. Collin Street Bakery
Why it works: There are several effective elements on Collin Street Bakery's website, such as seamless video integration, an easy newsletter sign-up, and an intriguing hero image slider. Additionally, the site benefits from a red, white, and black color scheme and a "large store" feel.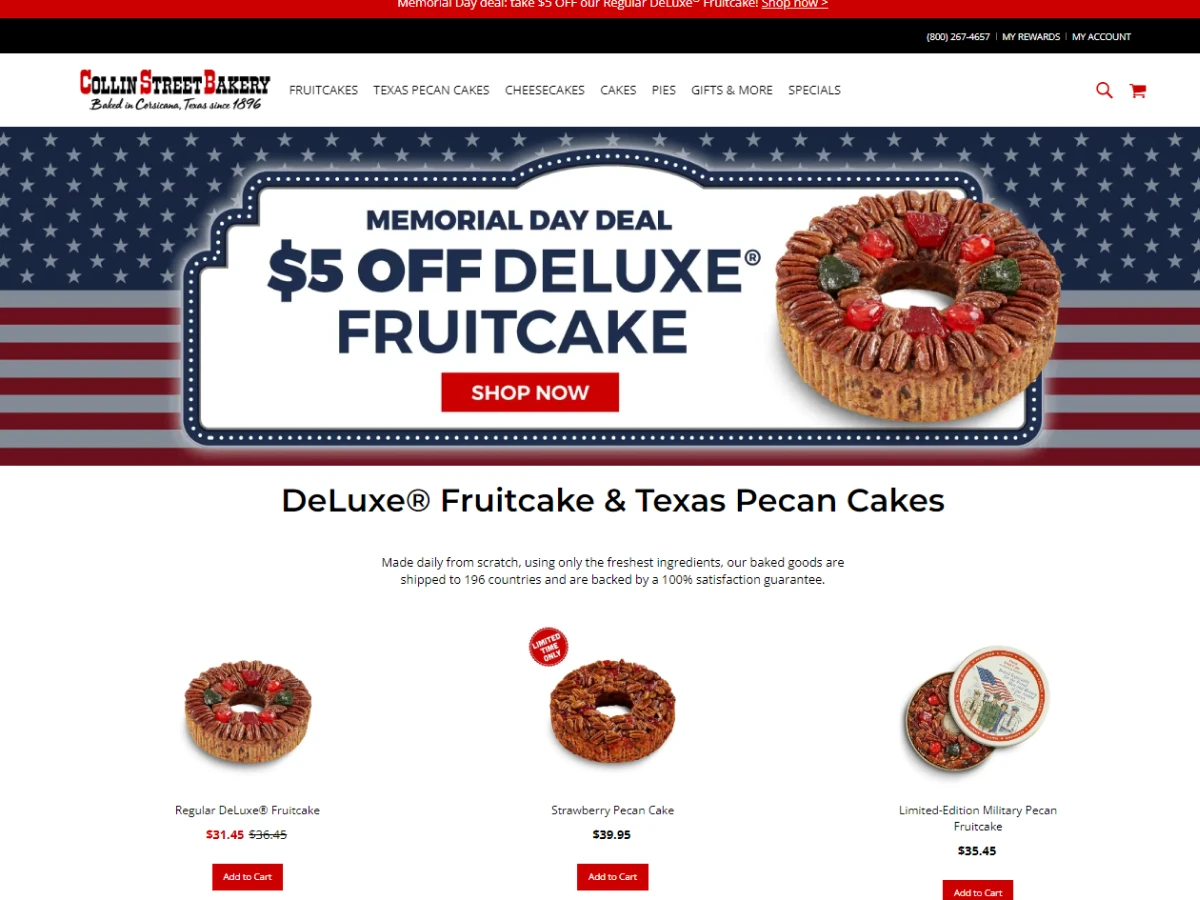 17. Blackmarket Bakery in CA
Why it works: Blackmarket Bakery's quirky website design intrigues visitors with high-quality photos and bold font choices. The website perfectly complements the bakery's inventive offerings and unique brand identity.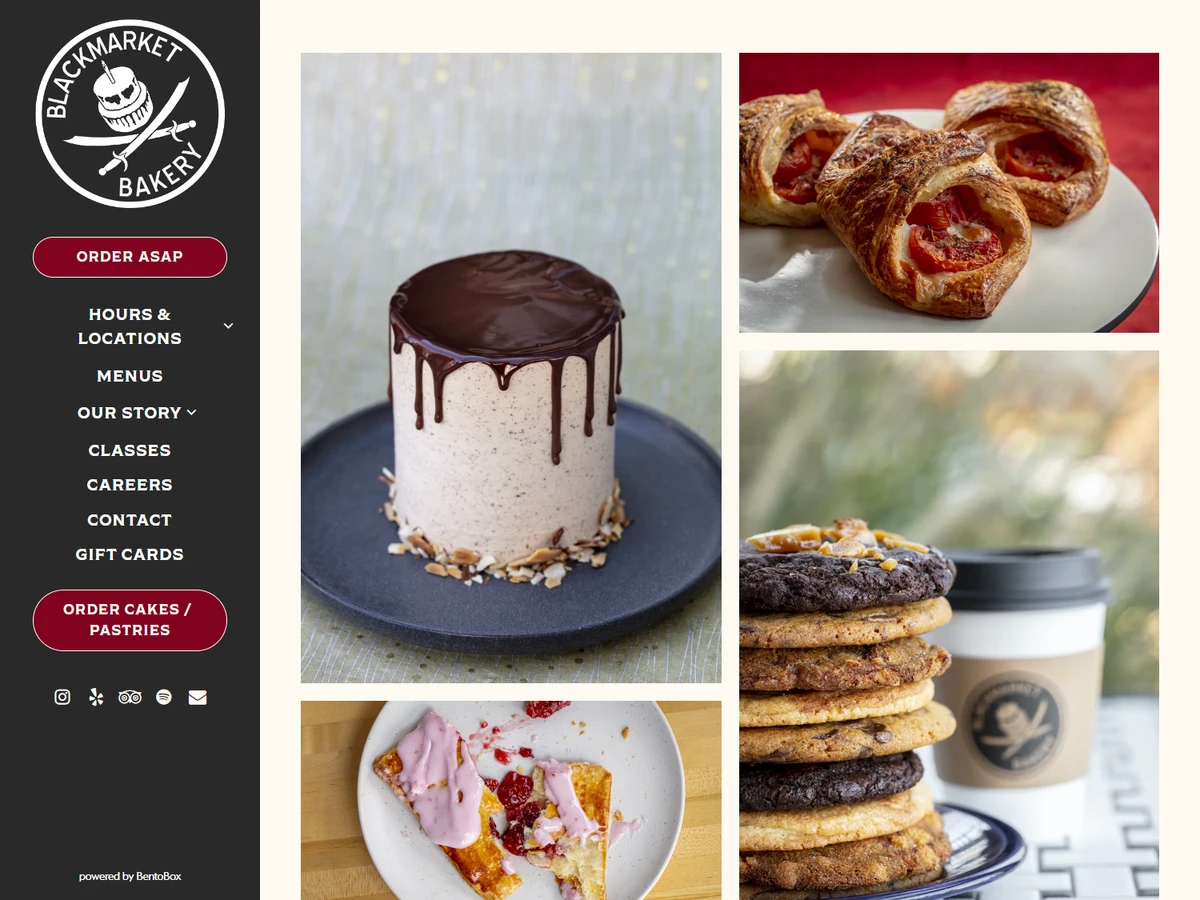 18. Fluffy Thoughts Cakes
Why it works: Fluffy Thoughts Cakes' website makes good use of circular design elements, especially when it comes to its products. The website's footer is also quite good, providing relevant details in a succinct format.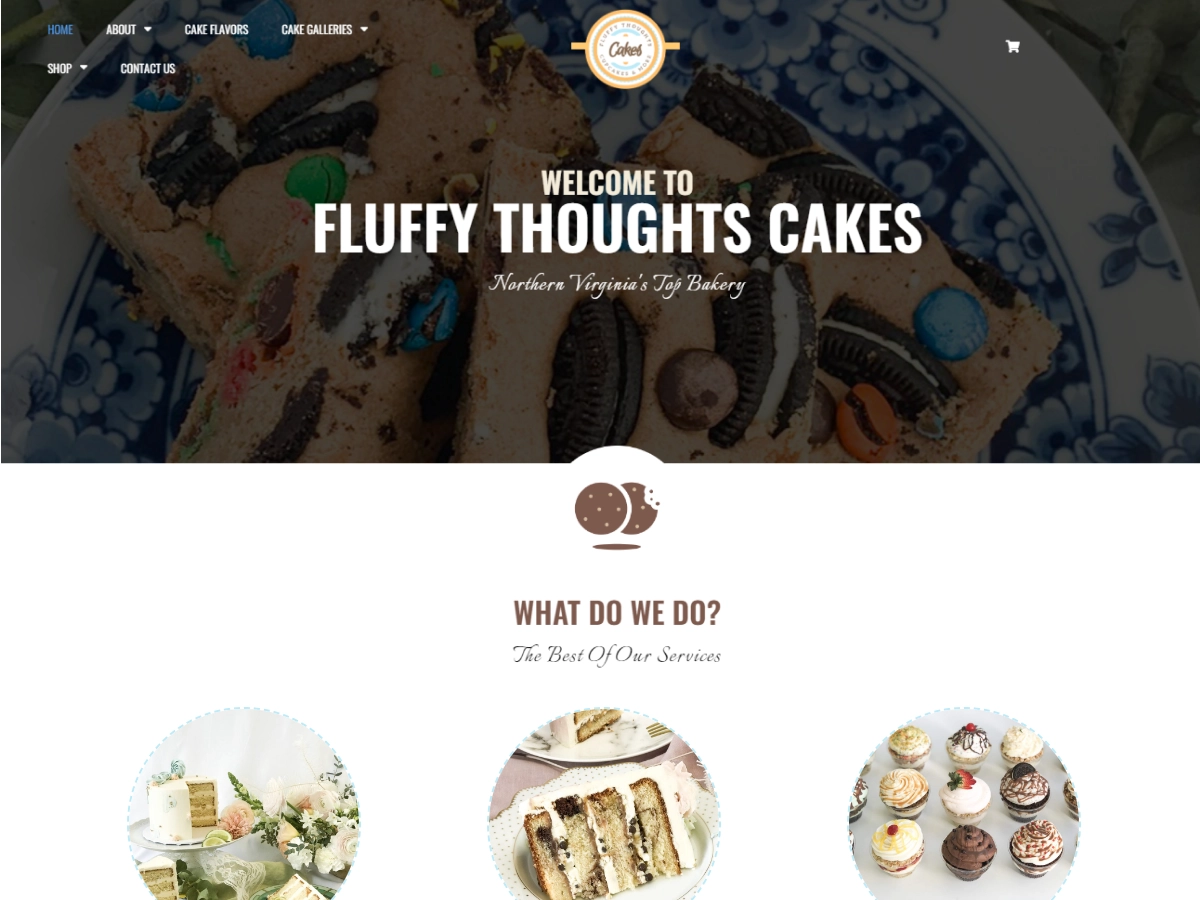 19. SusieCakes
Why it works: SusieCakes' charming bakery website delights visitors with its pastel color scheme and playful typography. The inviting layout spotlights the bakery's delectable offerings.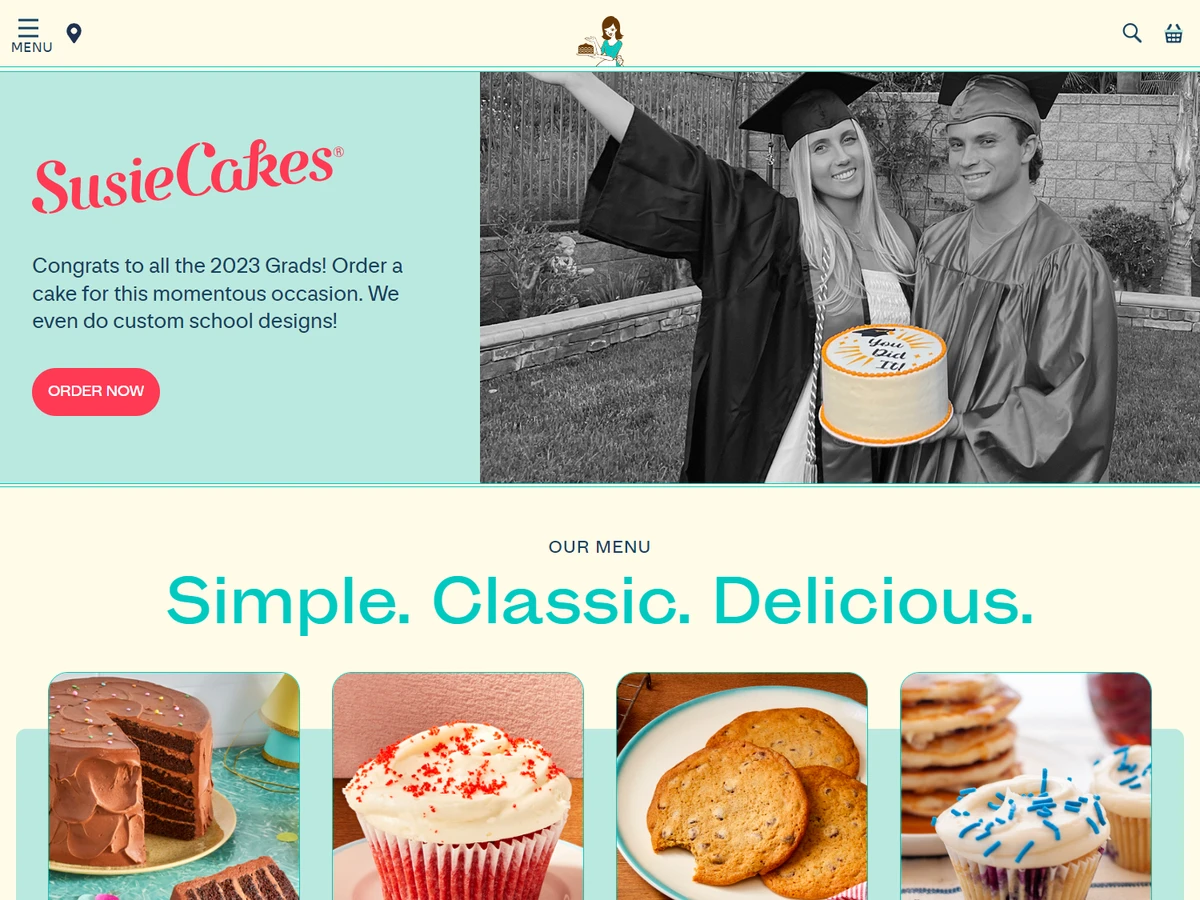 20. Fan-Fan Doughnuts
Why it works: Fan-Fan Doughnuts' vibrant website delights with a quirky looped animation and a whimsical aesthetic. The relatively simple layout puts special emphasis on the bakery's delicious doughnuts. There are also plenty of authentic photos that reflect the brand's passion for quality.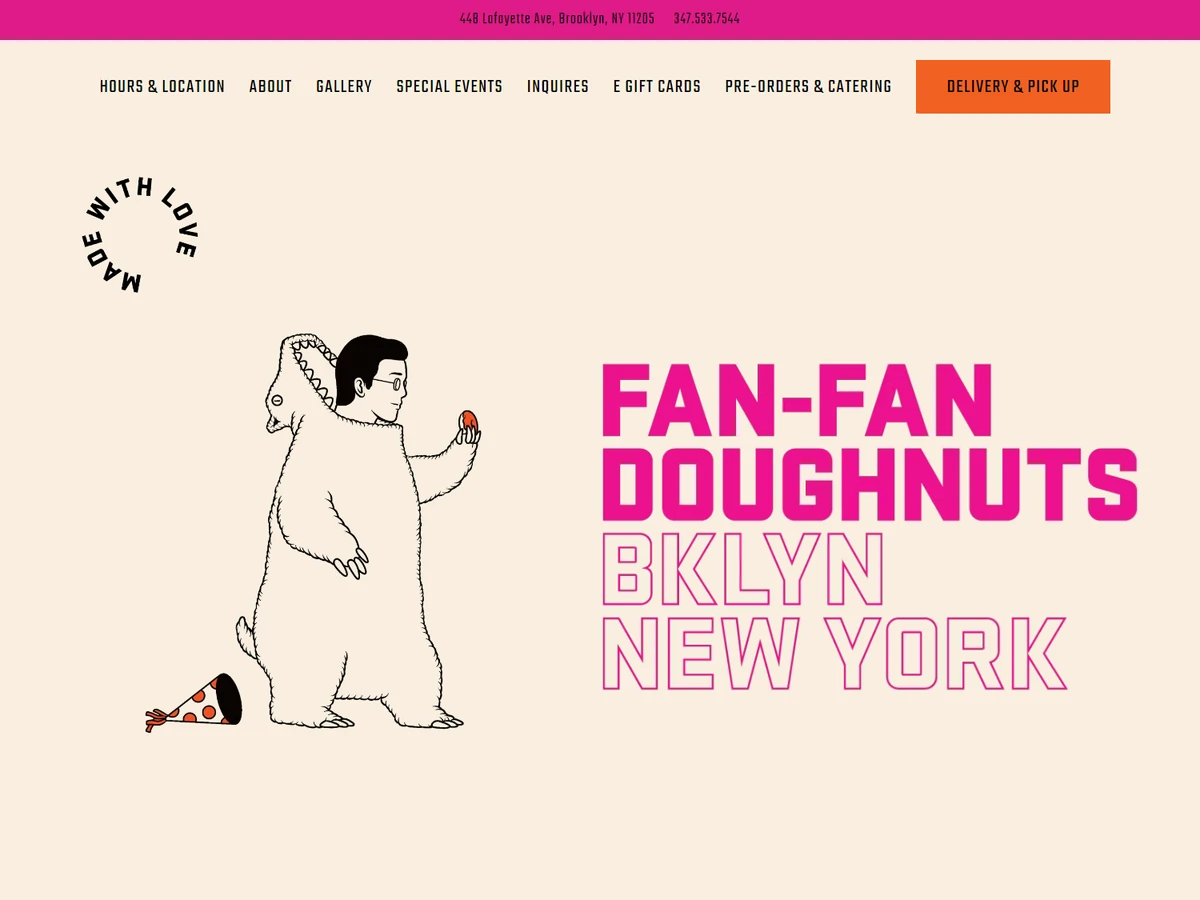 21. La Brea Bakery
Why it works: La Brea Bakery's tasteful bakery website draws in visitors with its enticing product photos and clean layout. The layout makes good use of whitespace and puts the focus where it should be—on La Brea's products.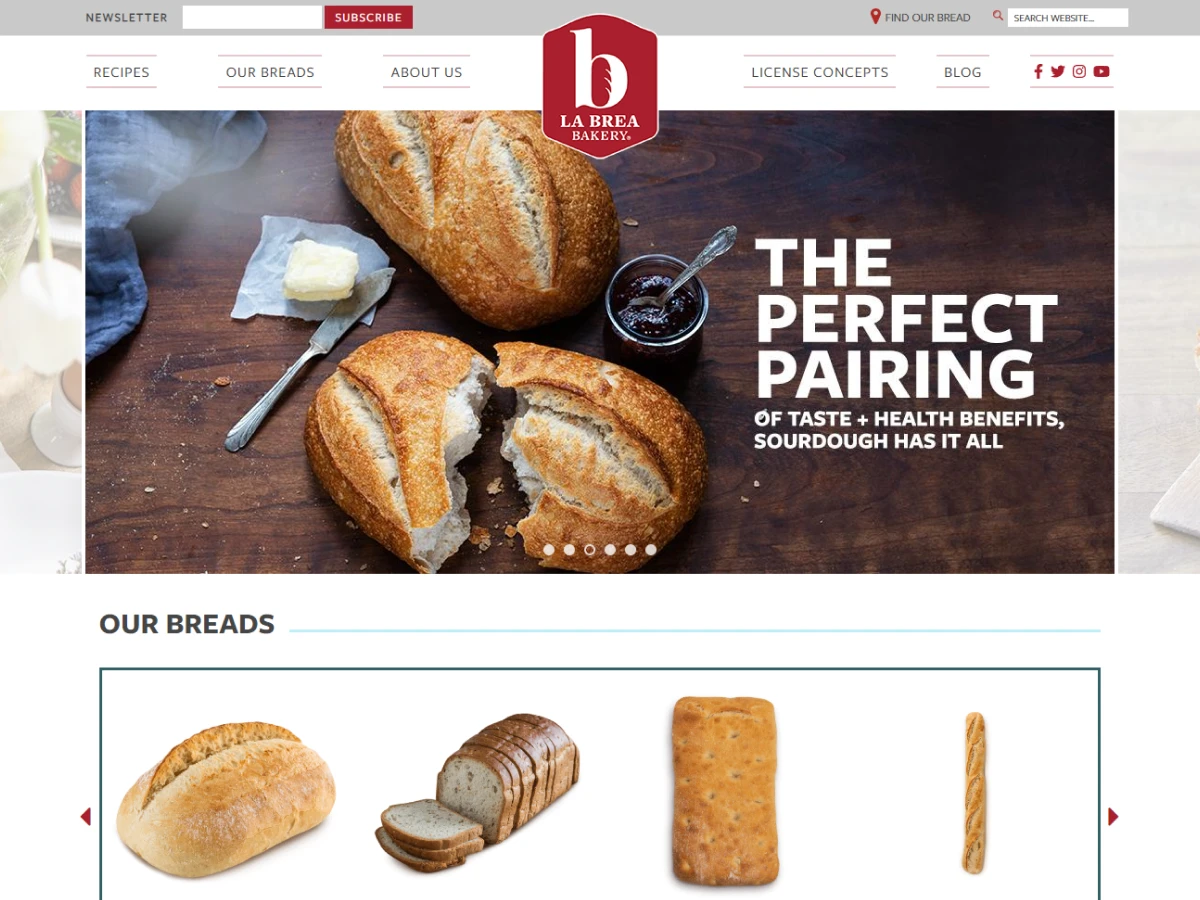 22. Bourke Street Bakery
Why it works: Bourke Street Bakery's website design encapsulates the energy of NYC with its black and gold color palette and large photos. Meanwhile, the site's engaging presentation does a good job of showcasing the bakery's delicious goods.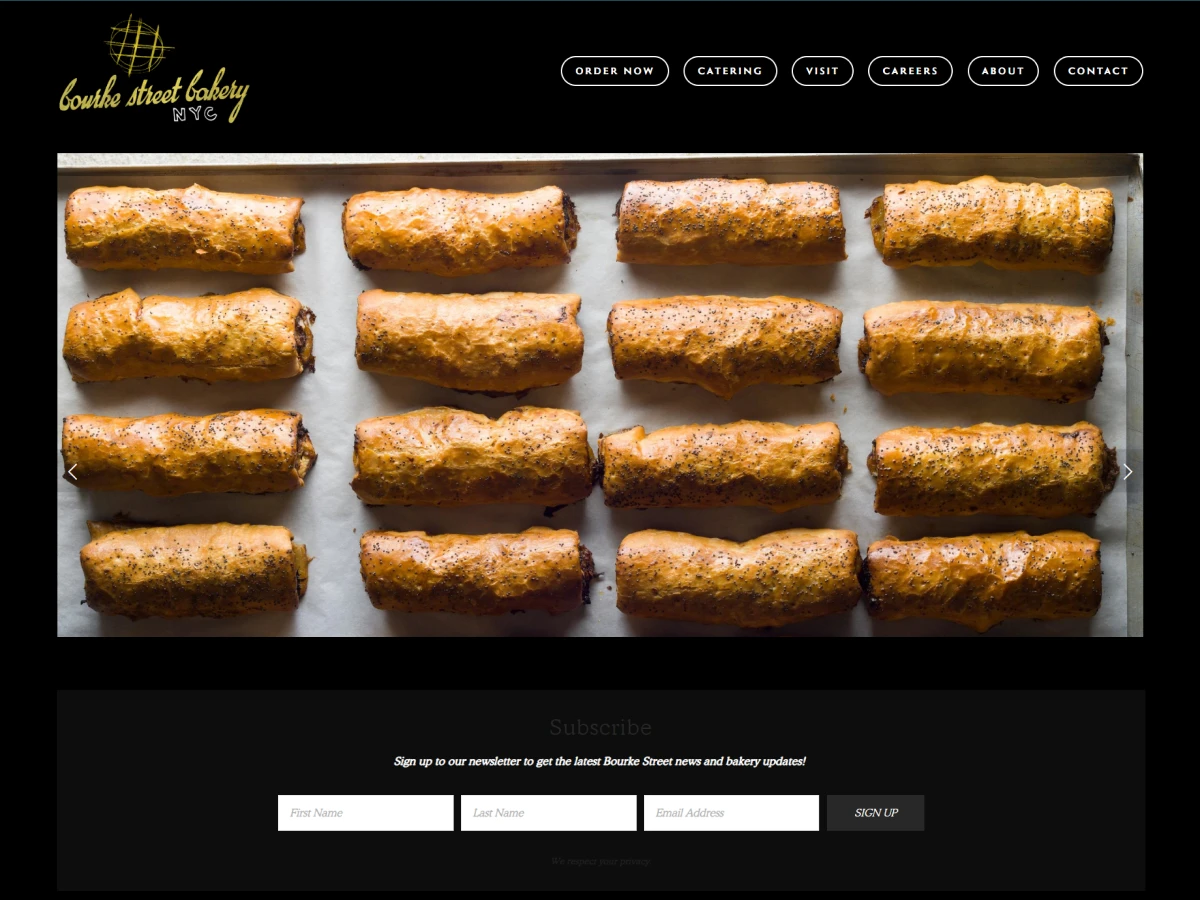 23. Rustic Bakery
Why it works: Rustic Bakery's website design welcomes visitors with a "lifestyle" design feel. The site makes good use of its black and white color scheme, collapsible hamburger menu, and grid layout.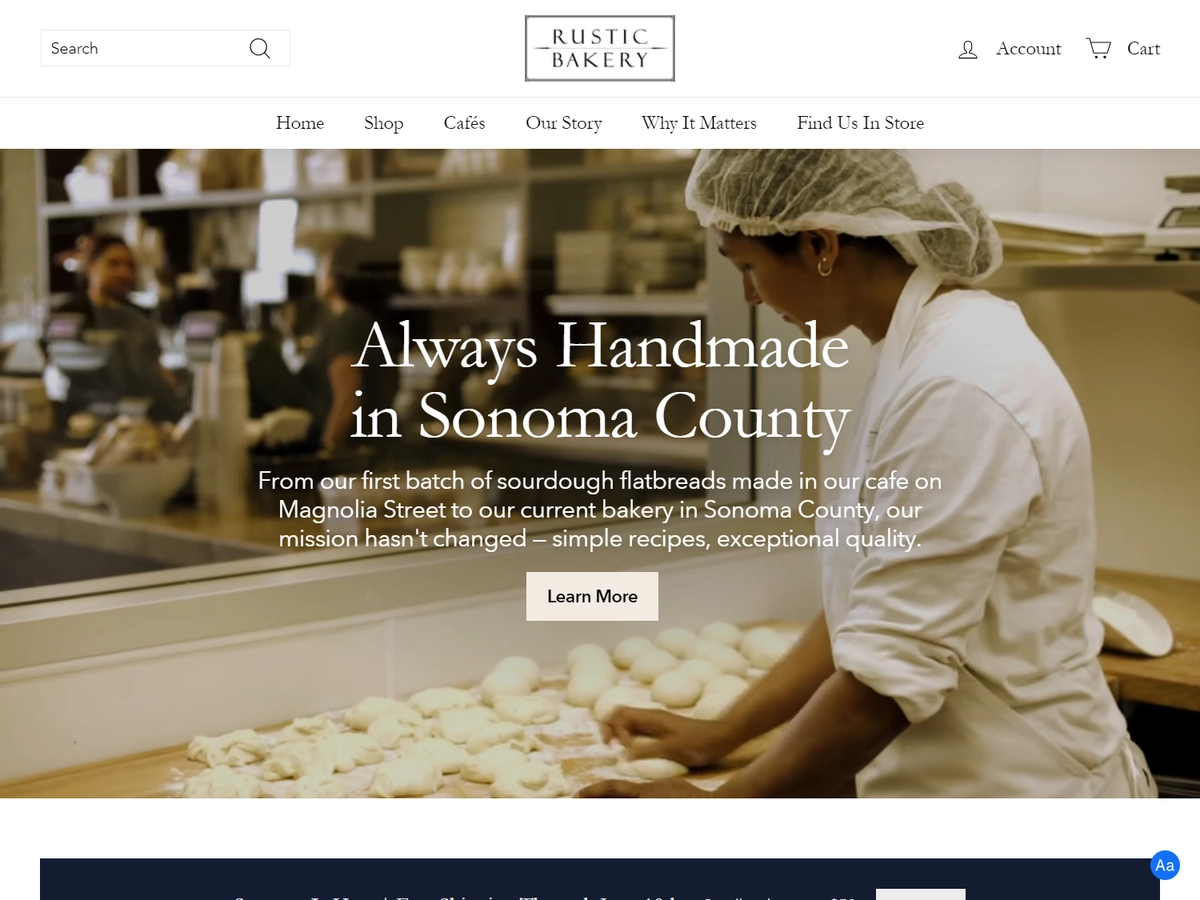 24. The Model Bakery
Why it works: Model Bakery's website does a great job of showing visitors how their baking process works with a full-width hero video. The site also effectively utilizes simple calls-to-action and YouTube video integration.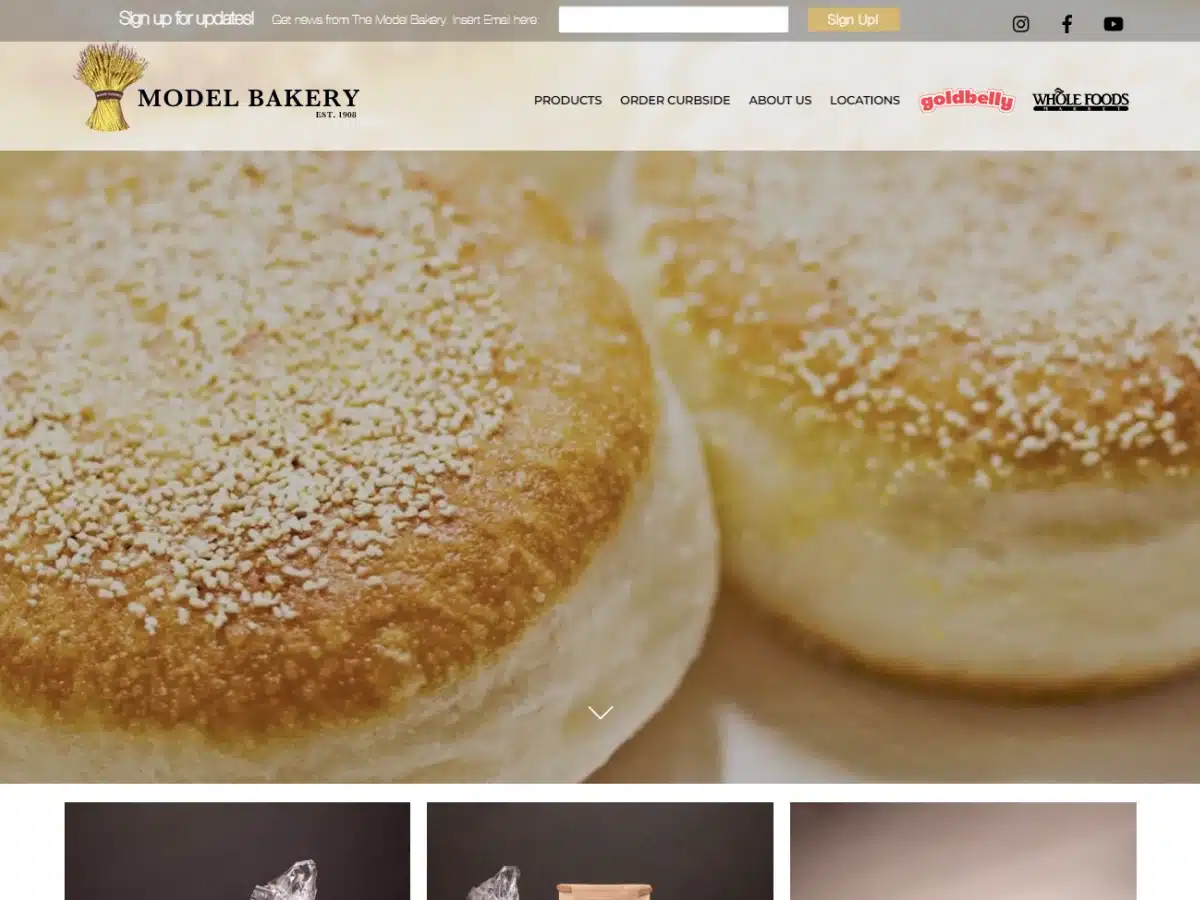 25. Balthazar Bakery
Why it works: Whether you are looking at the NYC location or the NJ website, Balthazar Bakery has a vintage logo, a sublimely simple navigation menu, and compelling photos. As a whole, the website and its different locations convey a traditional, "local store" feel.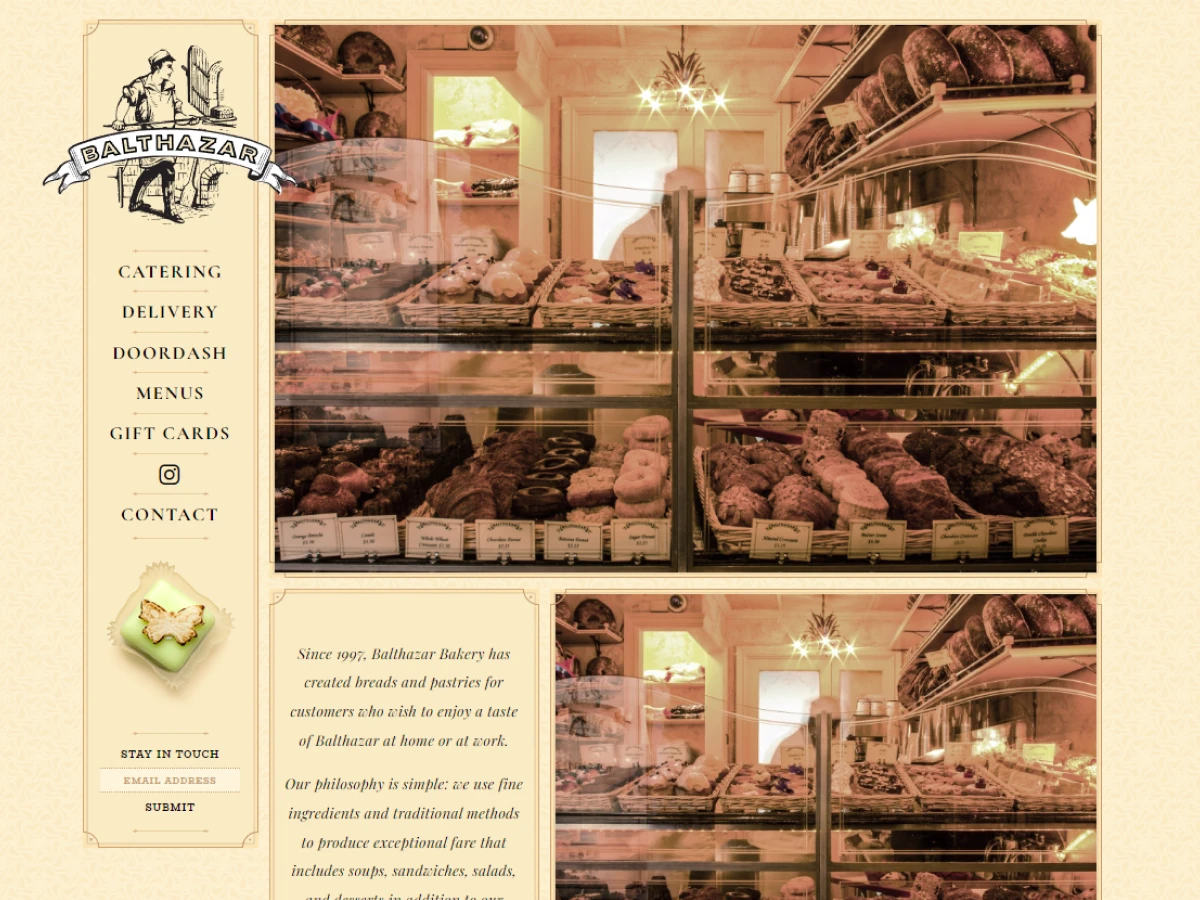 26. Little Tart Bakeshop
Why it works: Little Tart Bakeshop benefits from a unique combination of embossed font, vintage colors, and distinct content sections.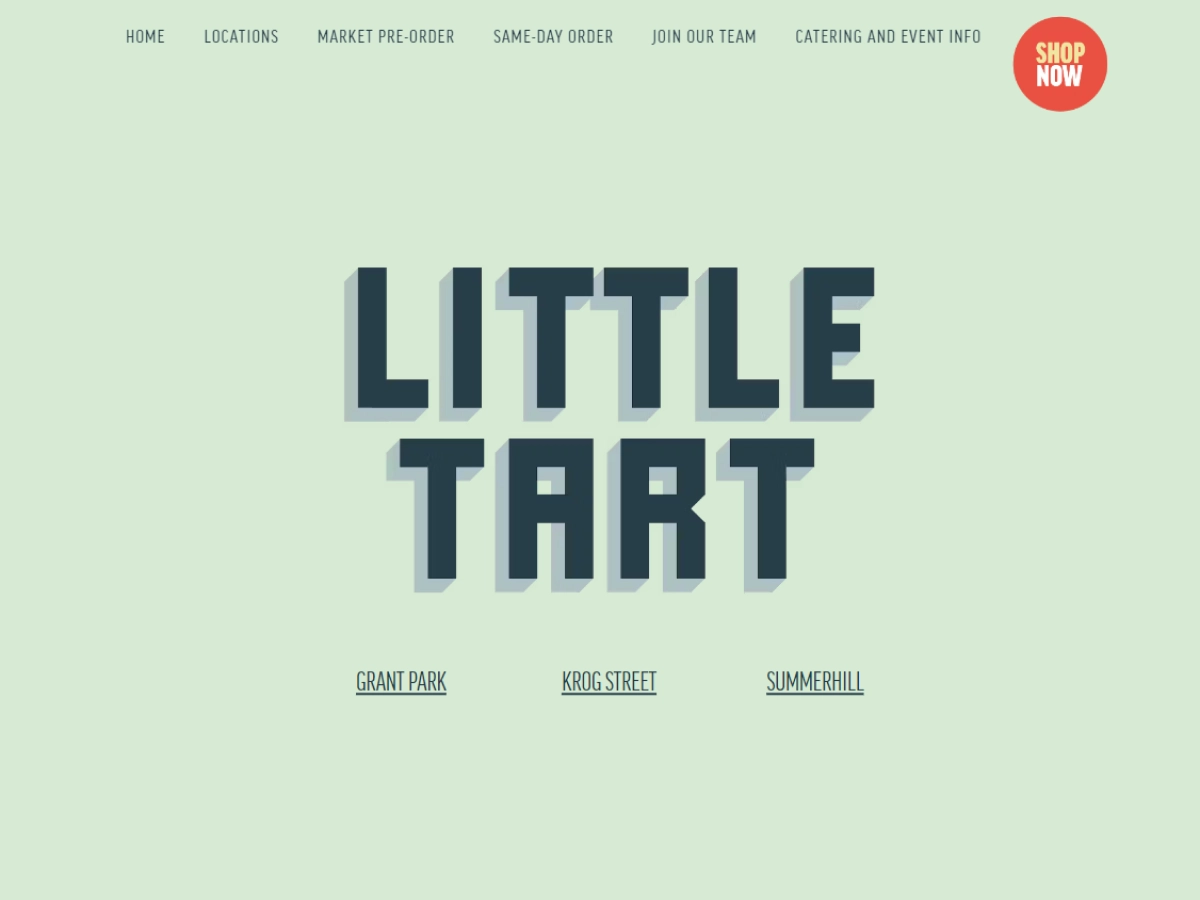 27. Macrina Bakery
Why it works: This bakery website (which also doubles as a café website) has a simple and straightforward design. We appreciate the focus on functionality and ease of use.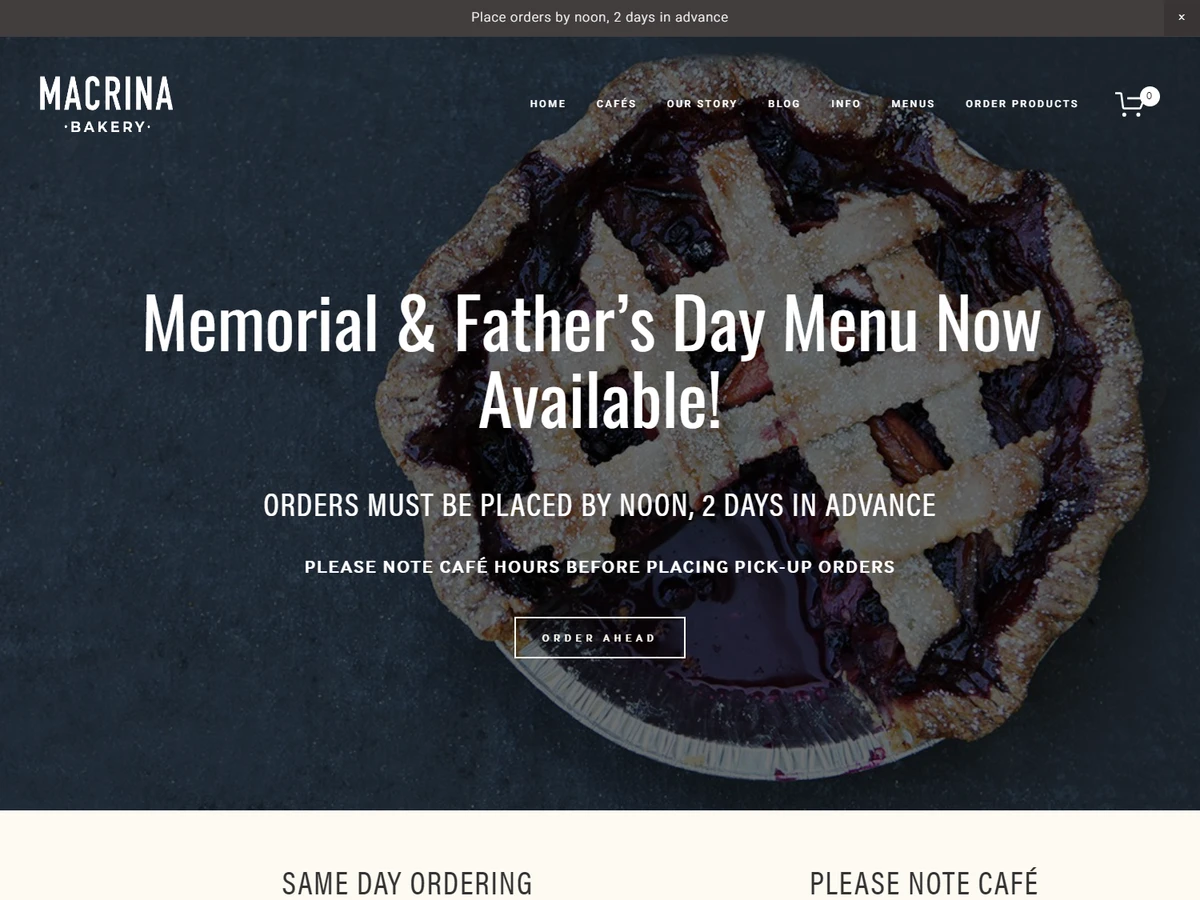 28. 85C Bakery Cafe
Why it works: 85C Bakery Cafe effectively utilizes a black, white, gray, and raspberry color scheme to create an inviting bakery website. Overall, the design has quite an excellent balance of design elements. These include a looping hero video, navigation cards with clipped product images, and a useful "Find A Location" map with search functionality.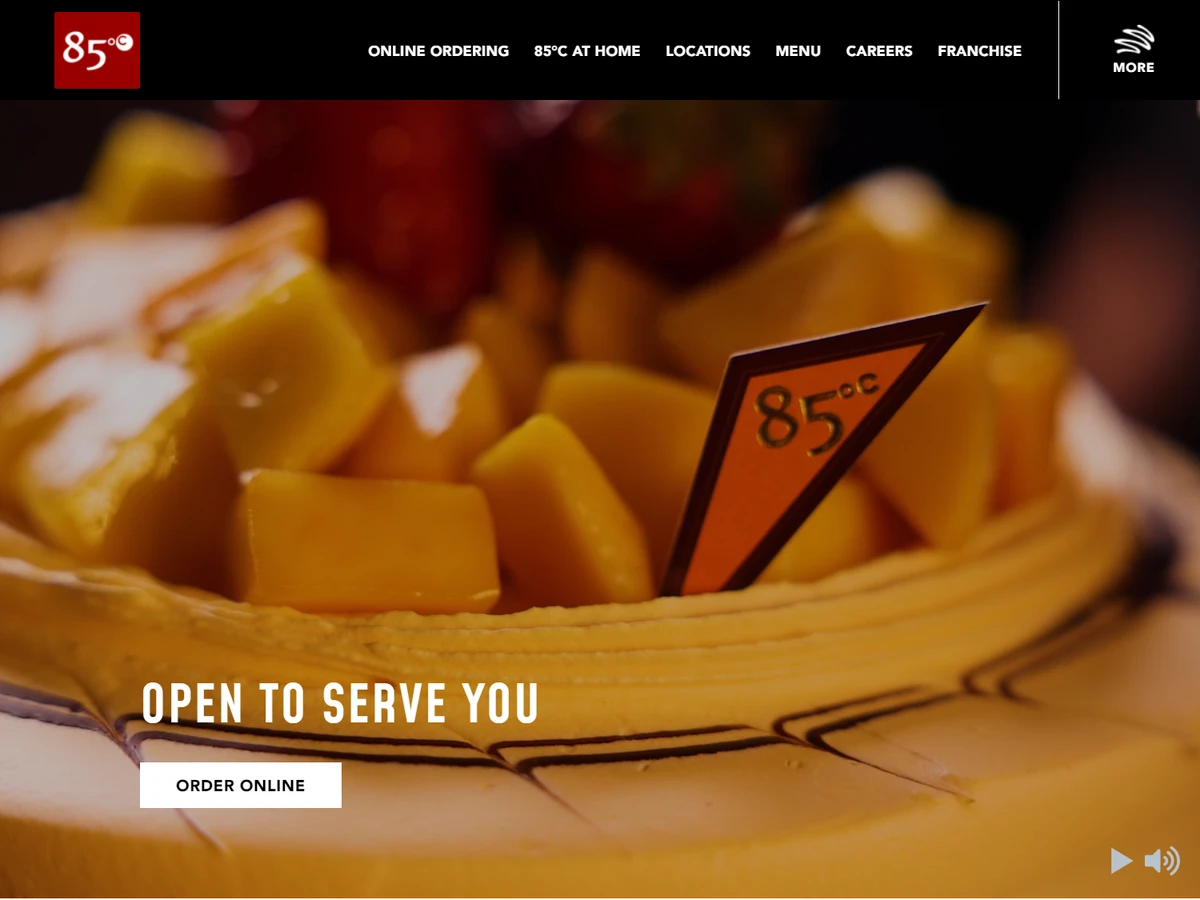 29. Nature's Bakery
Why it works: Nature's Bakery has a friendly and inviting design with various background design elements, custom shaped image containers, product cards, and more. The best feature, however, is the highly focused branding, which remains consistent on every page.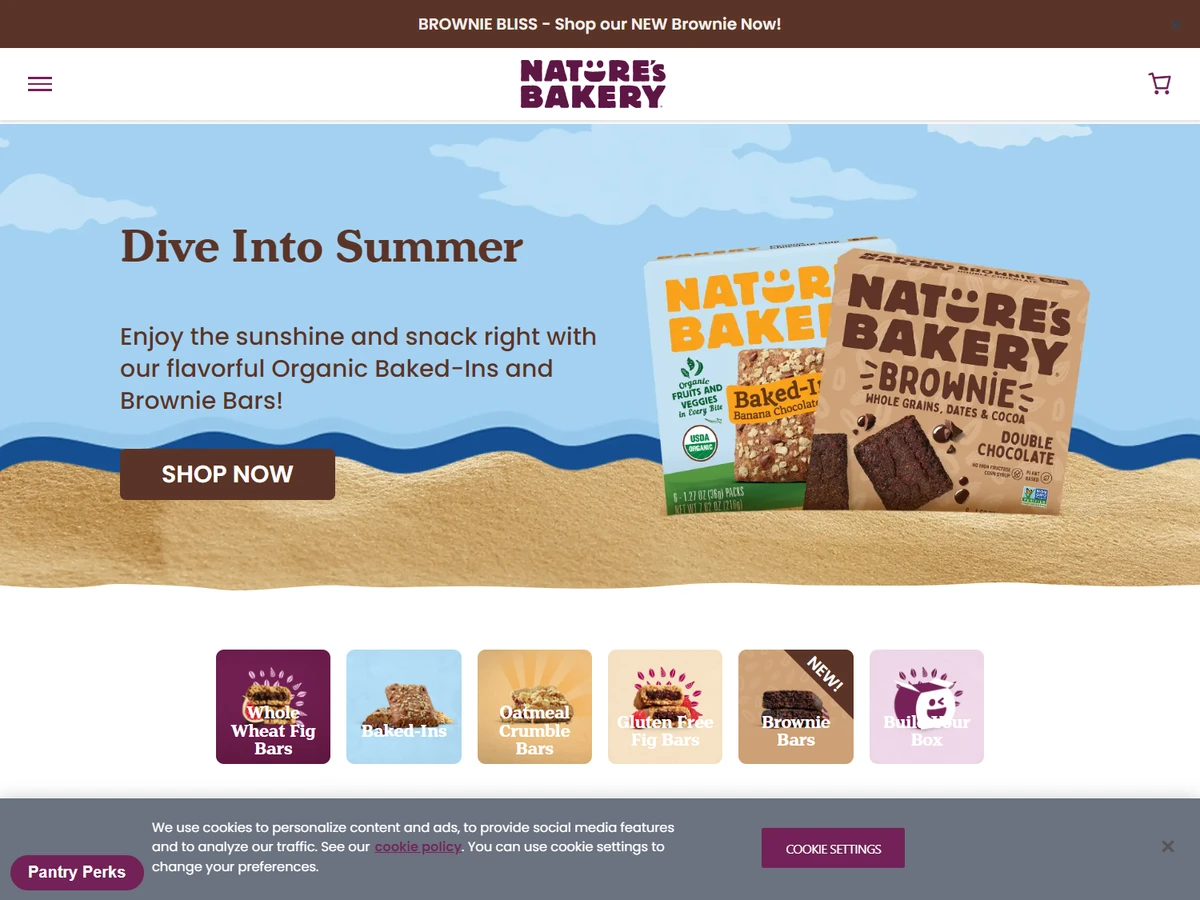 30. Nothing Bundt Cakes
Why it works: Nothing Bundt Cakes is another example of an expertly branded bakery website. It has a certain undeniable charm, and the overall design is phenomenal and has many positive aspects.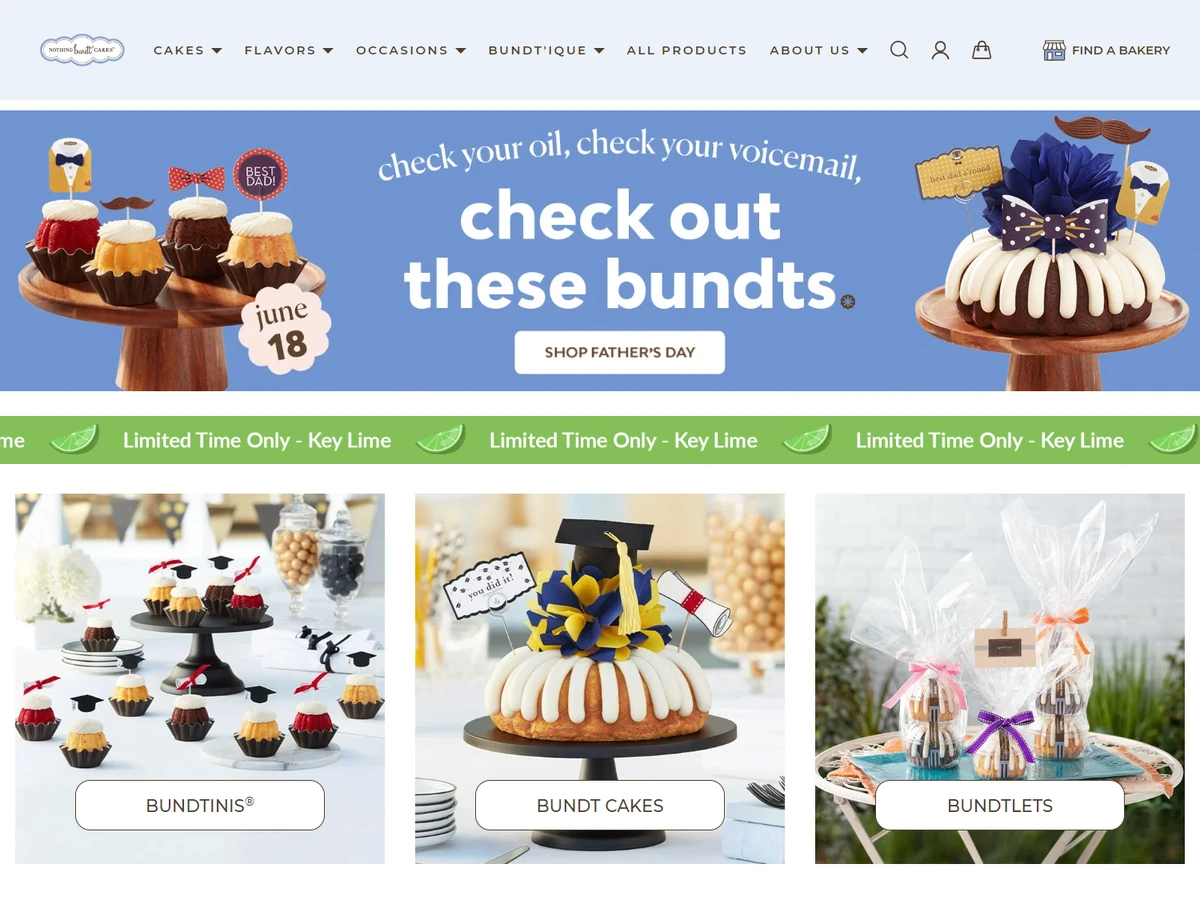 31. Yann Couvreur
Why it works: Yann Couvreur wins us over with its high-quality, mouth-watering product photos.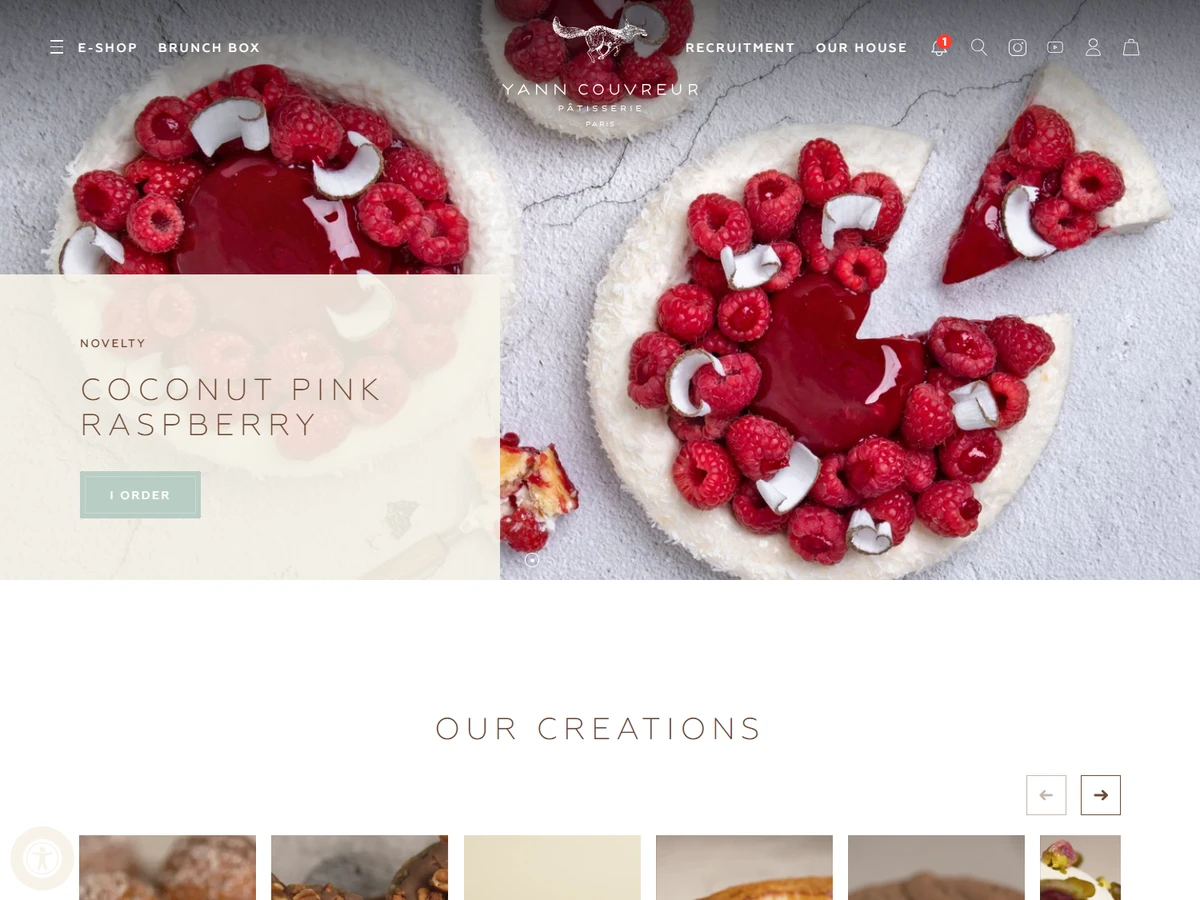 32. Fox in the Snow
Why it works: Fox in the Snow utilizes a side navigation menu that gives the main content room to breathe. This is a simple website with an interesting design approach.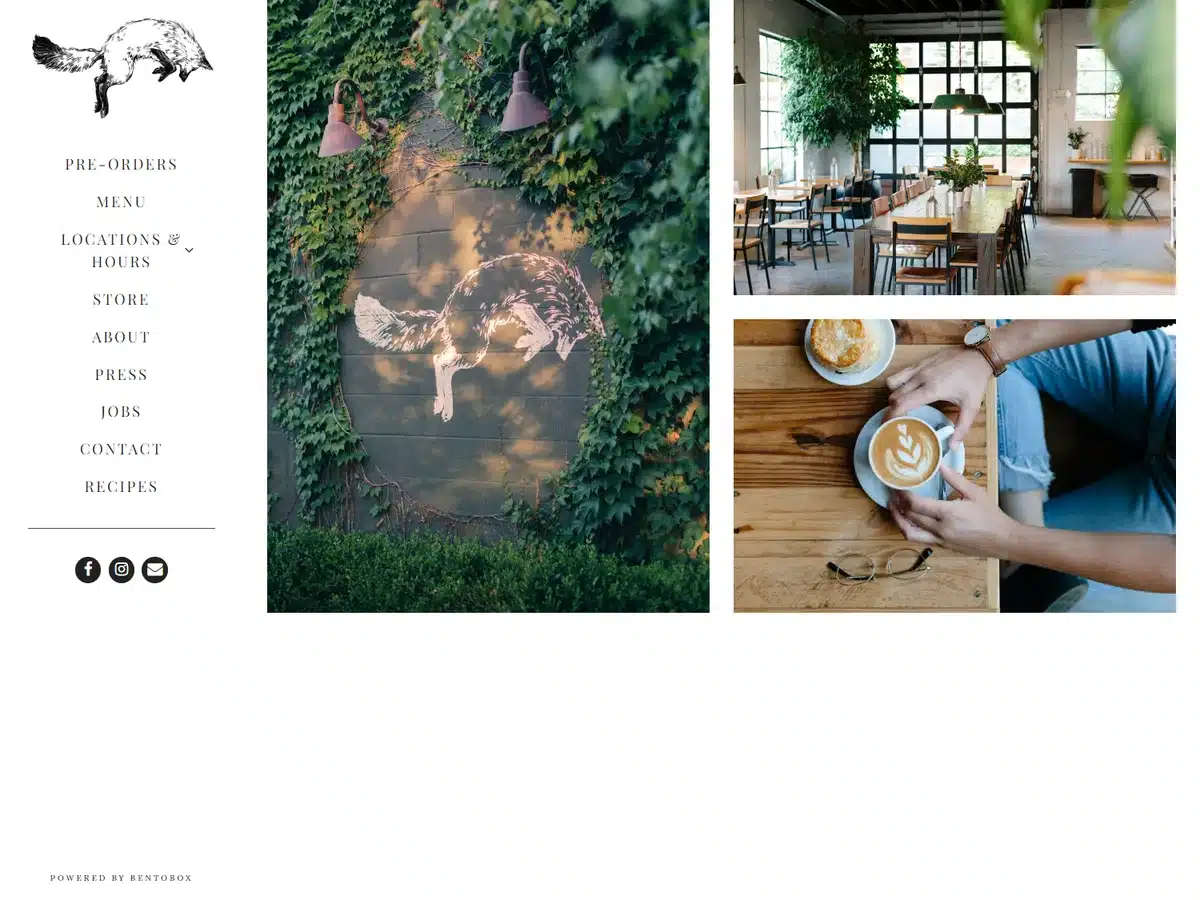 33. Modern Pastry Shop
Why it works: Modern Pastry Shop is a bakery website that makes good use of a grid layout and authentic charm.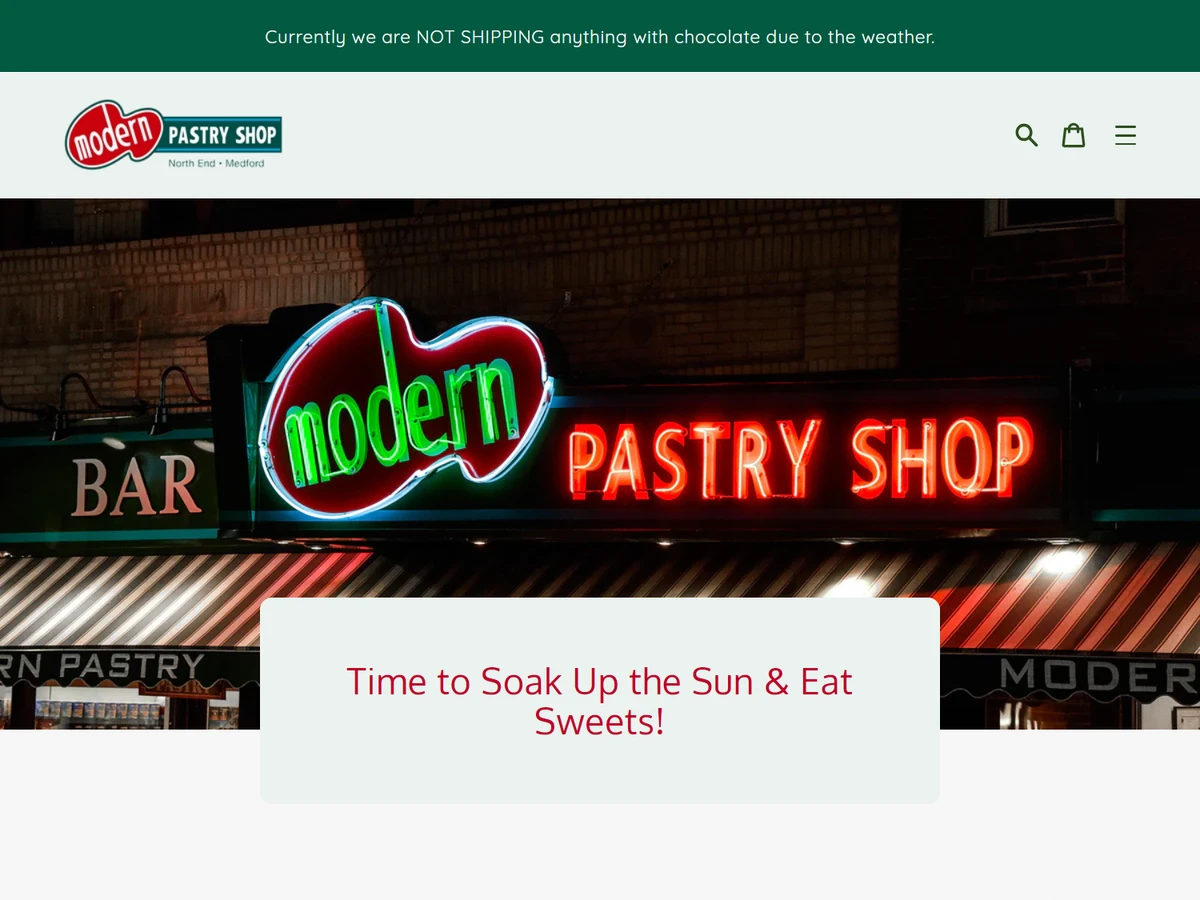 34. Crown Bakeries
Why it works: Crown Bakeries' website captivates visitors with its regal color palette and polished layout. The sophisticated presentation showcases the bakery's excellent selection of goods, reflecting its commitment to quality and taste.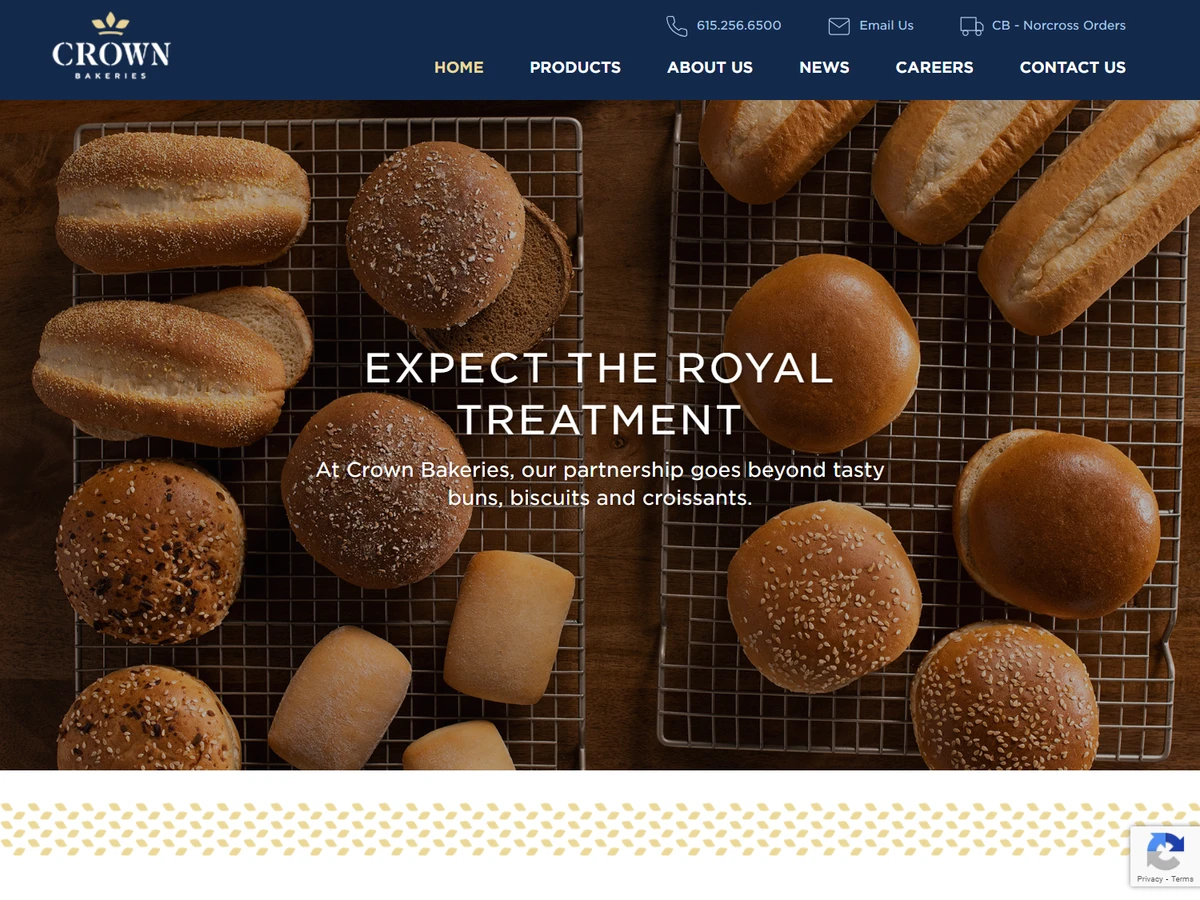 35. Aspire Bakeries
Why it works: Aspire Bakeries boasts a superb wordmark logo that seamlessly complements the site's focused home page. The polished hero video, rich with product imagery, further accentuates the bakery's commitment to quality and visual appeal.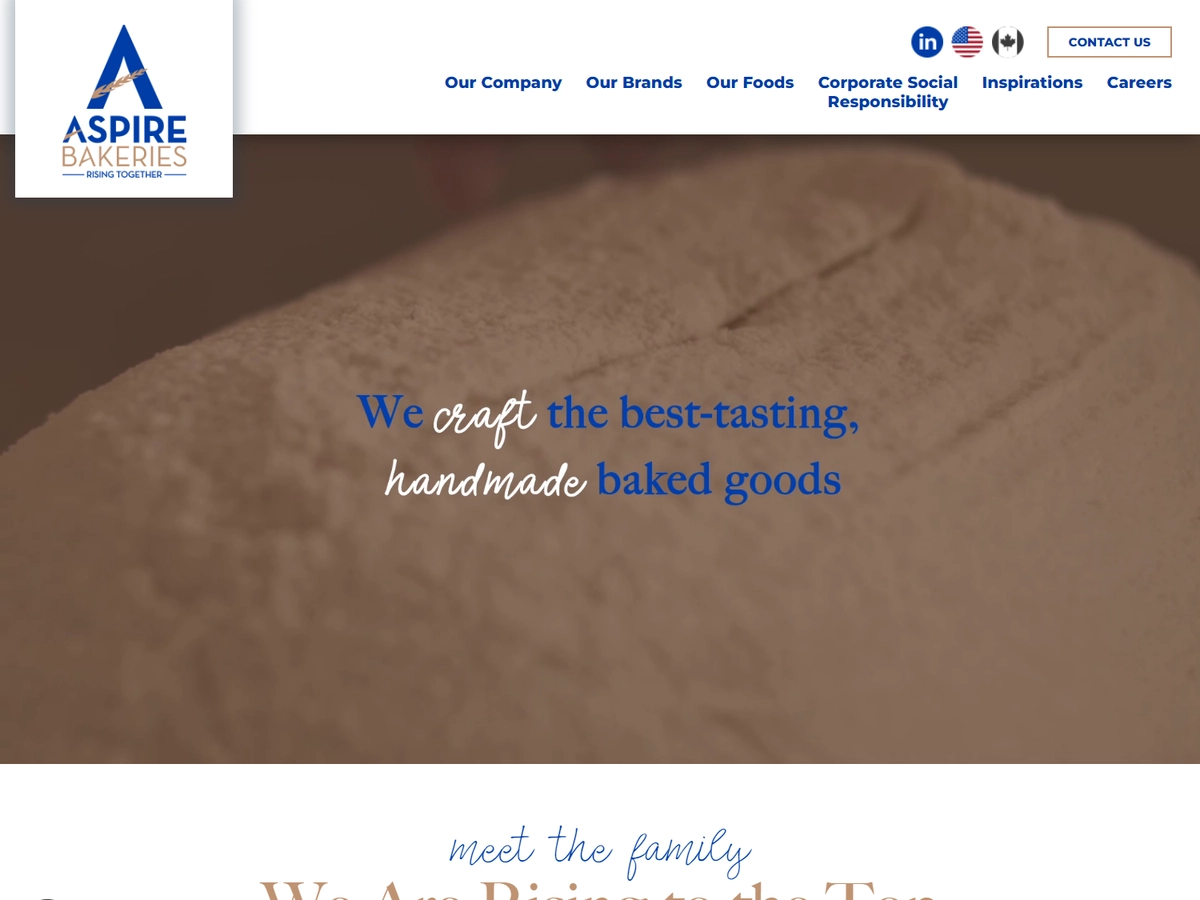 36. Billy's Bakery
Why it works: Billy's Bakery has a friendly, down-to-earth design that utilizes dozens of quality product images.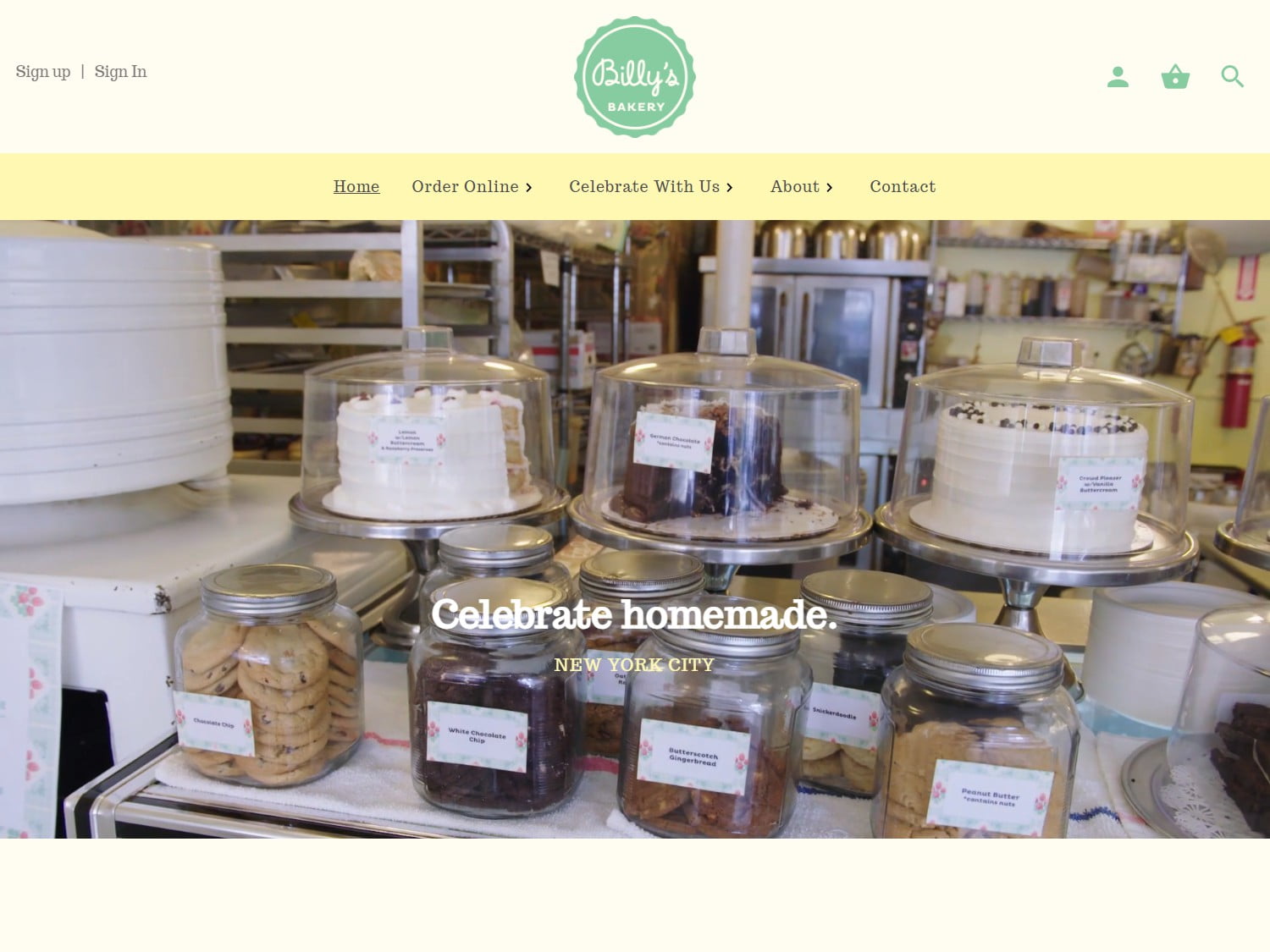 37. Crumbs & Doilies
Why it works: Crumbs & Doilies' delightful bakery website impresses with a playful color scheme and well-organized presentation. The website utilizes a variety of design elements, from full-width product imagery to condensed product arrangements.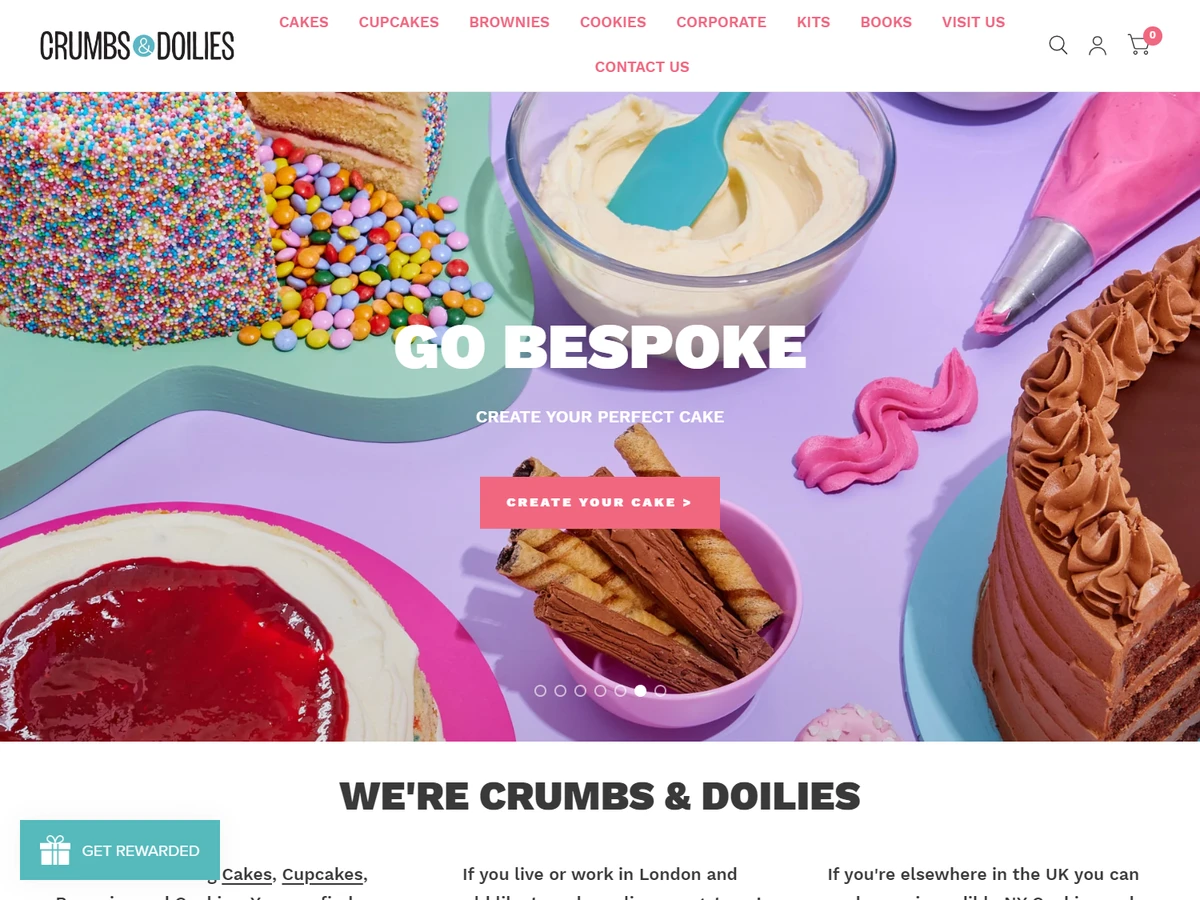 38. West Town Bakery
Why it works: West Town Bakery's website engages visitors with bold colors and lively graphics. The eye-catching design elements help draw attention to the bakery's various baked goods.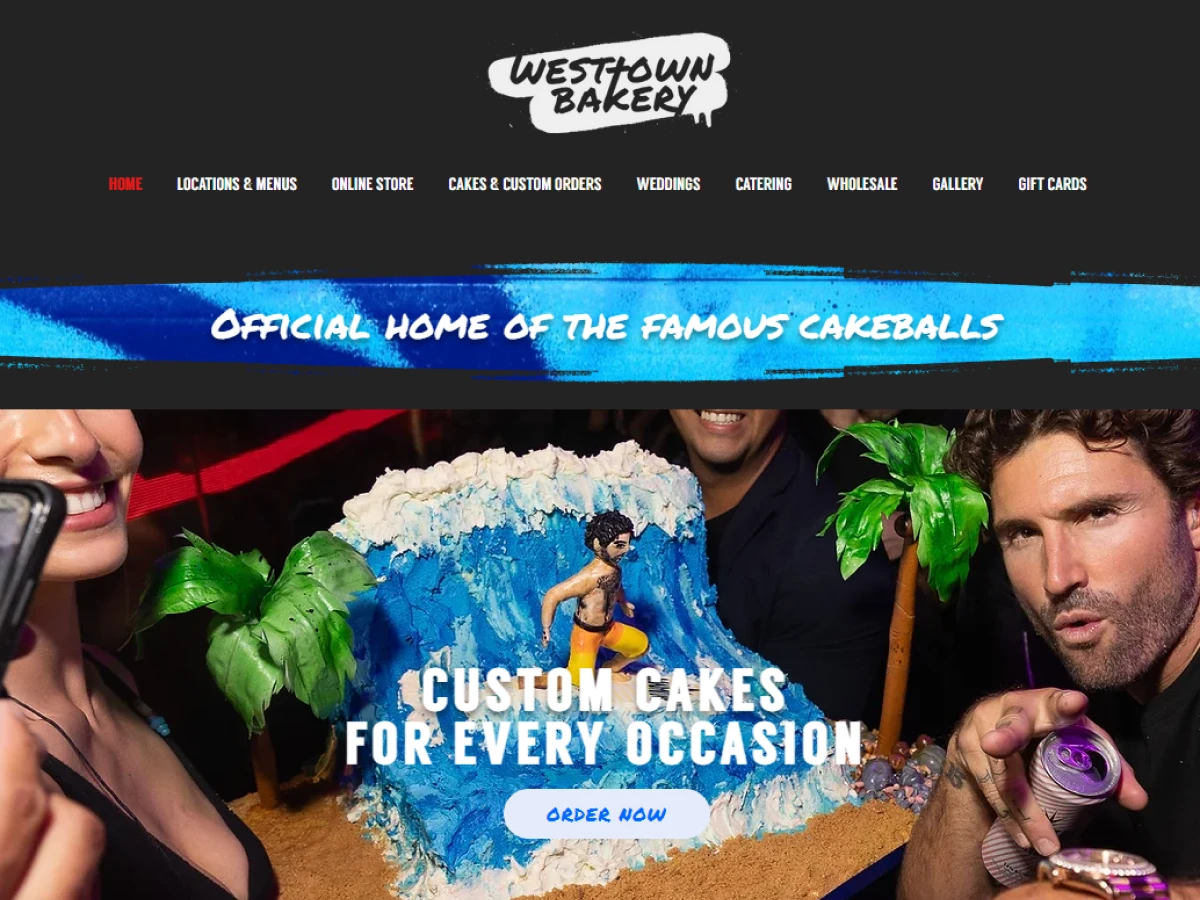 39. The Bread & Butter Project
Why it works: This bakery website uses several interesting design elements, such as a wall-textured background, image carousels, and bold script font. But our favorite part of the website is the authentic photos.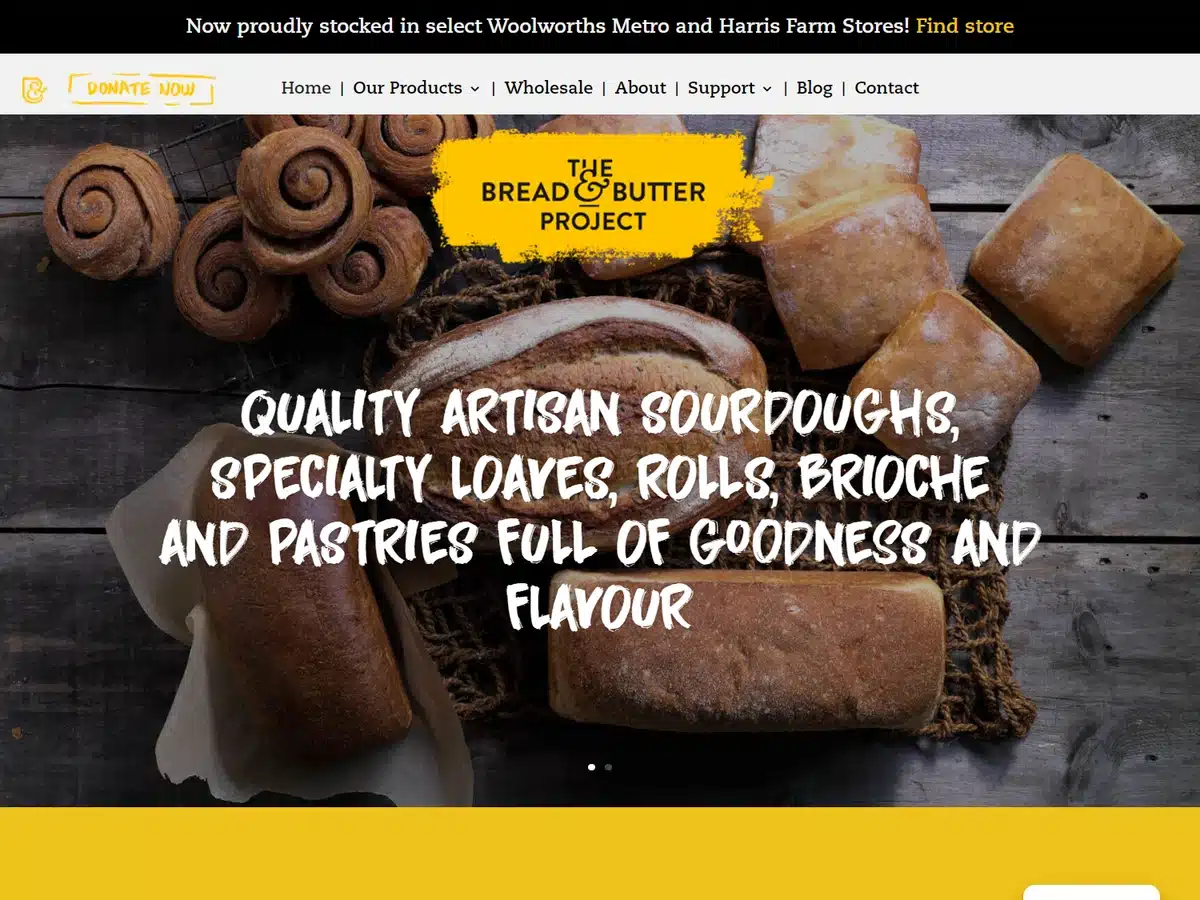 40. Grand Central Bakery
Why it works: Grand Central Bakery's inviting website design transports visitors with warm tones and an authentic atmosphere. We particularly appreciate the Ingredients page, which uses a grid-style blog layout to show how the company sources its products.
The best bakery websites show off a company's delicious baked goods while leaving a positive and lasting impression.
If you're looking for a custom bakery website that stands out and offers you speed, flexibility, and excellent functionality, call us at 702-268-9000 or visit our Project page to schedule a free consultation.