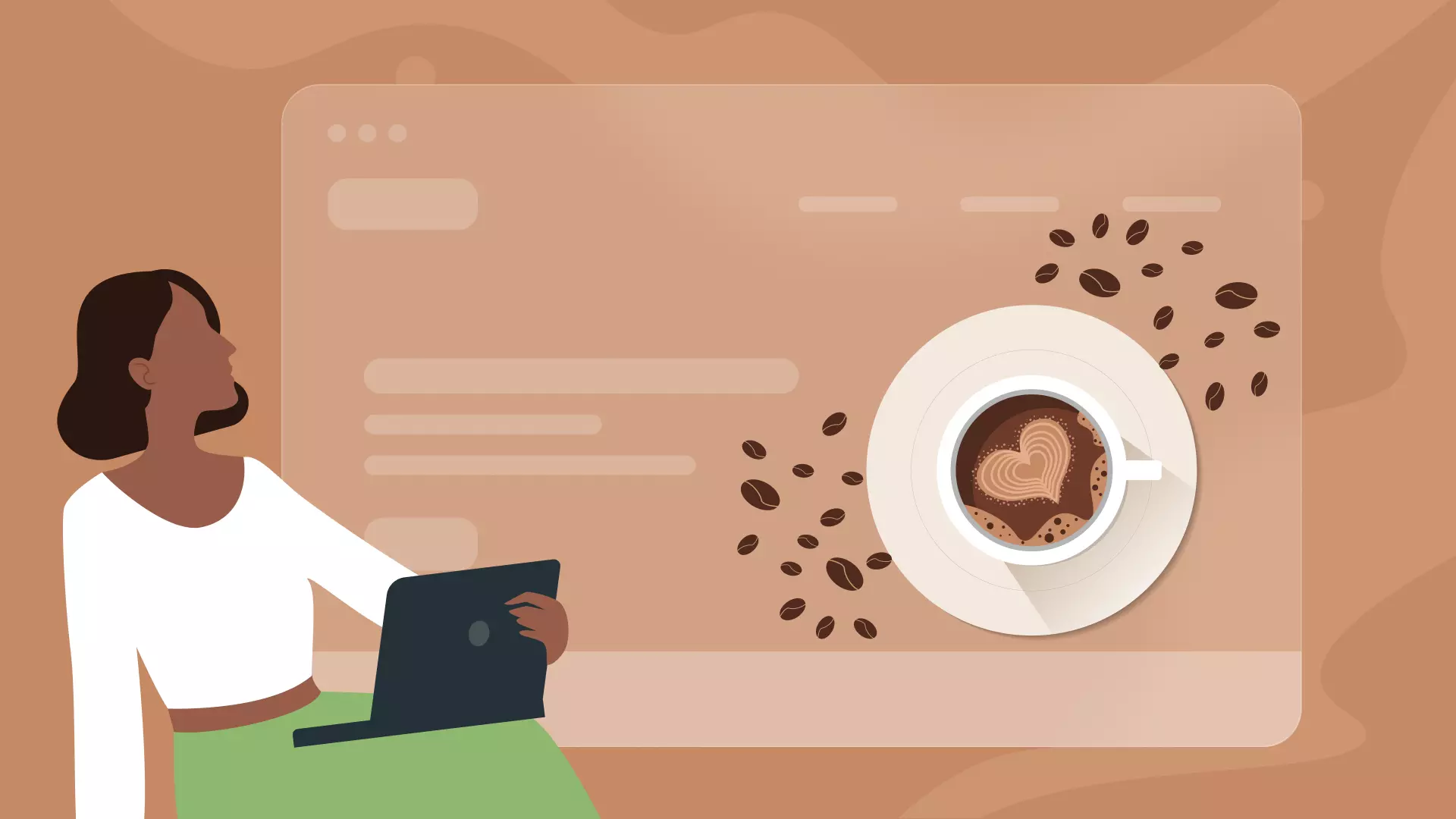 Coffee websites have grown in popularity over the years, becoming the go-to resource for coffee lovers, from casual drinkers to professional baristas.
We all know that the perfect cup of coffee can set the tone for the entire day. So, it's no wonder that people are looking for the best coffee websites to source their products.
To help you navigate the world of online coffee, we've curated a list of the top 40 coffee websites. These sites will serve as a guide in your quest to discover the ultimate cup of Joe.
1. Community Coffee
Why it's good:  The website has an amazing hero video and a prominent central logo that immediately call your attention. The website is tightly organized, with clipped product images and strategic calls to action.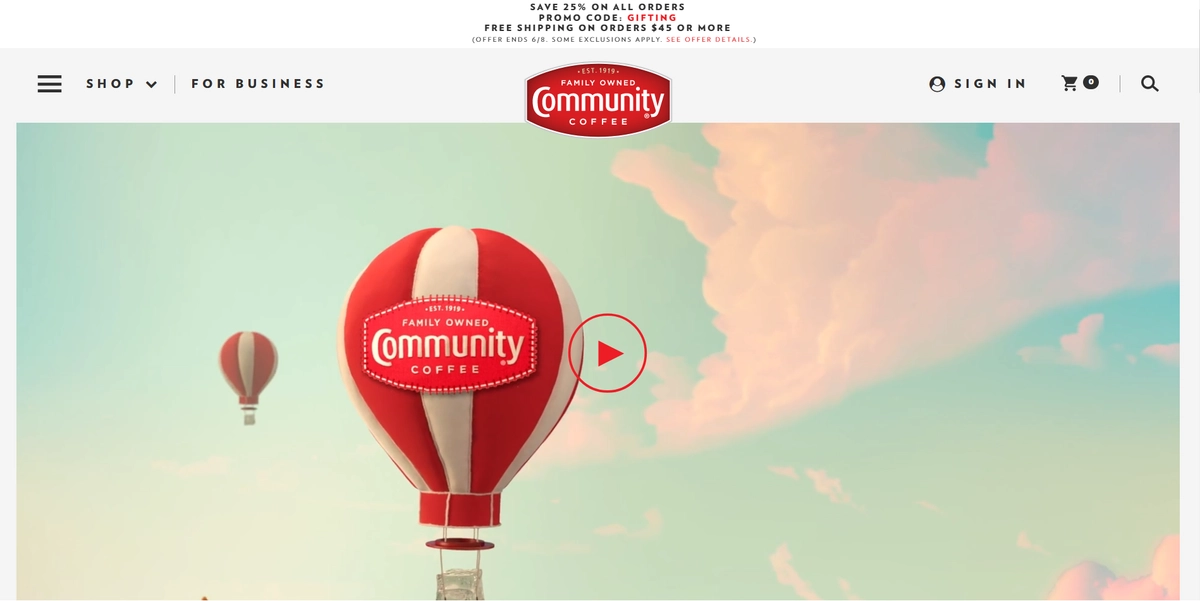 communitycoffee.com
2. San Francisco Bay Coffee
Why it's good: The website has a phenomenal combination logo, a well-timed email list pop-up, and a beautiful raspberry and white color scheme. The site also makes excellent use of white space and product photos.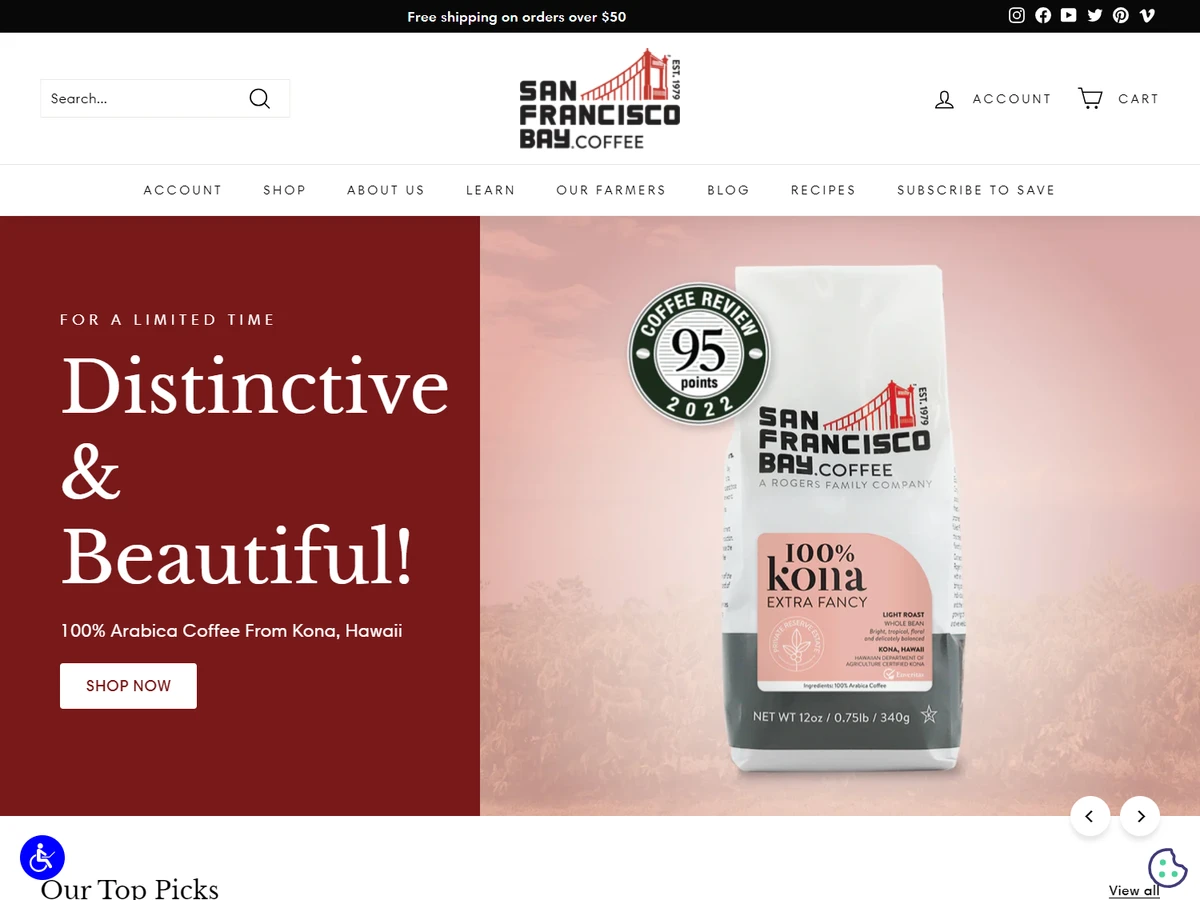 3. Café Britt Coffee
Why it's good: We love this website's gorgeous hero image and hero CTA, which use prominent white font. Additionally, the website makes good use of brown, black, and white color contrast. Lastly, the site offers a seamless shopping cart experience.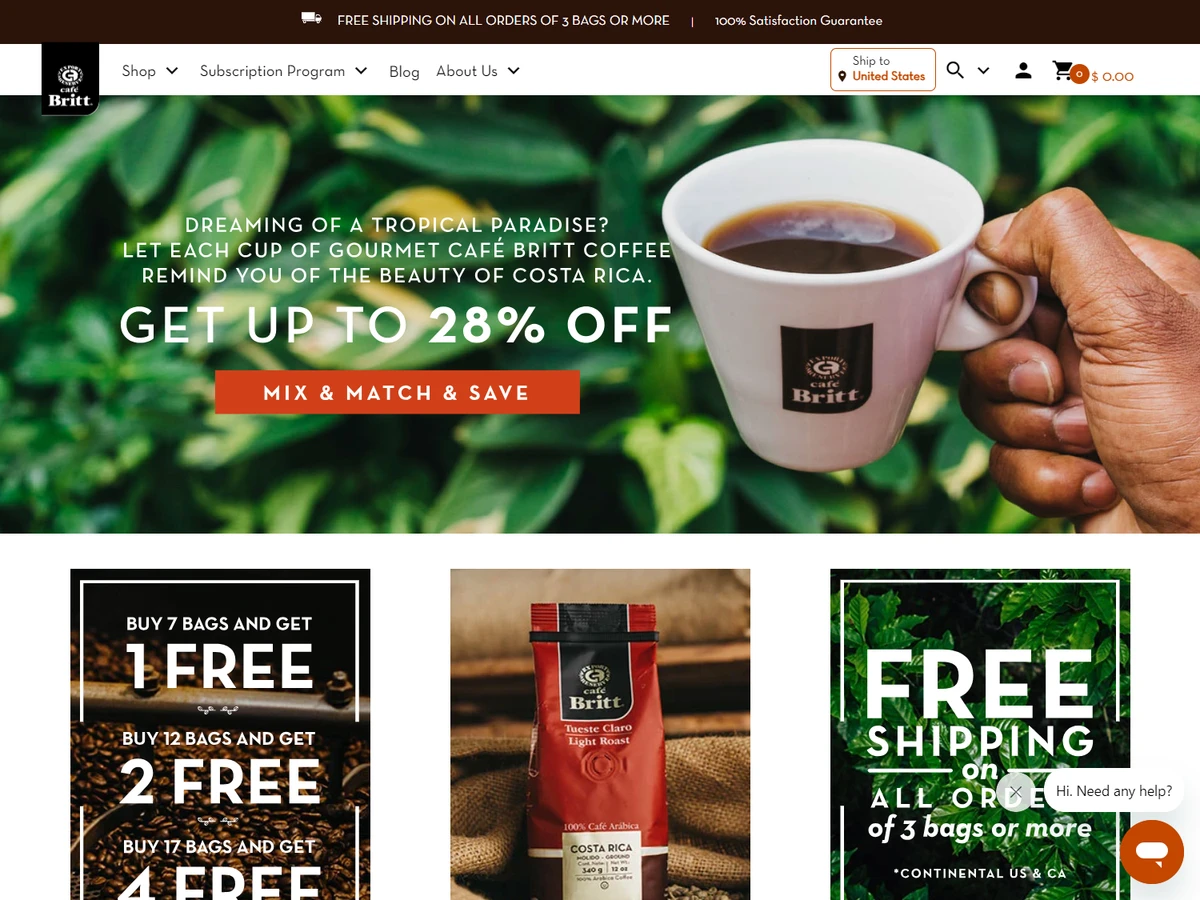 4. The Coffee Bean & Tea Leaf
Why it's good: This website has a phenomenal image slideshow in the hero, with clipped product images along with text and graphic elements. The Coffee Bean utilizes some amazing content blocks with diverse colors and high-quality photos.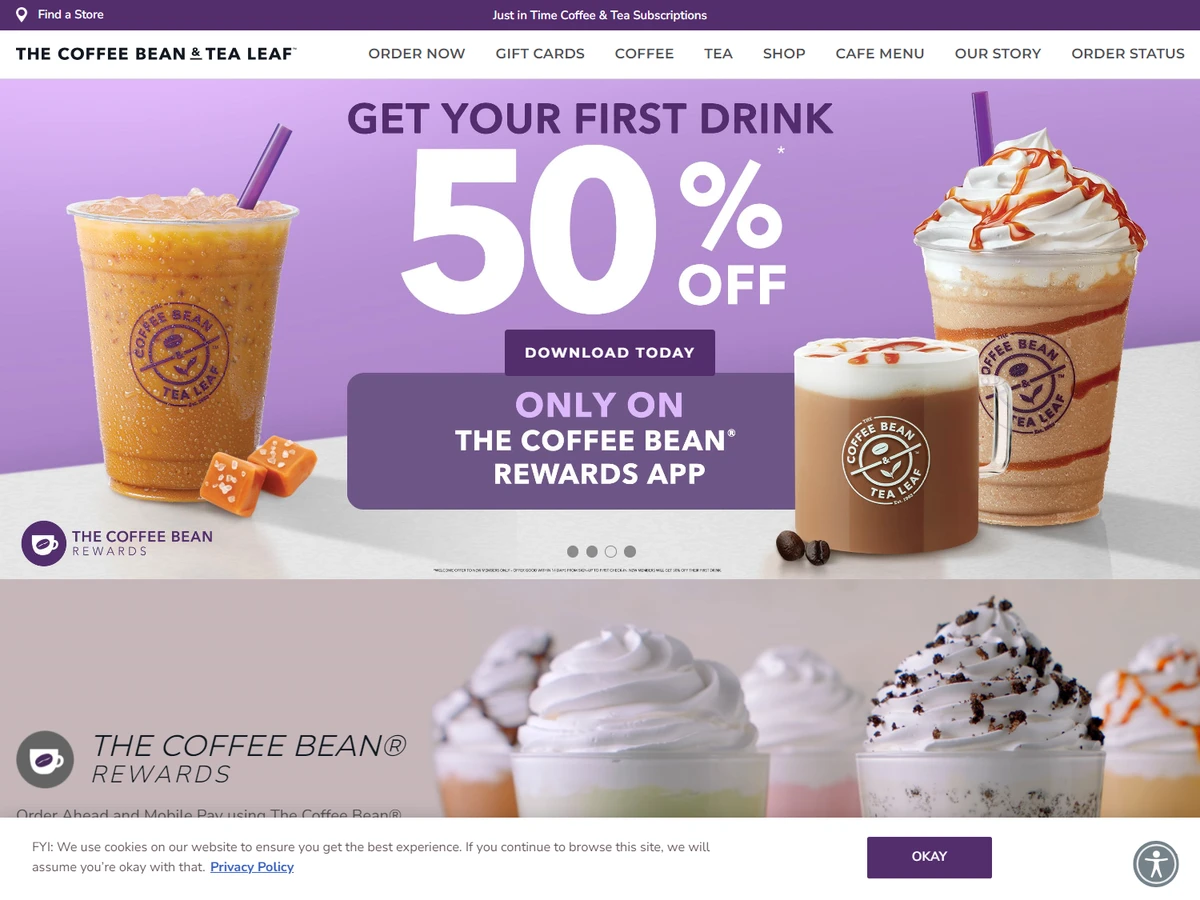 5. Equator Coffees
Why it's good: The site has an effective red, white, and black color scheme, strategic calls to action, and lots of excellent pictures. Other pluses include the use of full-width video, Google Map integration, and focused branding.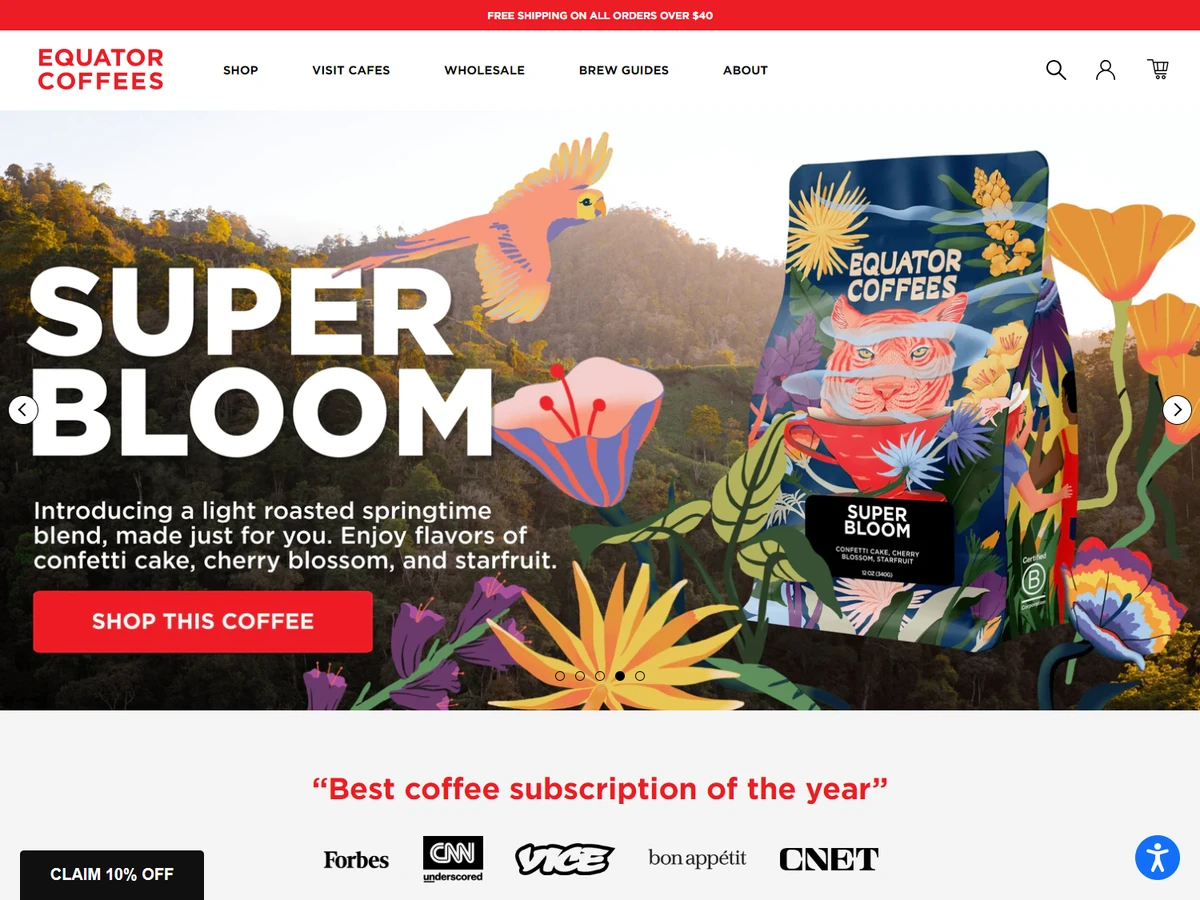 6. Verve Coffee Roasters
Why it's good: Verve Coffee makes good use of photos, product placements, and simple, stylistic fonts. We also appreciate the occasional looped animation. Lastly, the Subscriptions page offers clearly defined subscription options for different products.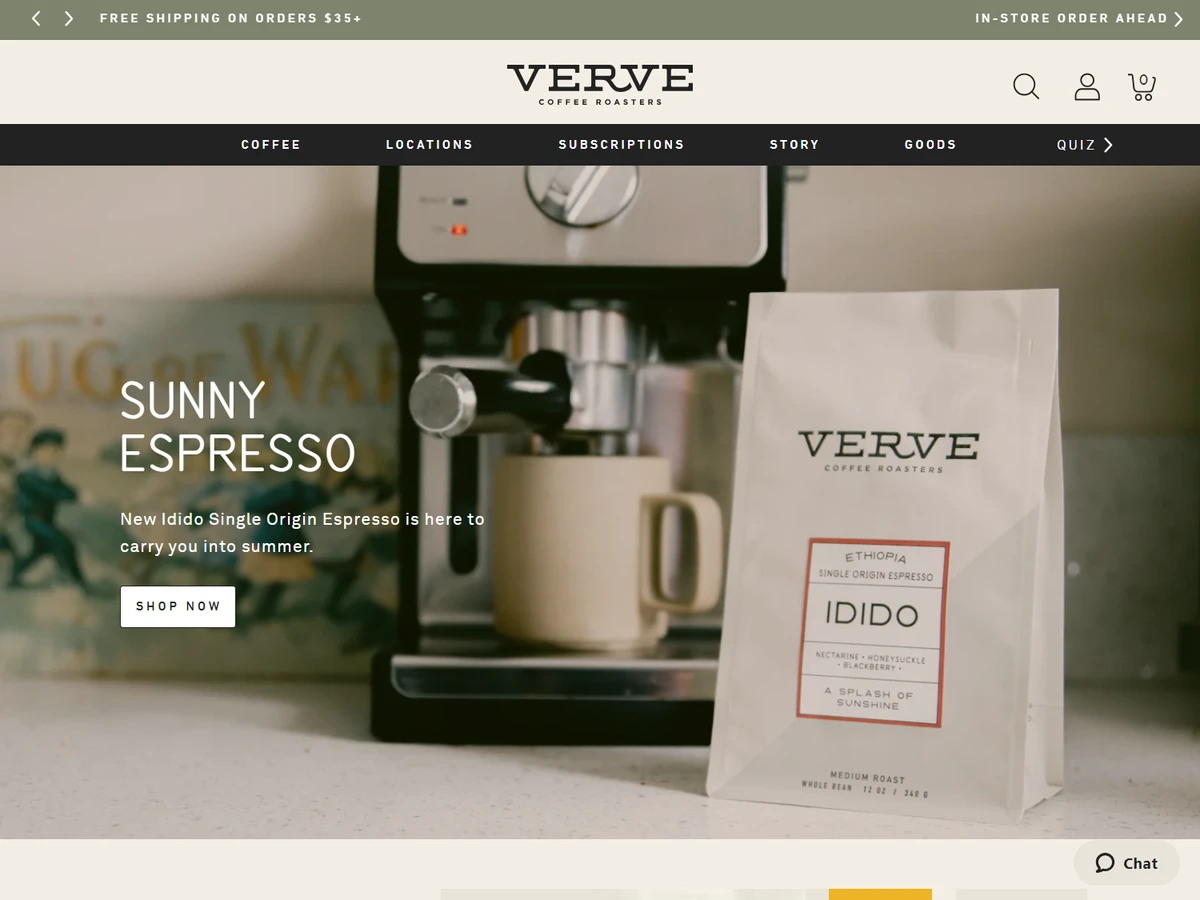 7. Lucky Goat Coffee
Why it's good: Lucky Goat has a spacious design with lots of white space. Other nice touches include the gorgeous product photos and the simple navigation menu, both of which focus the site and make it easy to find what you're looking for.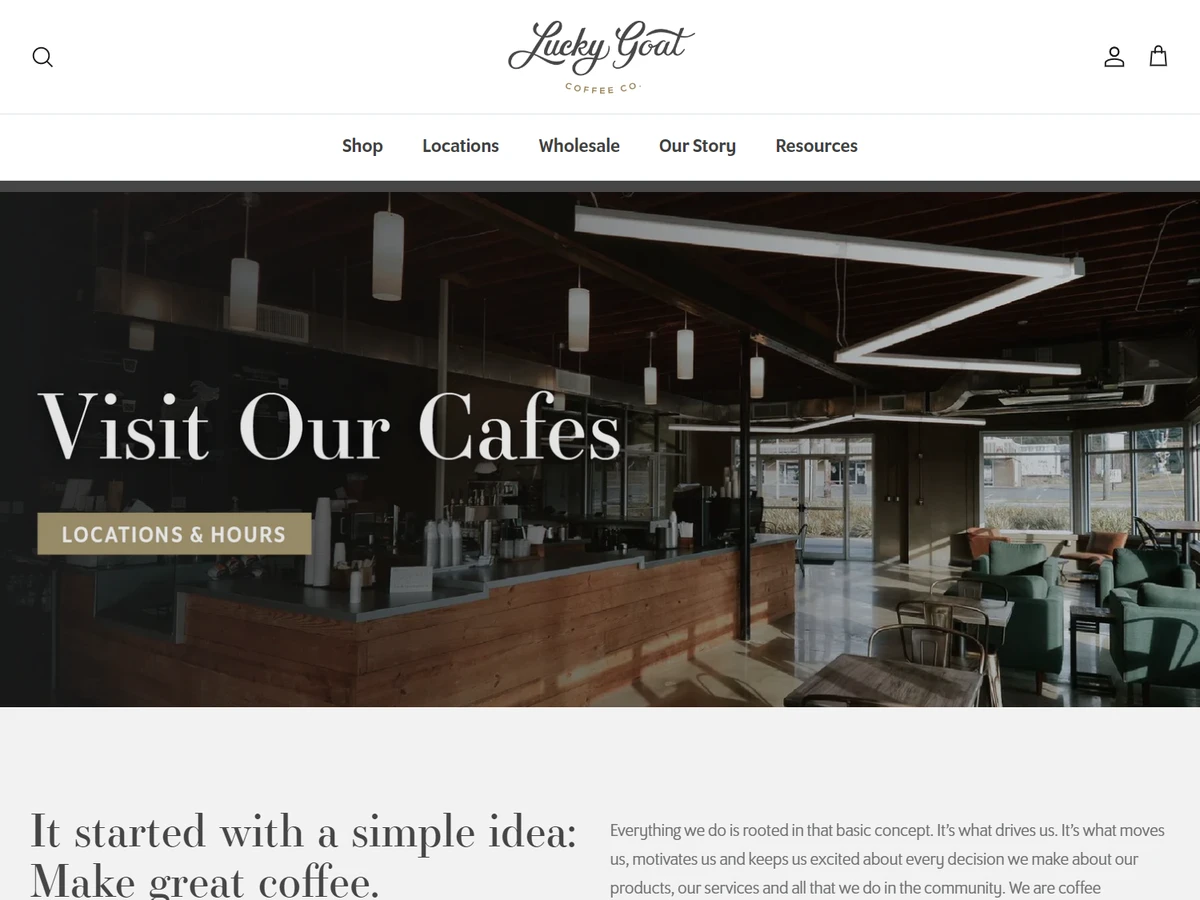 8. Trade Coffee – Drink Trade
Why it's good: We appreciate this website's sales funnel, which continues seamlessly down the home page. Trade Coffee's site makes excellent use of icon and text combinations, product placements, testimonials, and more.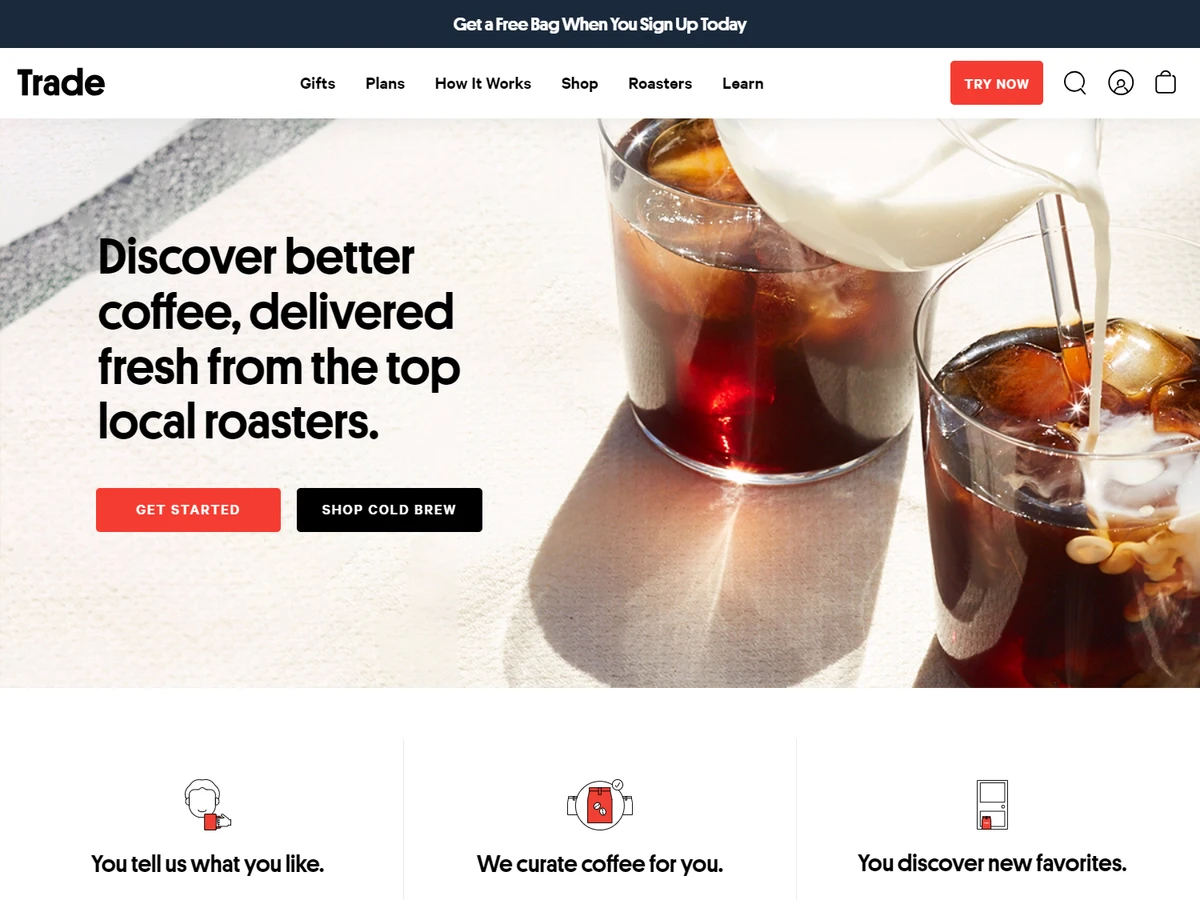 9. Coffee Bar
Why it's good: Certainly one of the best coffee websites, we love the bright colors and friendly feel. The design is quite dynamic, with plenty of font choices, a great balance of creative elements and whitespace, and some text with animated typing.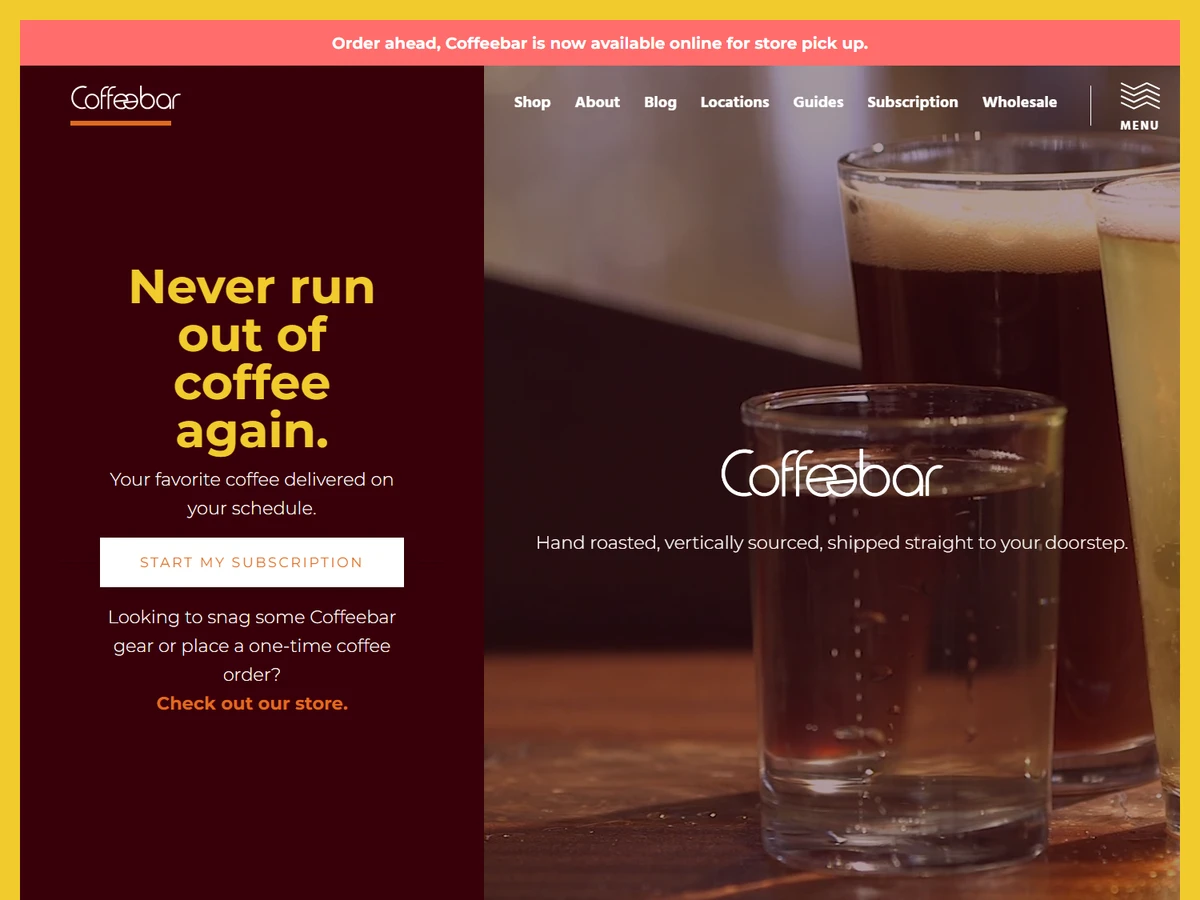 10. Messenger Coffee
Why it's good: A beautiful image carousel in the hero, superb product photos, and a clean white, gray, and black color scheme are the best elements of this site. We also admire the tight organization and flow.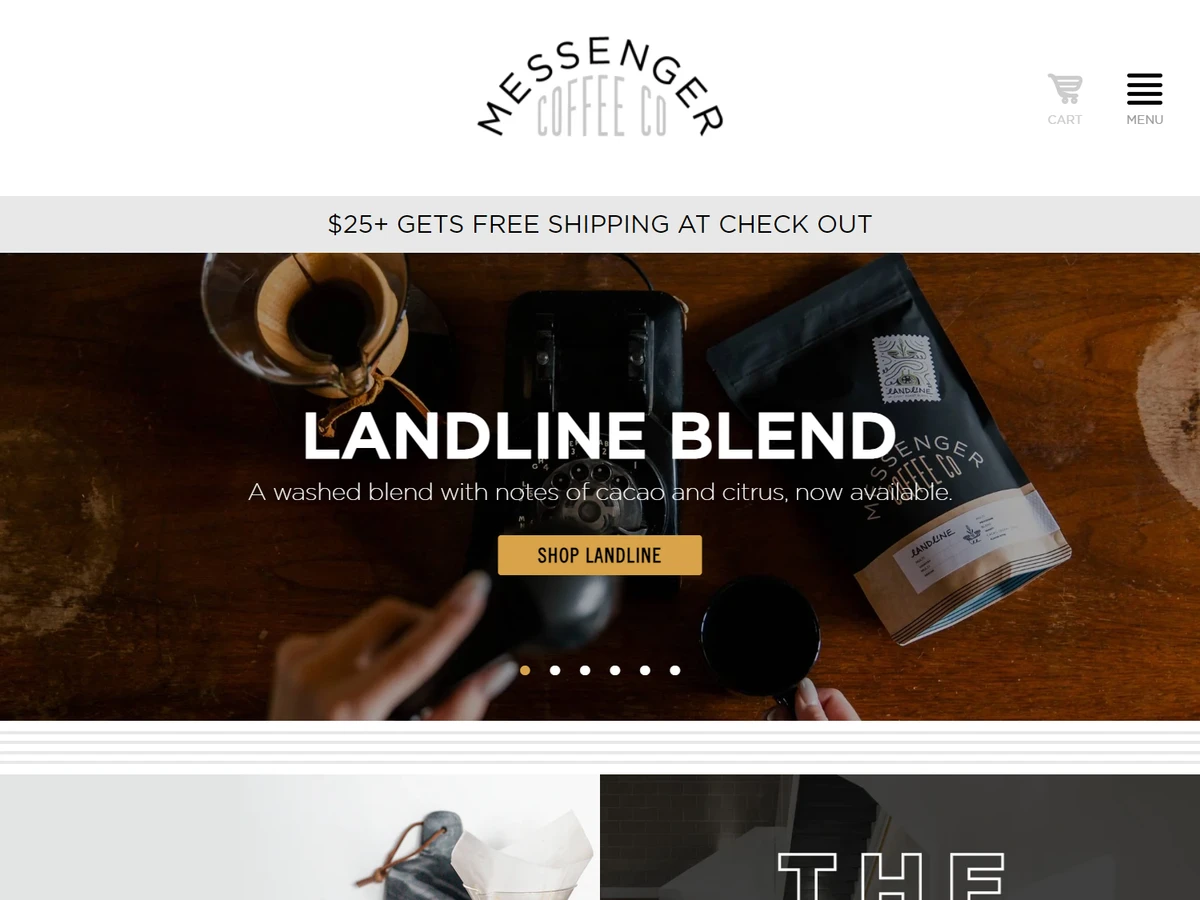 11. Tinker Coffee
Why it's good: Tinker Coffee has an interesting looping animation in the hero that sets the tone for a quirky, fun design. Everything onsite is very well packaged, and the logo in the footer is excellent.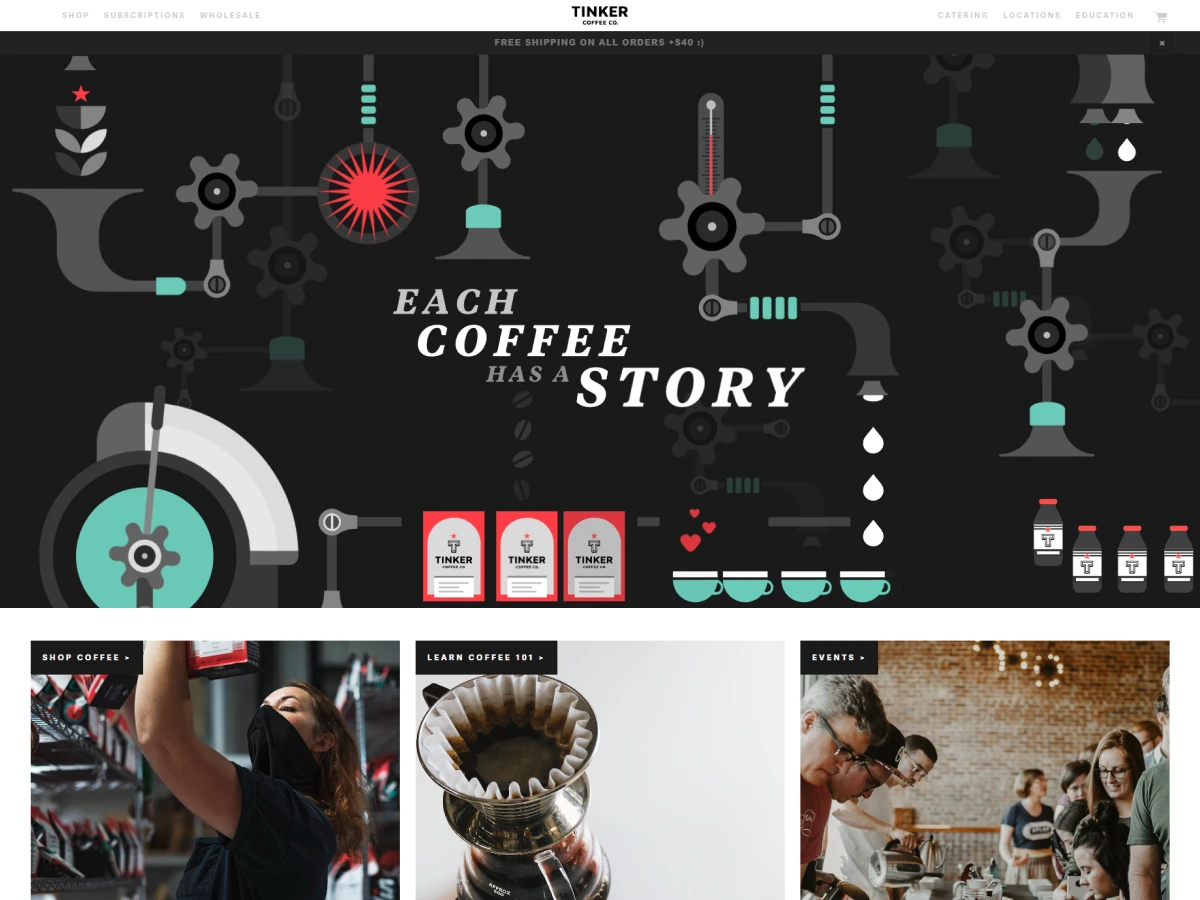 12. Quills Coffee
Why it's good: We appreciate Quills Coffee's down to earth design, the auto-scrolling slider with product photos, and the spare use of text. This is a very nice and clean design with easy navigation.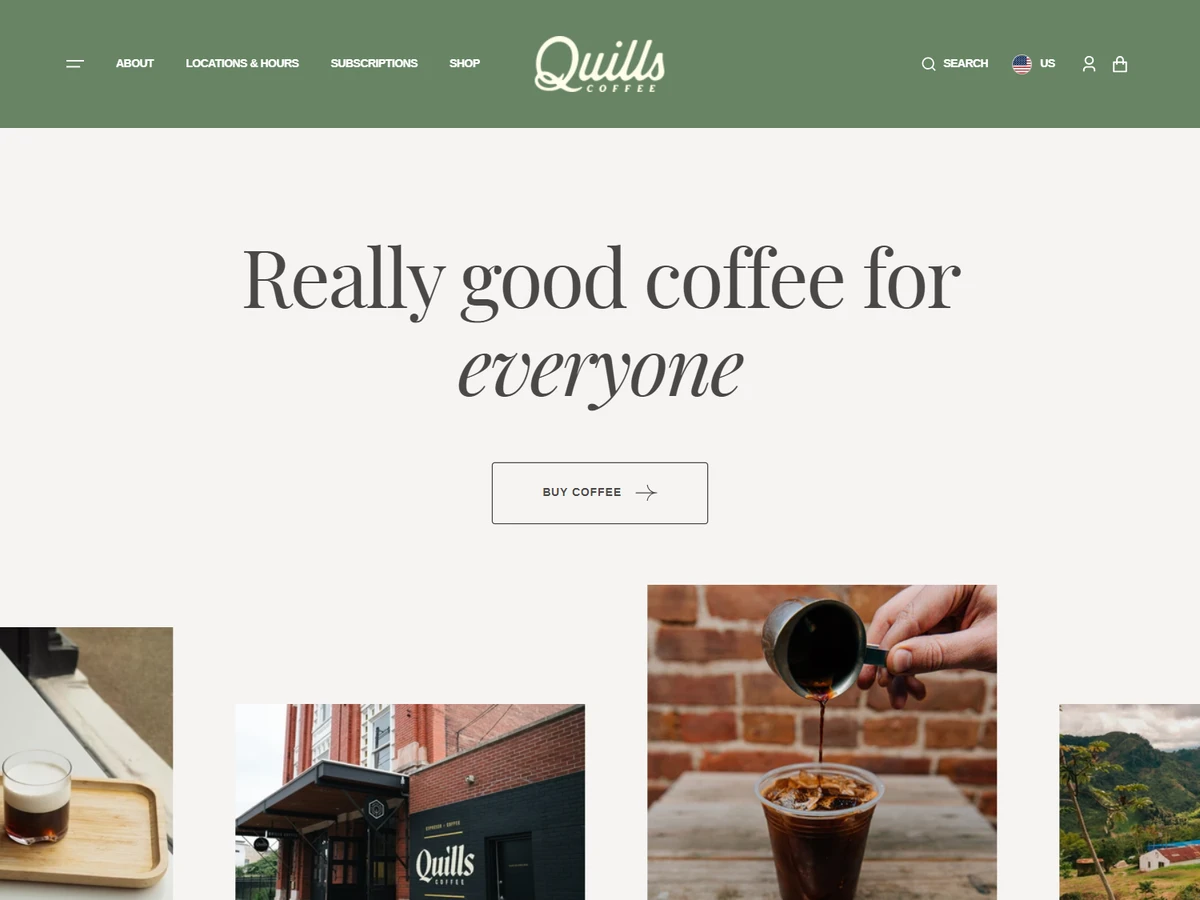 13. Stumptown Coffee Roasters
Why it's good: With a beautiful illustrated hero image and simple, enticing product cards, we can see ourselves buying from Stumptown Coffee. The website has a Help button to aid those who are looking for their favorite products.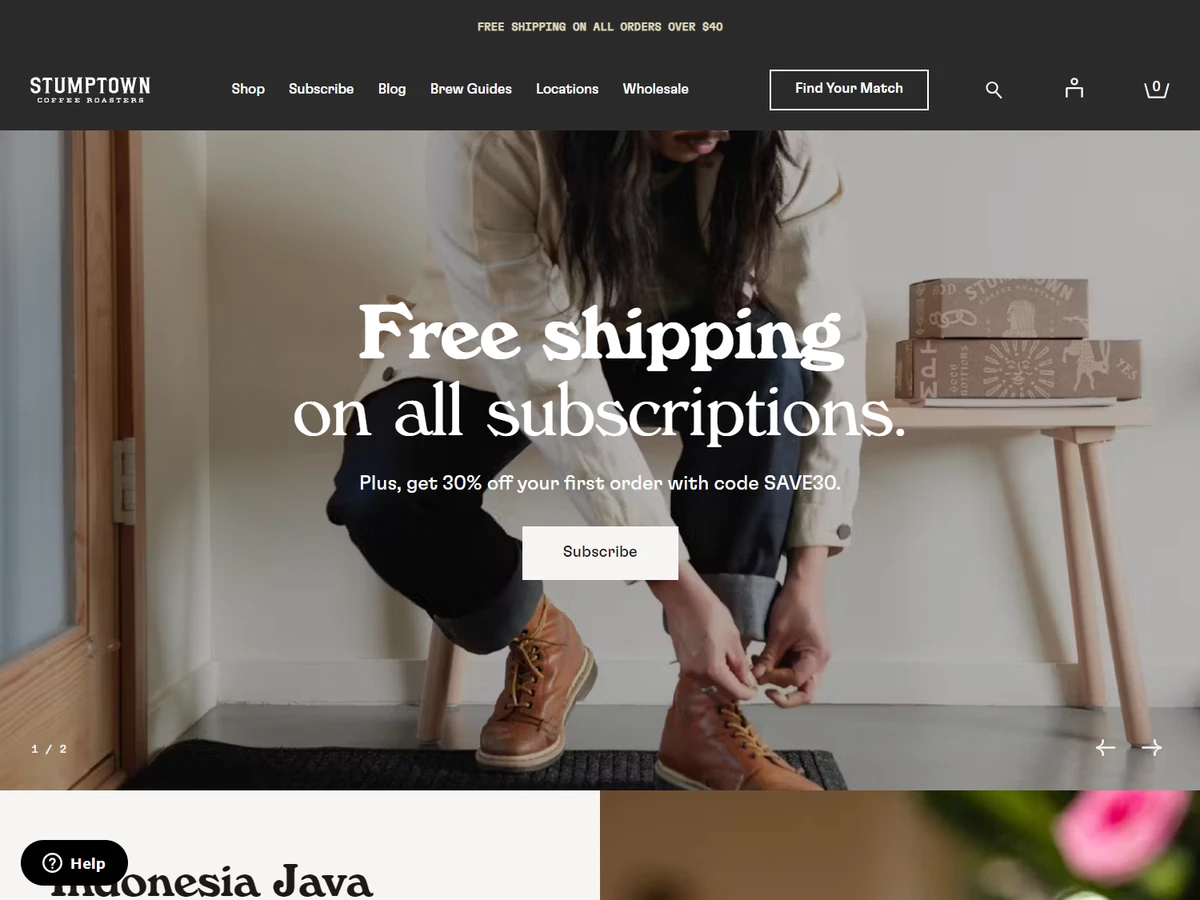 14. NOC
Why it's good: NOC has a sleek, spare, and modern design that we admire. The site also makes use of an interesting split-screen layout and a central vertical menu, which is unusual as far as home pages go but effective nonetheless. Other effective elements include the looped background videos and the tightly written text.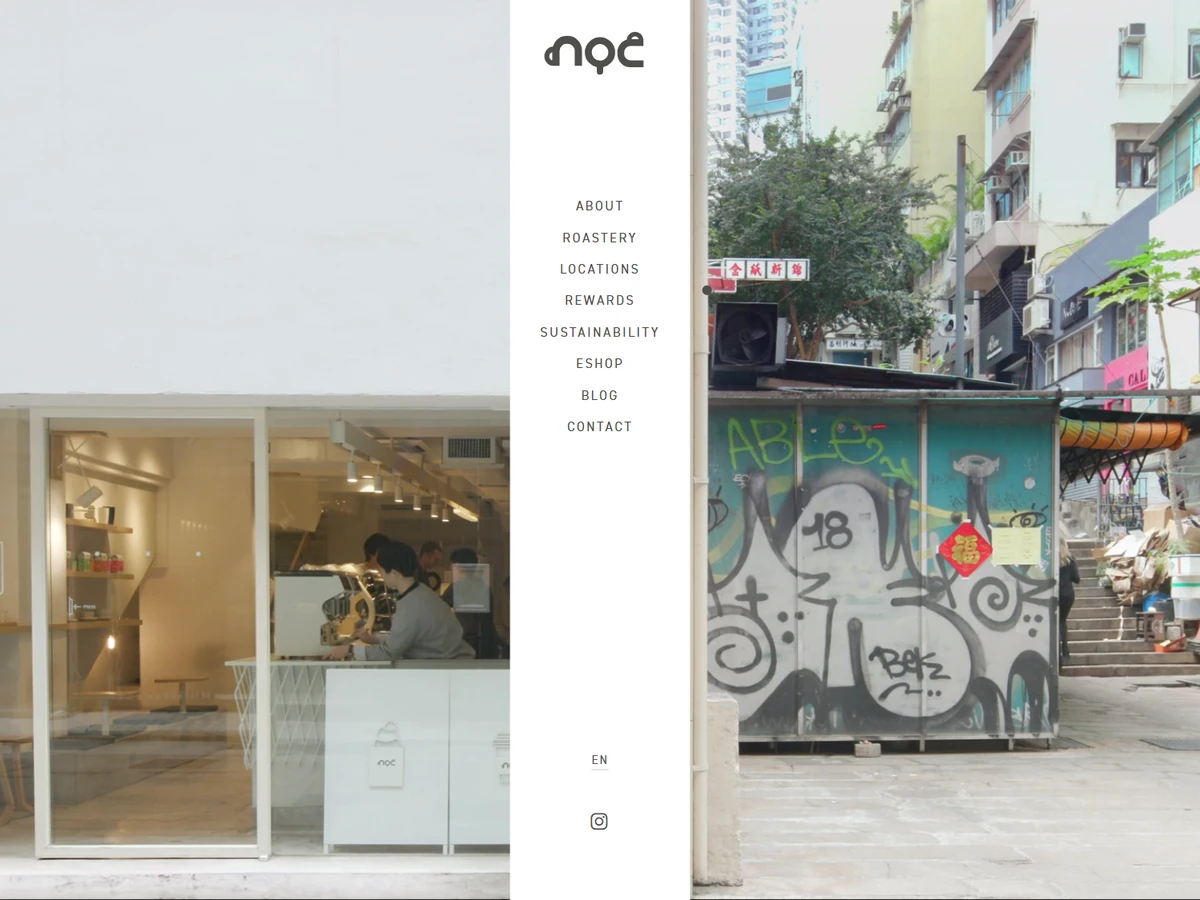 15. Joe Coffee Company
Why it's good: Joe Coffee Company has amazing branding that conveys a unique feeling. Everything from the blue and white color scheme to the light-hearted product designs maintains a certain consistency. We also love the exquisite full-width photos on the Discover – Our Story page.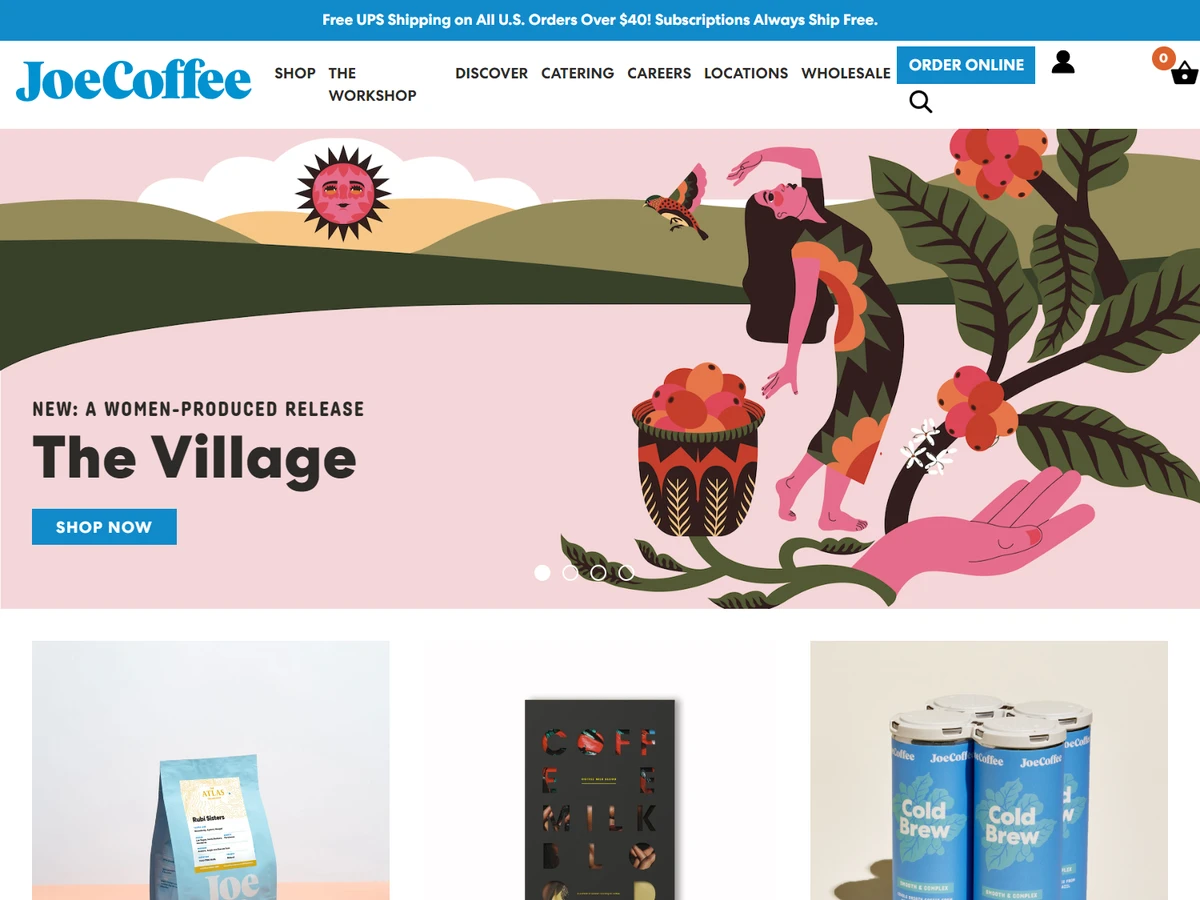 16. Ceremony Coffee
Why it's good: Ceremony has an exquisite, spacious design with large photos. We also like the dynamic, sticky header that gives visitors quick access to the straightforward navigation menu.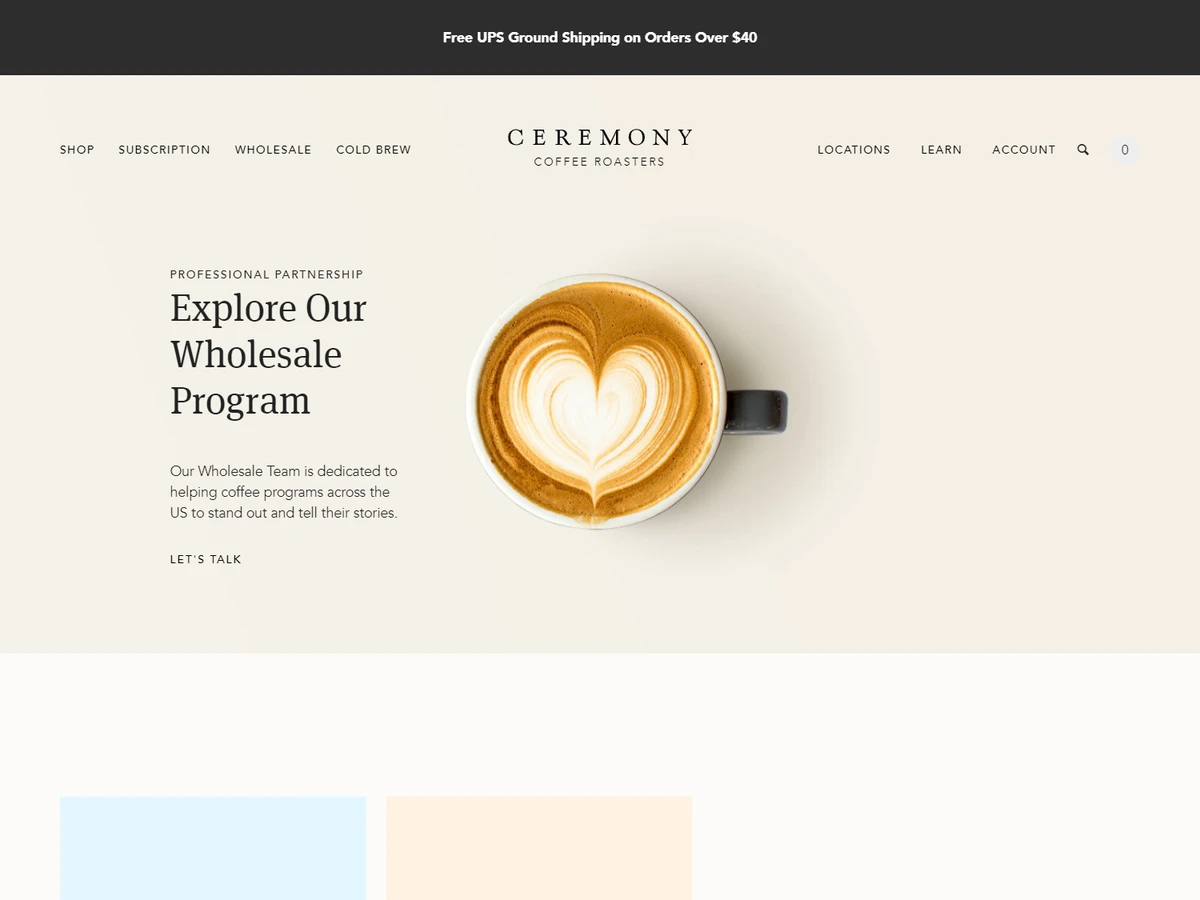 17. Counter Culture Coffee
Why it's good: A strong color palette, illustrated icons, and creative use of text combine to make for a compelling website. Counter Culture Coffee additionally benefits from a split-screen layout in certain content sections that allow you to compare and contrast products.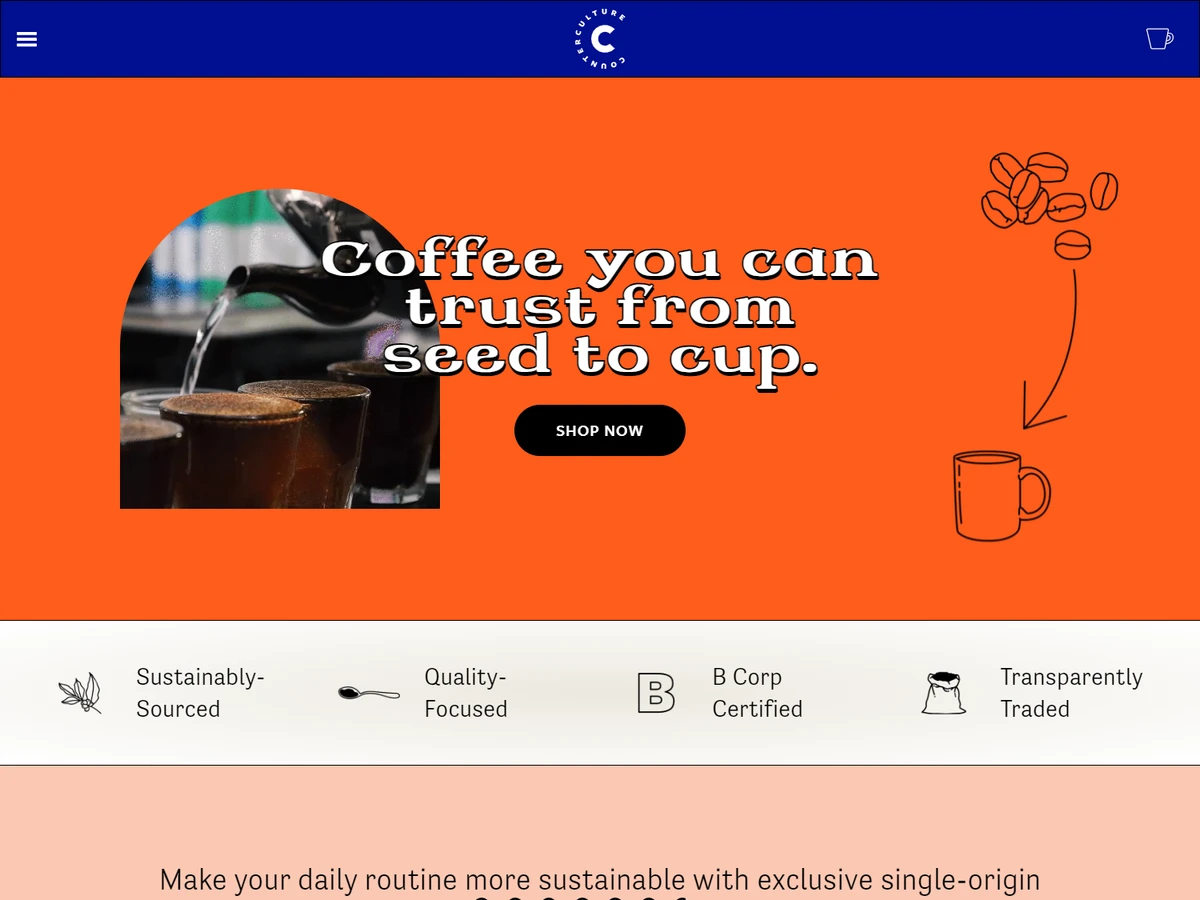 18. Van Houtte Coffee Services
Why it's good: We love this website's header, which has a beautiful logo and offers a well-designed navigation menu. The site's layout is superb and is at once compact and uncluttered.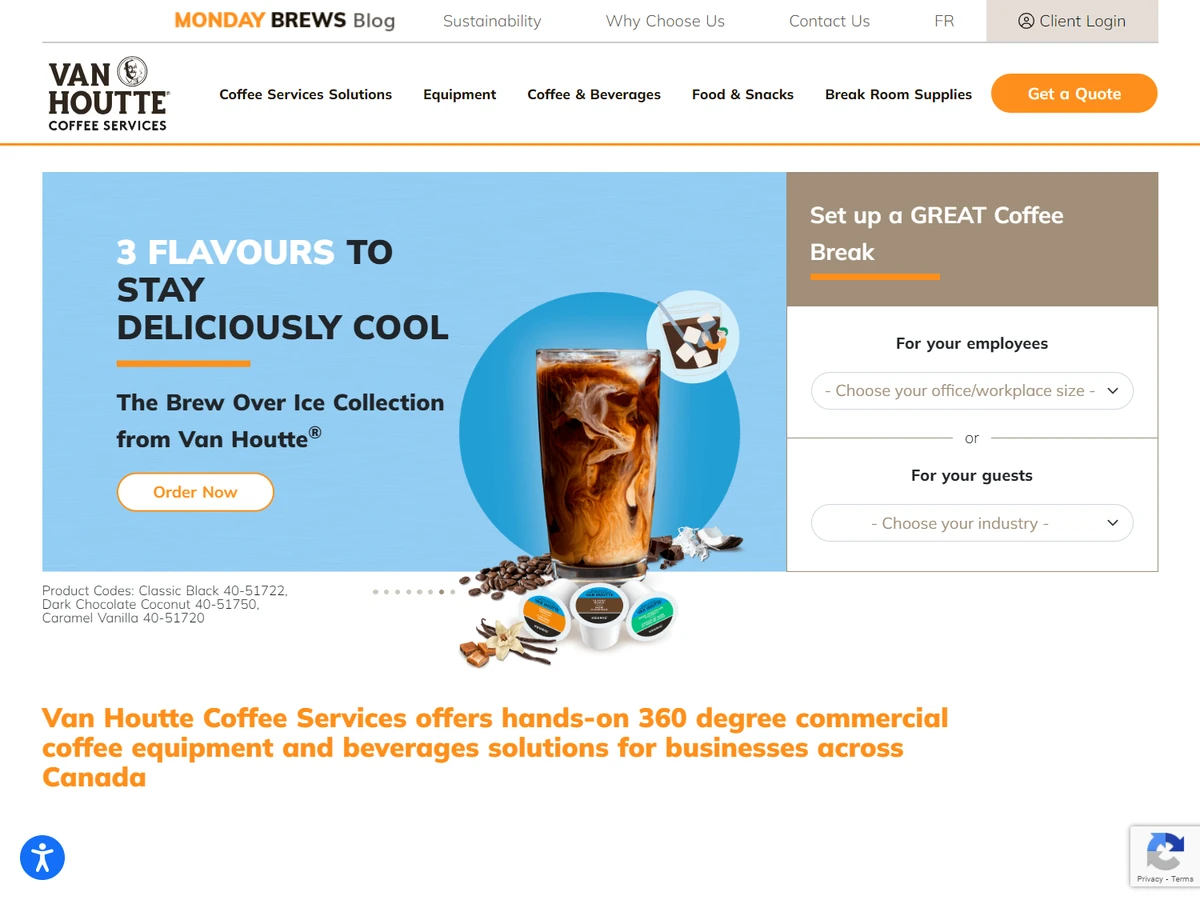 19. SPoT Coffee
Why it's good: SPoT Coffee has convenient order banners, an excellent hero video, quality photos, and punchy text, all of which make for a compelling design.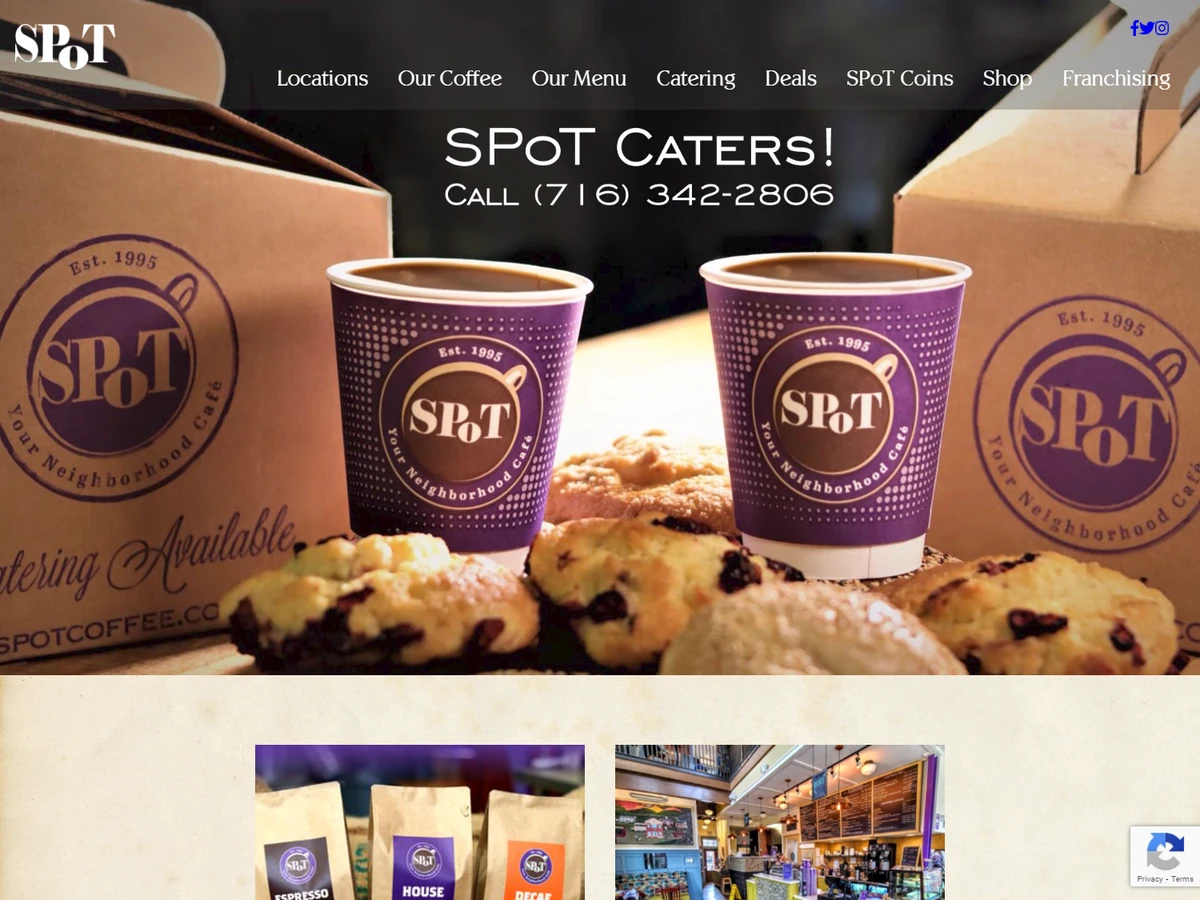 20. Chamberlain Coffee
Why it's good: Chamberlain Coffee has a compact layout that is paradoxically spacious and easy to sort through. Everything about this site is good, from the playful product designs, to the bright colors, to immaculate and colorful content sections.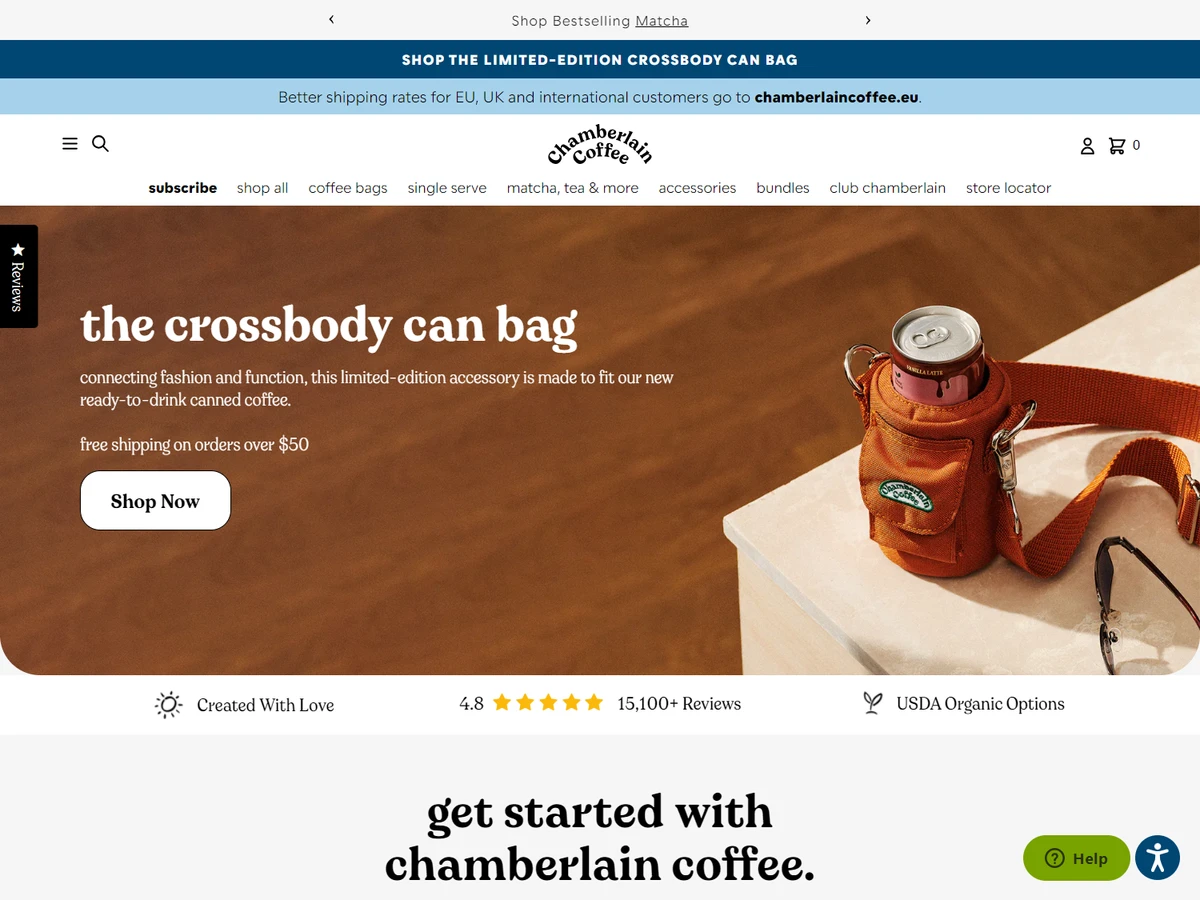 21. Zeke's Coffee
Why it's good: Zeke's Coffee has an effective minimal design with little clutter. We love the spare use of text as well. We're a fan of text that gets straight to the point.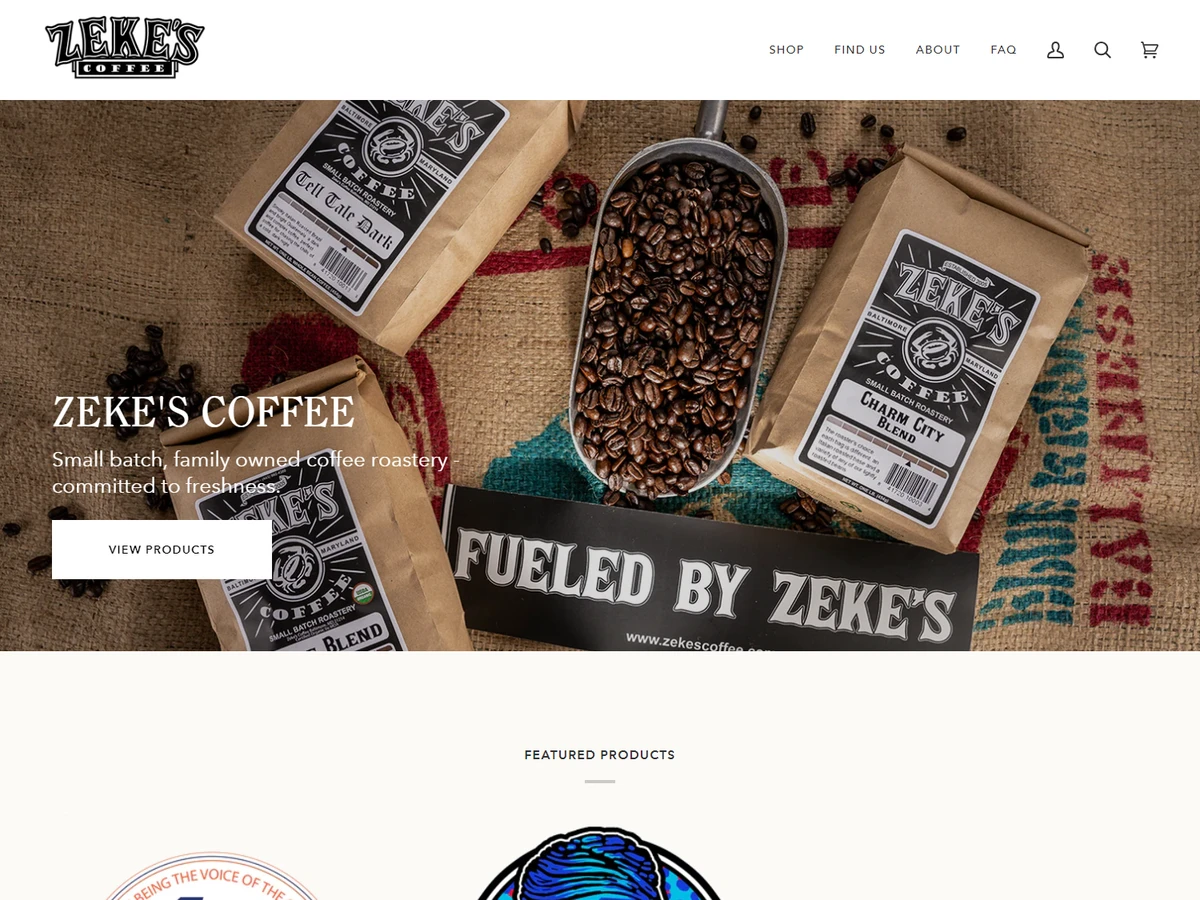 22. Driven Coffee Roasters
Why it's good: This is an engaging coffee website with authentic photos. The photos on this website are some of the best on this list and speak to where the products are coming from.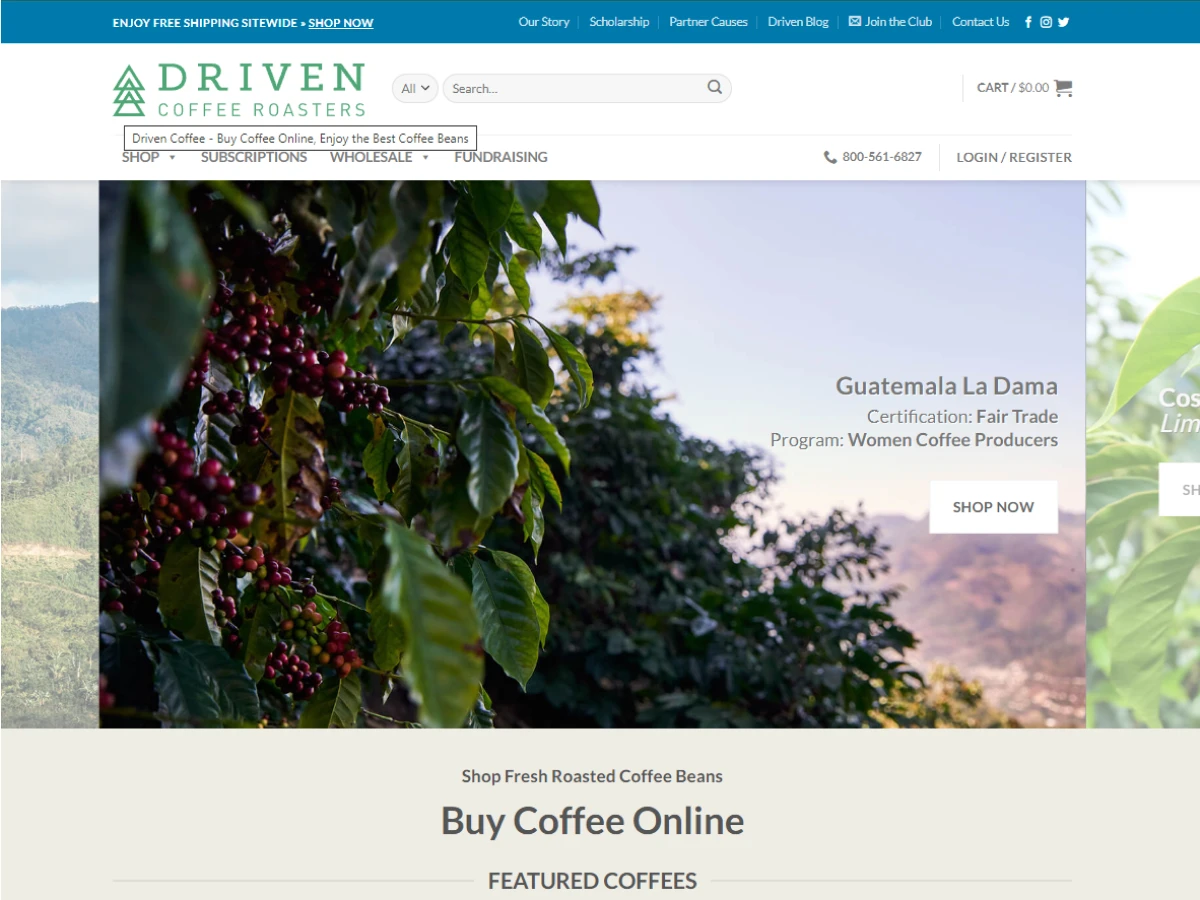 23. Dillanos Coffee Roasters (DCR)
Why it's good: DCR certainly deserves to be on the list of best coffee websites. It has creative illustrations and colors, beautiful product photos, web accessibility, and much more.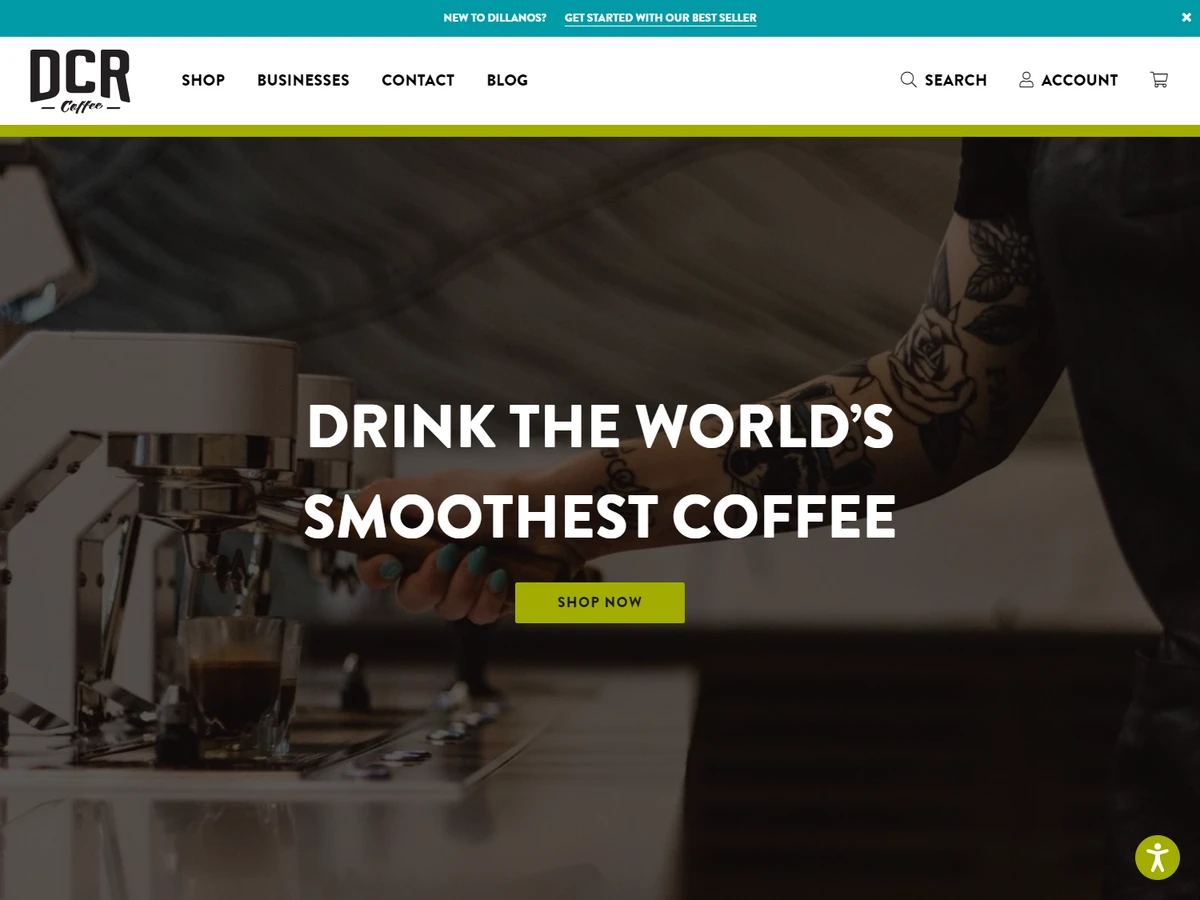 24. Atlas Coffee Club
Why it's good: Coffee websites that convey their brand are the best, and we have to say, Atlas Coffee Club does a great job of it. The entire website, from the simple header, to the world-style photos, are uniquely Atlas.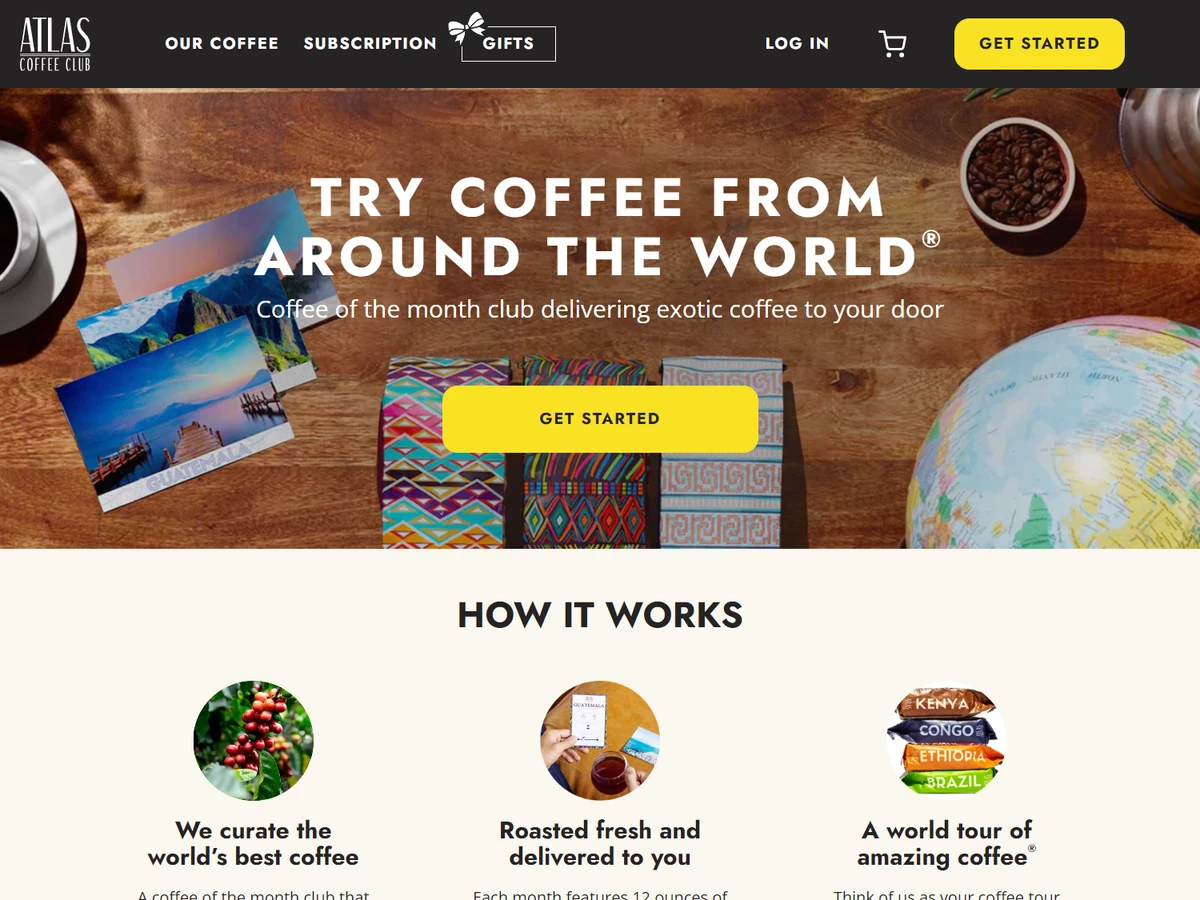 25. Tandem Coffee Roasters
Why it's good: Tandem Coffee benefits from a grid layout that emphasizes simplicity. This site utilizes all the fundamental elements that make for a great coffee website.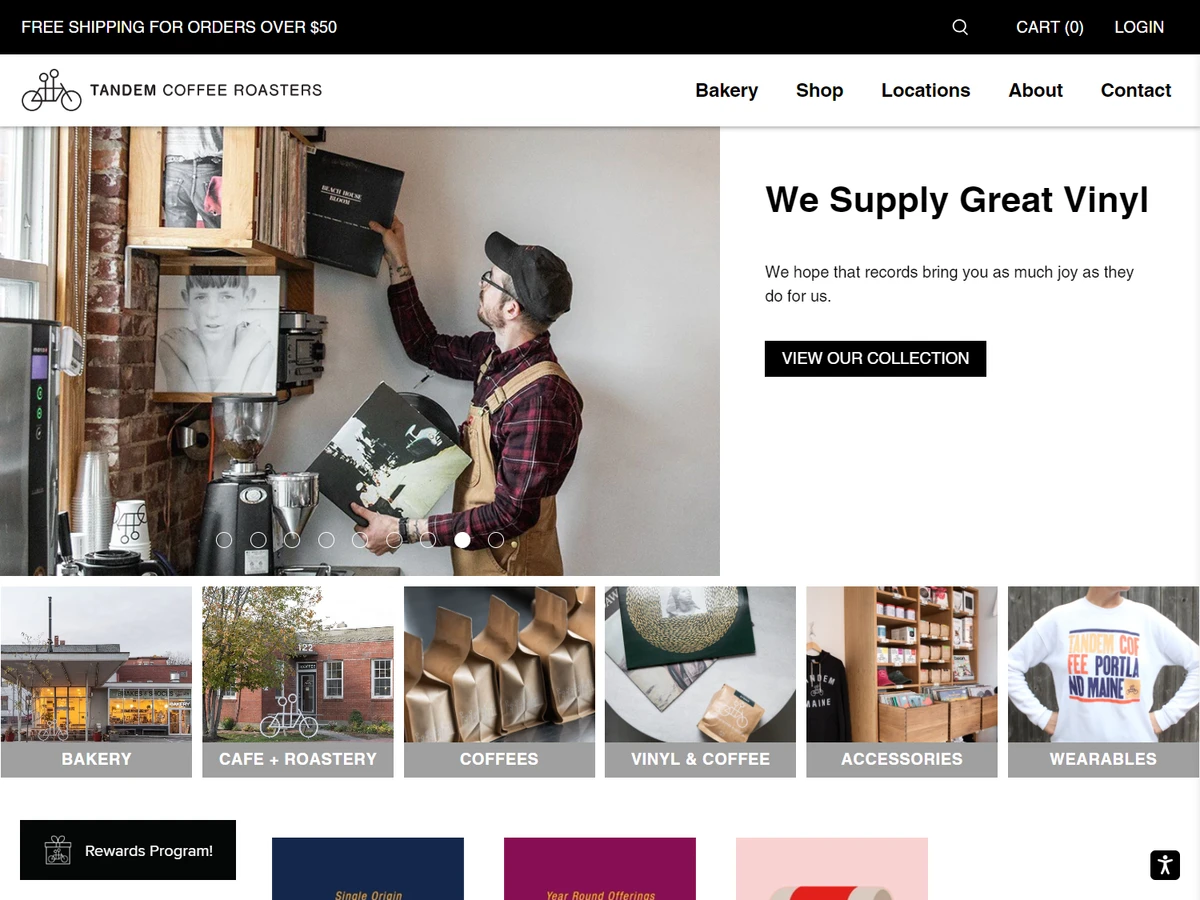 26. Colectivo Coffee
Why it's good: Colectivo is bursting with creativity. It uses horizontal content sections and content cards with a variety of clipped product images, illustrations, and CTAs.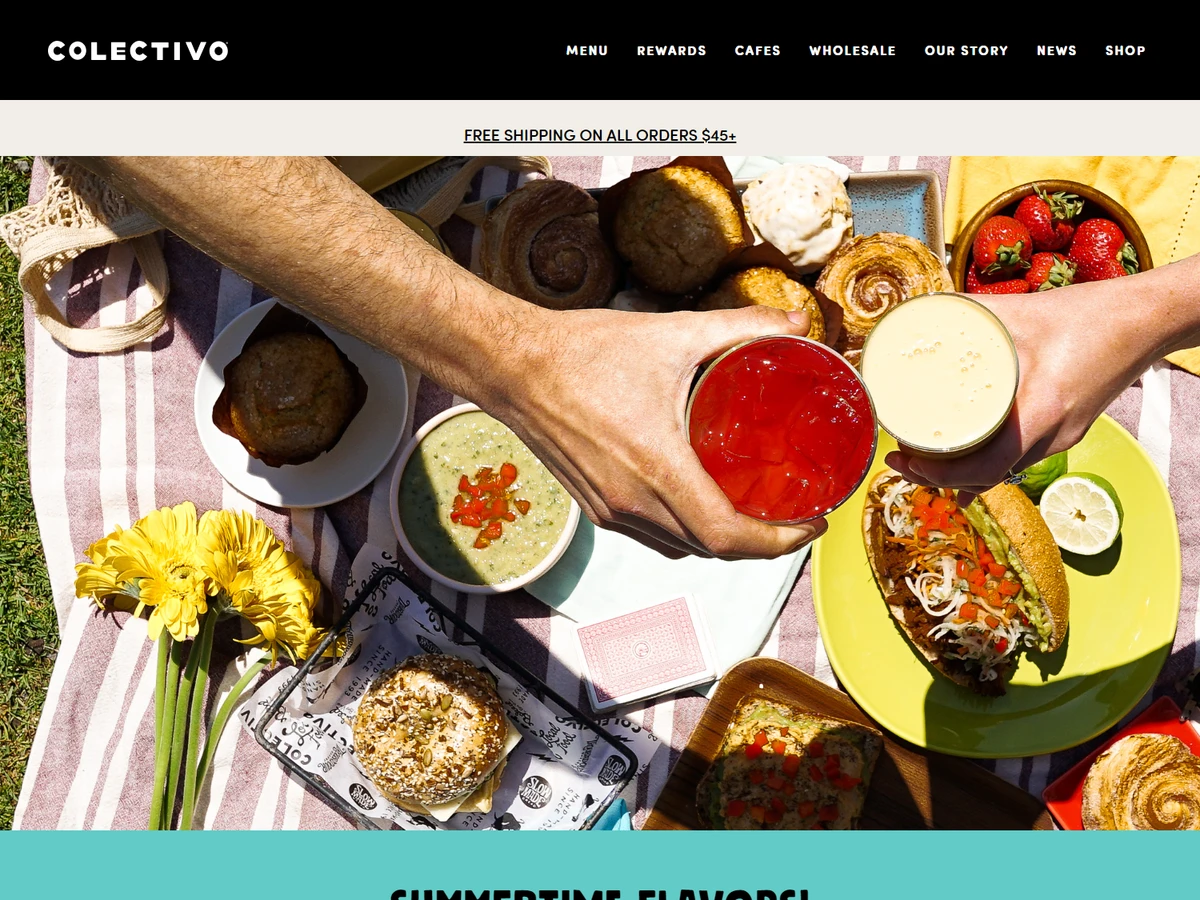 27. Groundstate Coffee
Why it's good: This is one of the best church websites on the list. The hero video alone is eye-popping and gives you an amazing glimpse into the coffee-making process. Everything on this site is exceptionally polished, including the product images, which feature some very unique illustrations.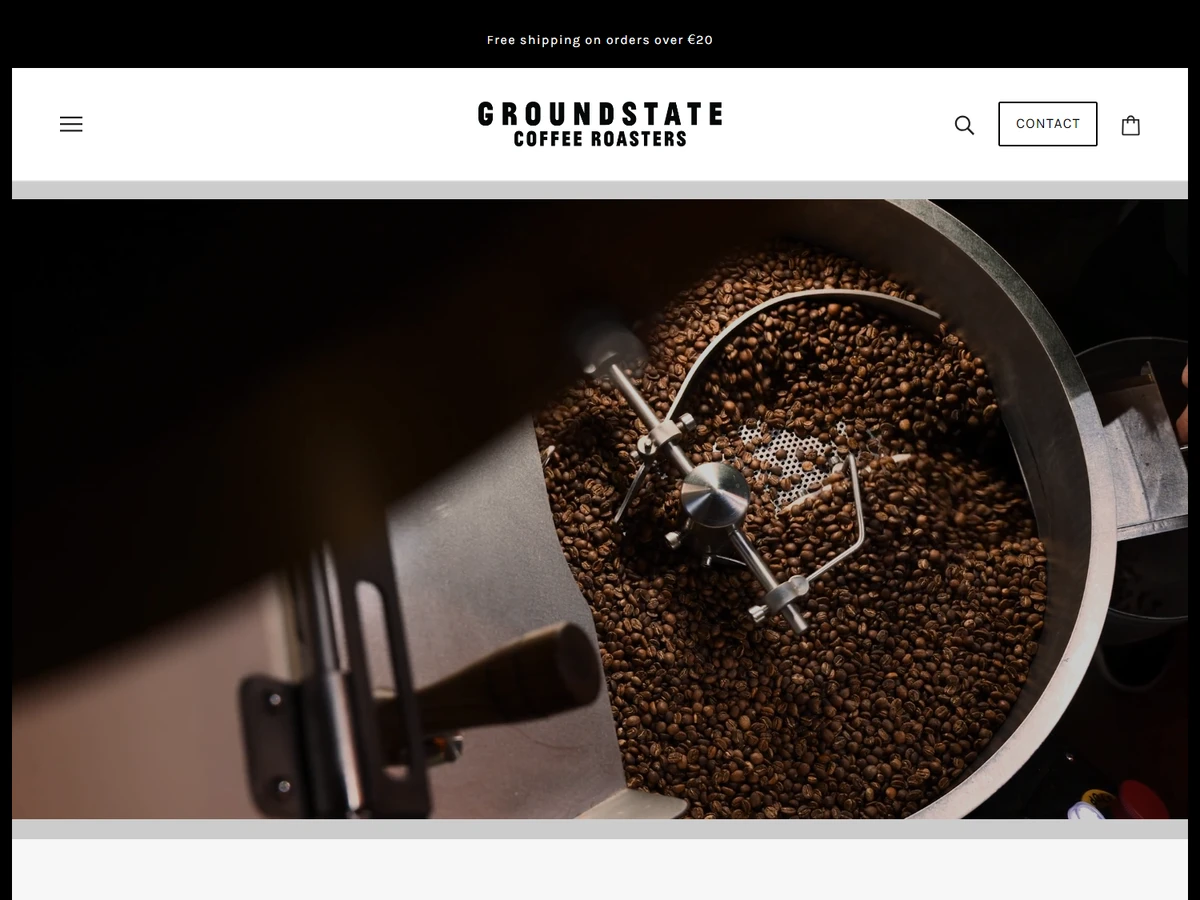 28. La Barba Coffee
Why it's good: Another top coffee website, La Barba does a fantastic job showcasing its products. We love the site's use of image and text overlays.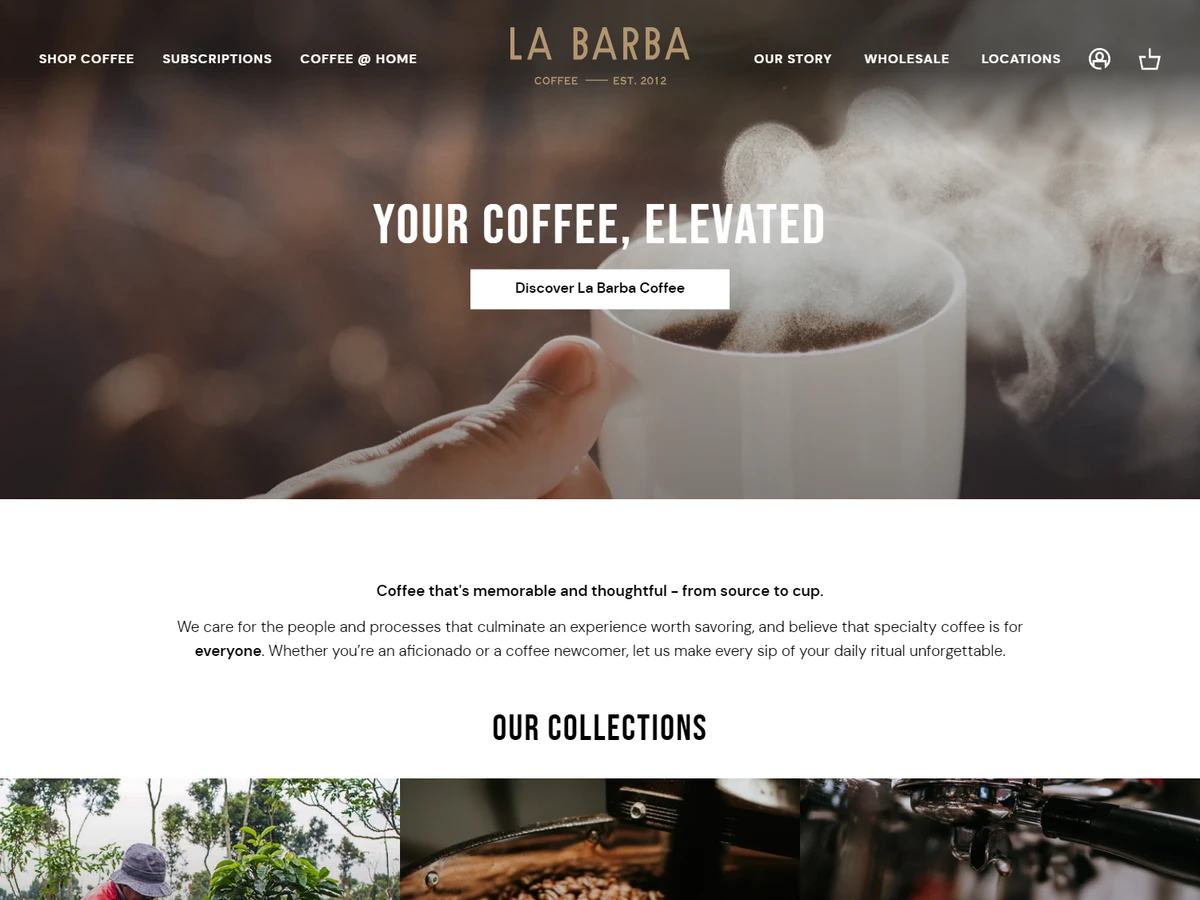 29. Greater Goods Coffee
Why it's good: This is an exceptionally polished coffee website that strikes a perfect balance between multiple elements—creative, professional, colorful, and pragmatic.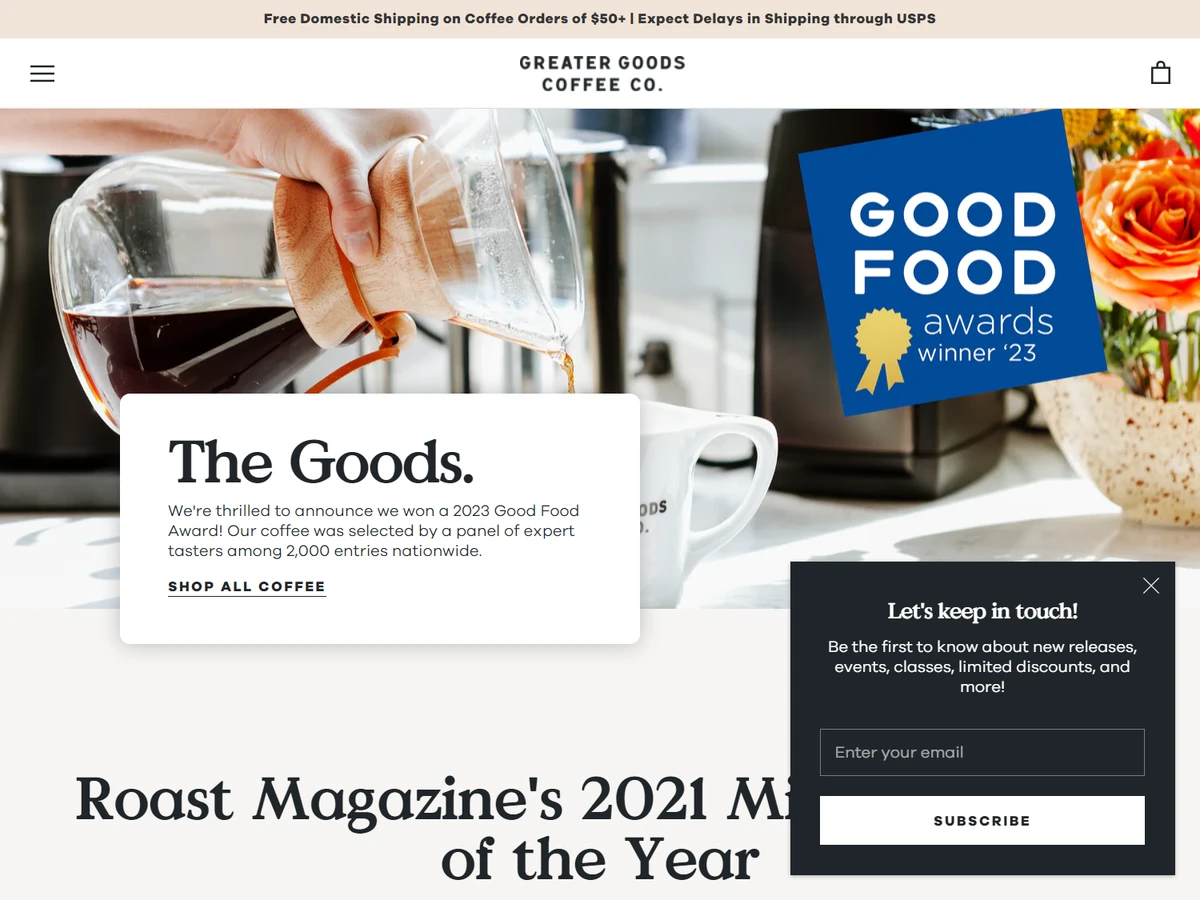 30. Coffee Geek
Why it's good: CoffeeGeek is a simple coffee website. To be fair, the design isn't perfect, but we appreciate how much information it offers. The navigation menu and submenus are loaded with topics.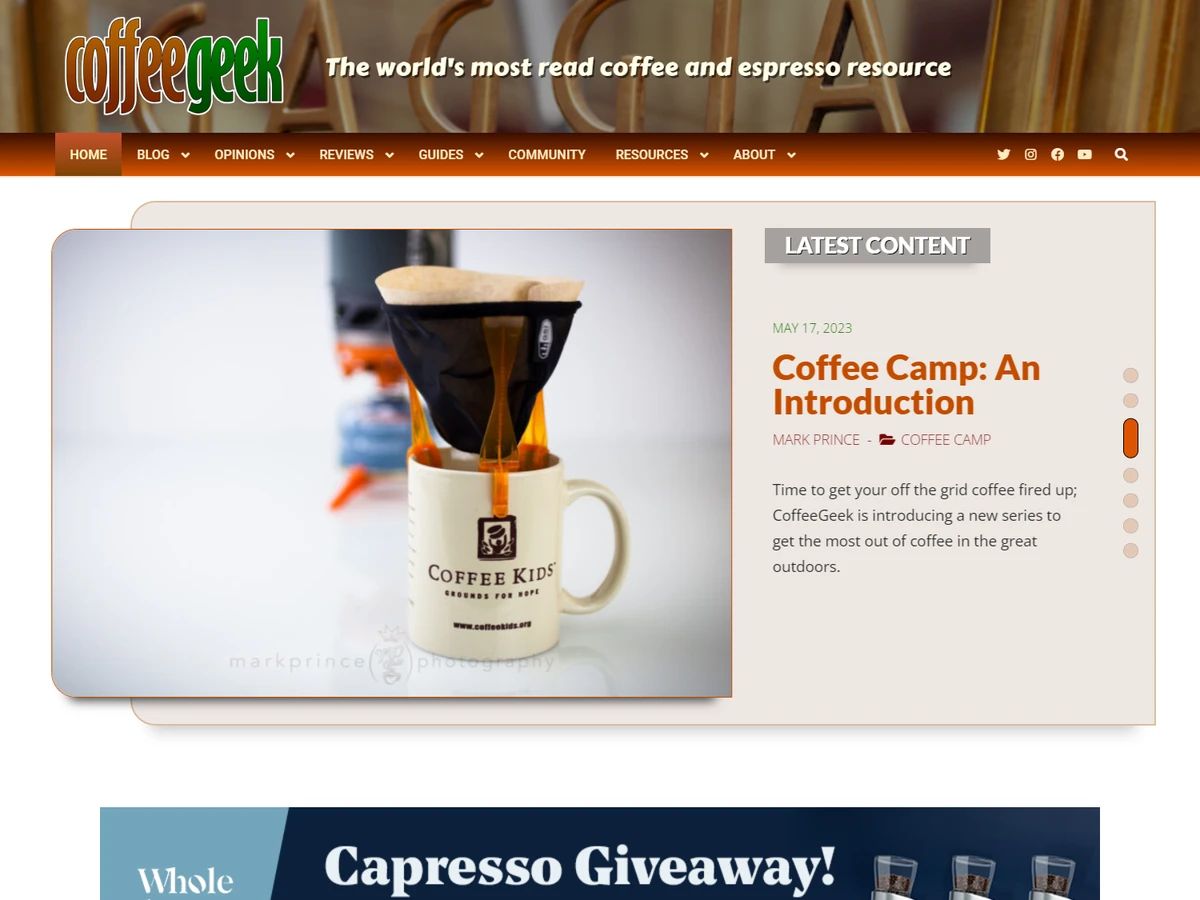 31. Klatch Coffee
Why it's good: Klatch Coffee utilizes content sections with creatively positioned products. The way the photos and text are arranged is dynamic and very well done.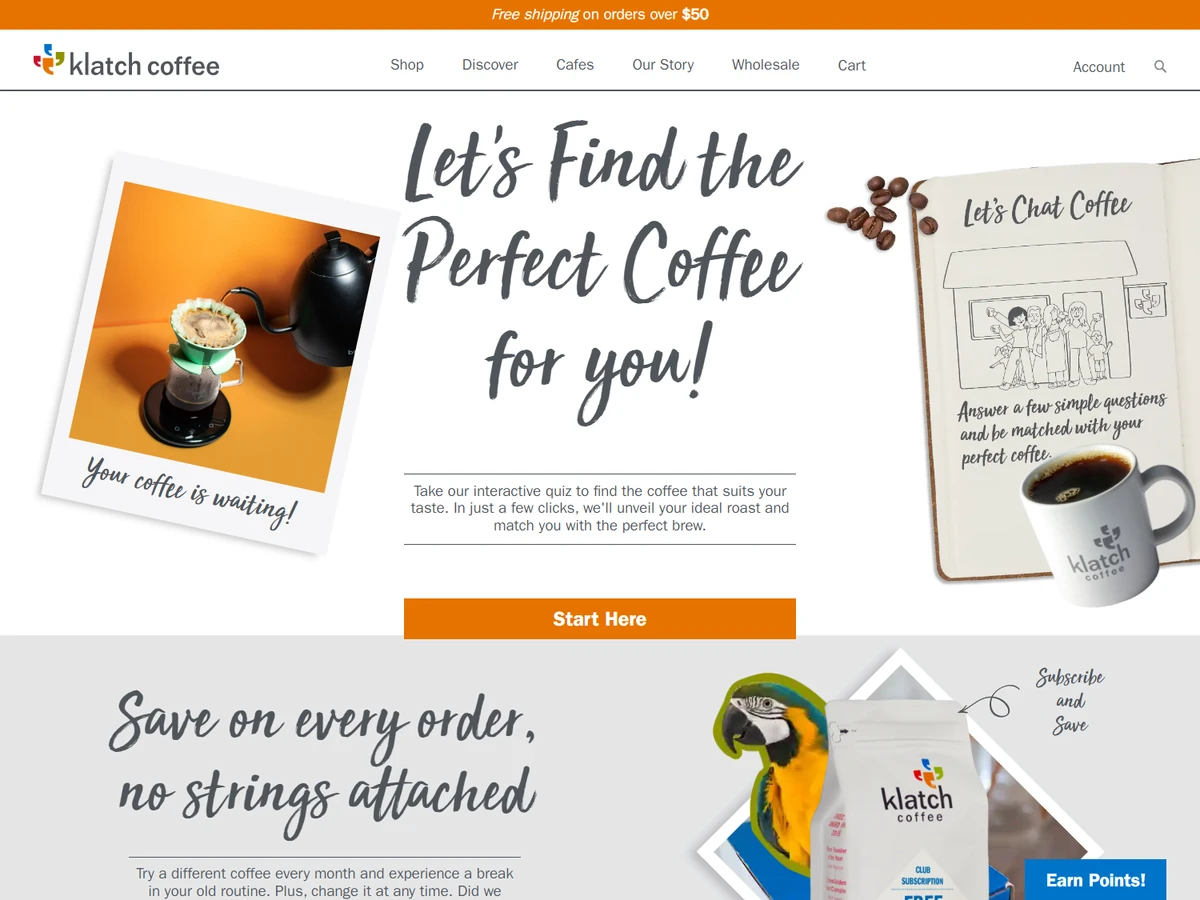 32. Copper Door Coffee Roasters
Why it's good: This is an immersive coffee website that draws you in and makes you want to know more. It ticks all the right boxes for a functional, easy-to-navigate website.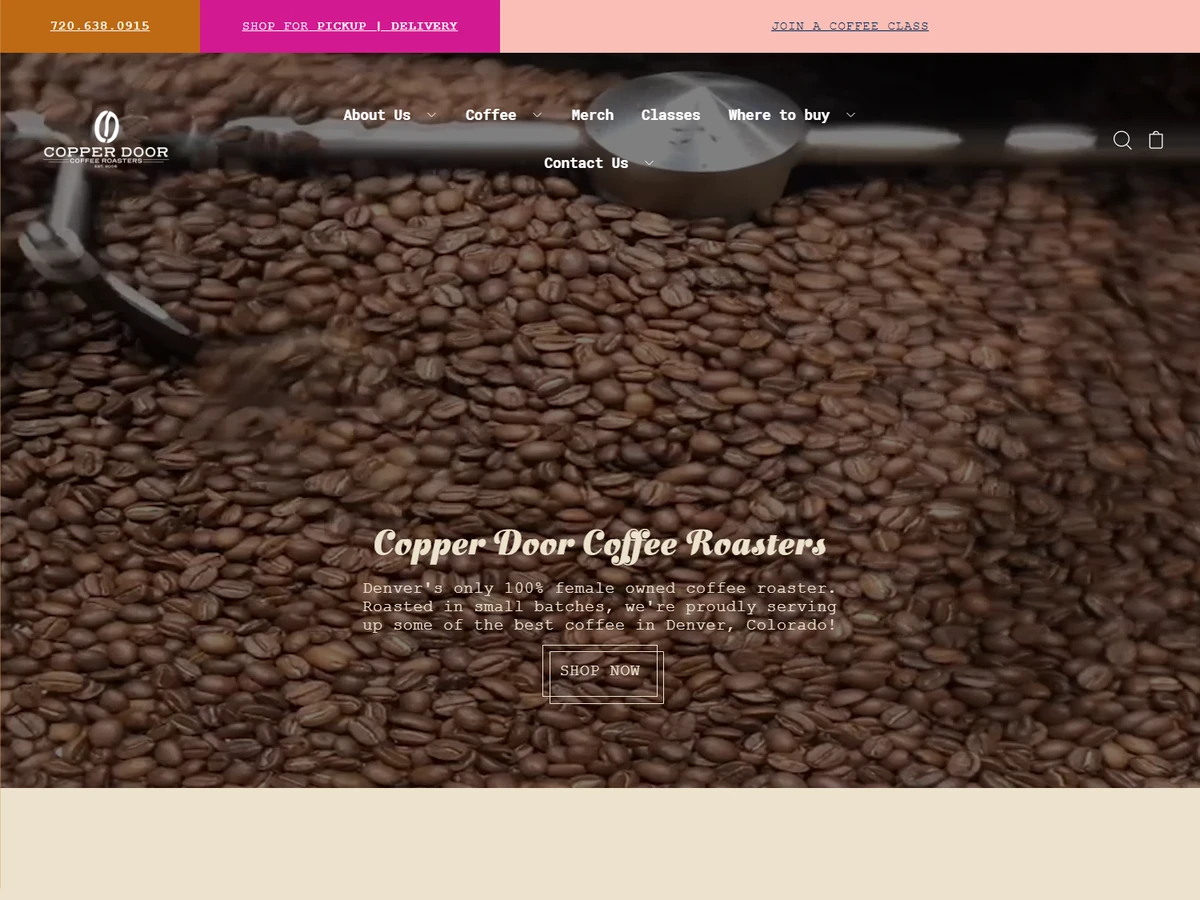 33. Sweet Maria's Home Coffee Roasting
Why it's good: Sweet Maria's is a quirky coffee website with beautiful custom illustrations and authentic photos. Of all the coffee websites on this list, this one may have the most unique branding.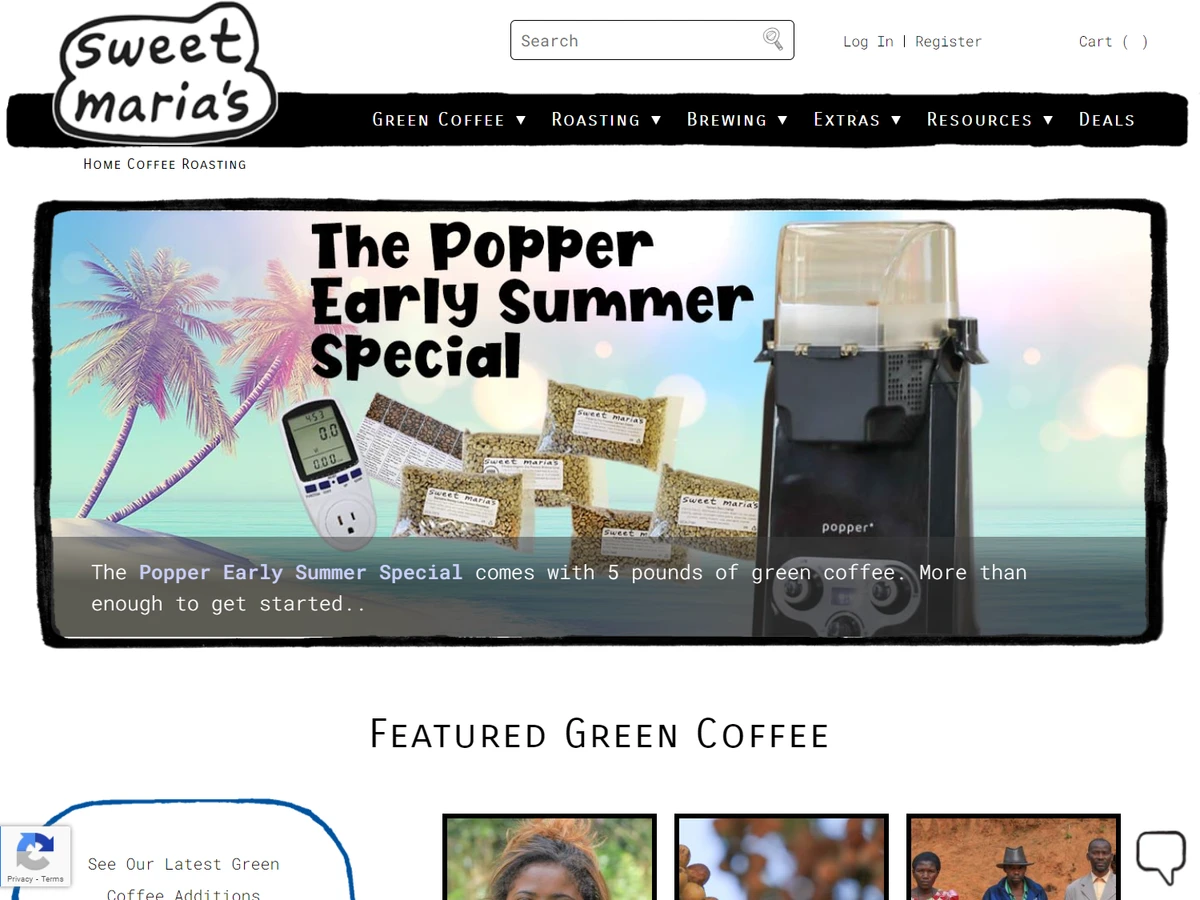 34. Common Grounds Waco
Why it's good: Common Grounds Waco has a homey feel to it, which is the perfect vibe for a coffee website. While there are a couple of flaws here and there with the design, this one still deserves to be on the list of the best coffee websites. The design really does its job by making us want to order!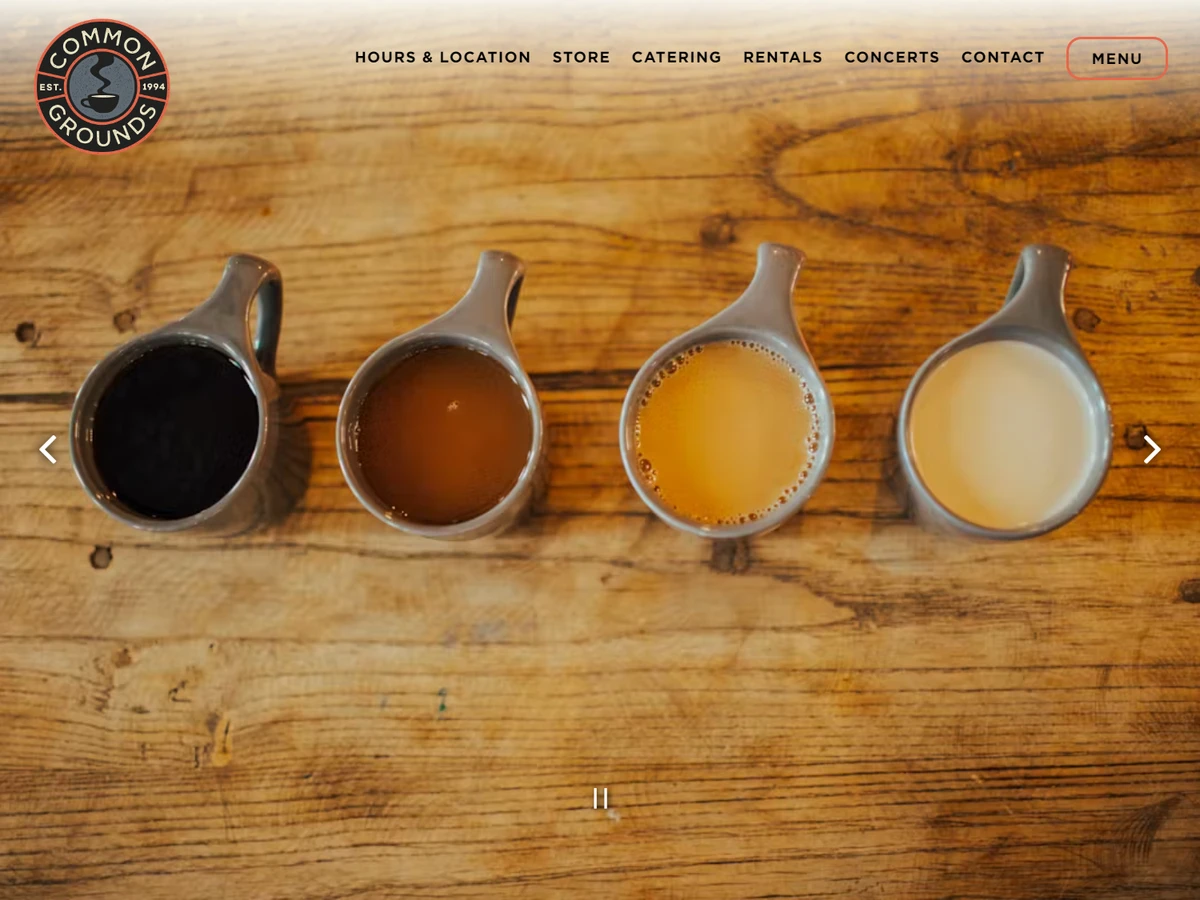 35. Just Coffee Cooperative
Why it's good: We love this coffee website's exceptional illustrations and product placements. We also like the use of the full-width vertical photo strip on the home page.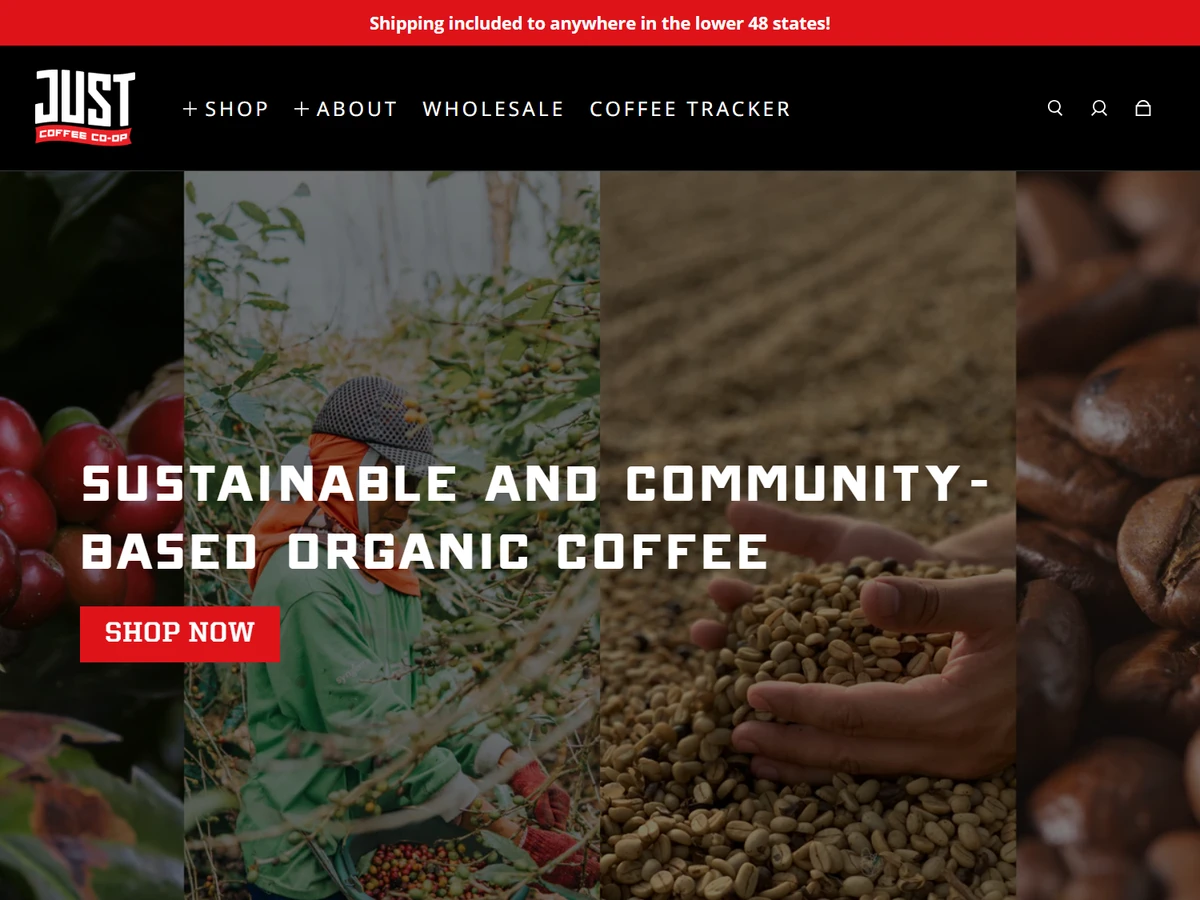 36. Folgers Coffee
Why it's good: Folgers is a famous brand with one of the best coffee websites today. The photos are the site's strongest feature. "We brewed this one up for all the doubters" sums up the design's impact nicely.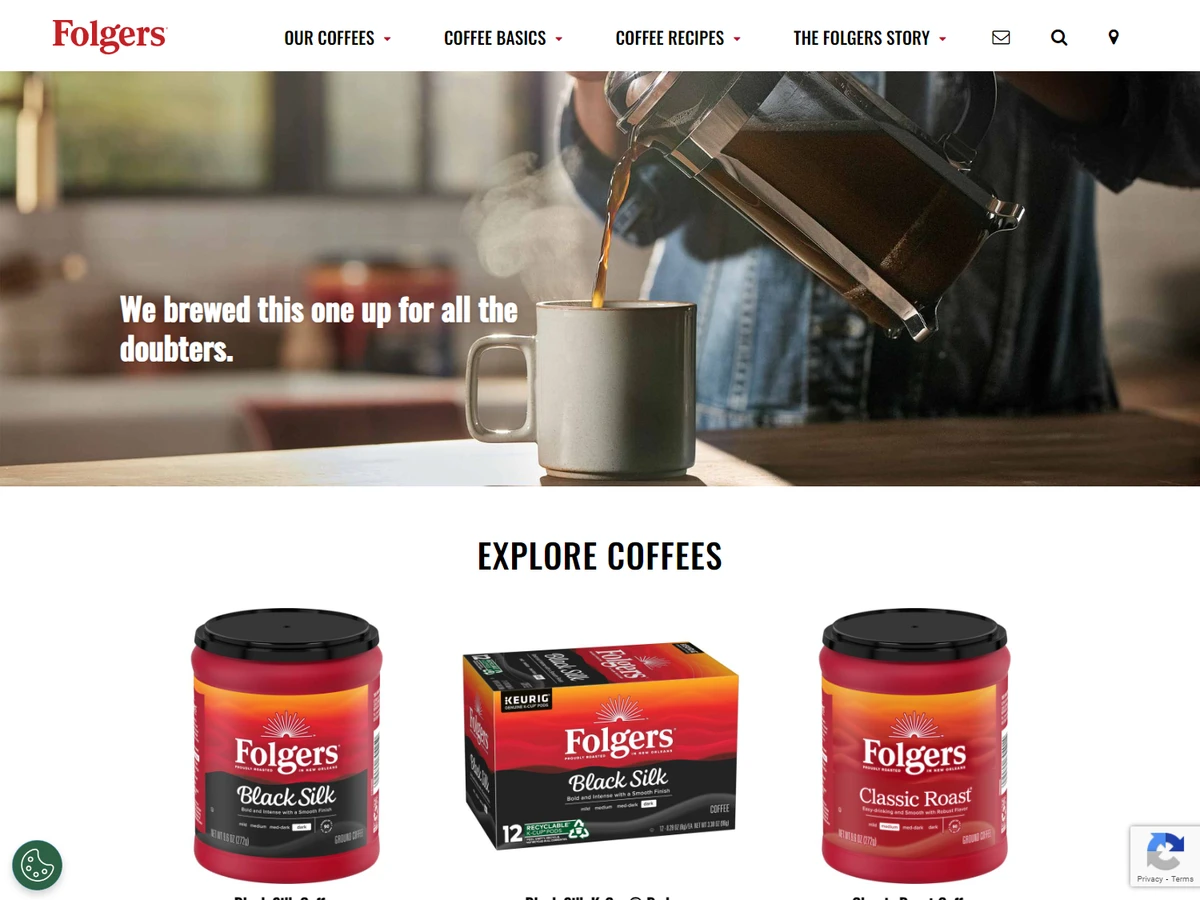 37. Ipsento Coffee
Why it's good: Ipsento utilizes a black and white color scheme and a fixed image background to set a distinct tone and mood. This is a simple coffee website design that does its job.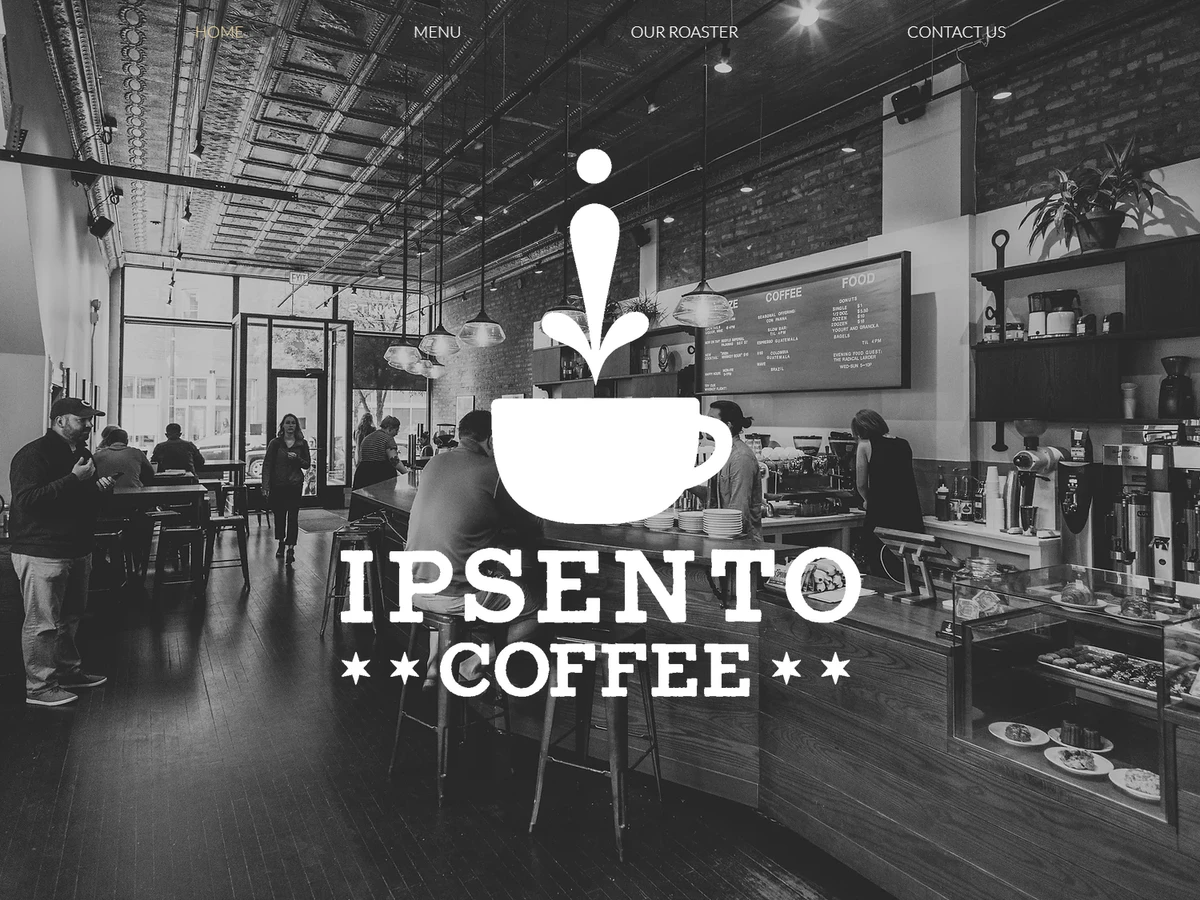 38. Gimme! Coffee
Why it's good: Gimme! Coffee has arguably the best navigation of all the coffee websites on this list. It is coherent, succinct, and helpful. One thing we love about this website, in general, is its fantastic organization.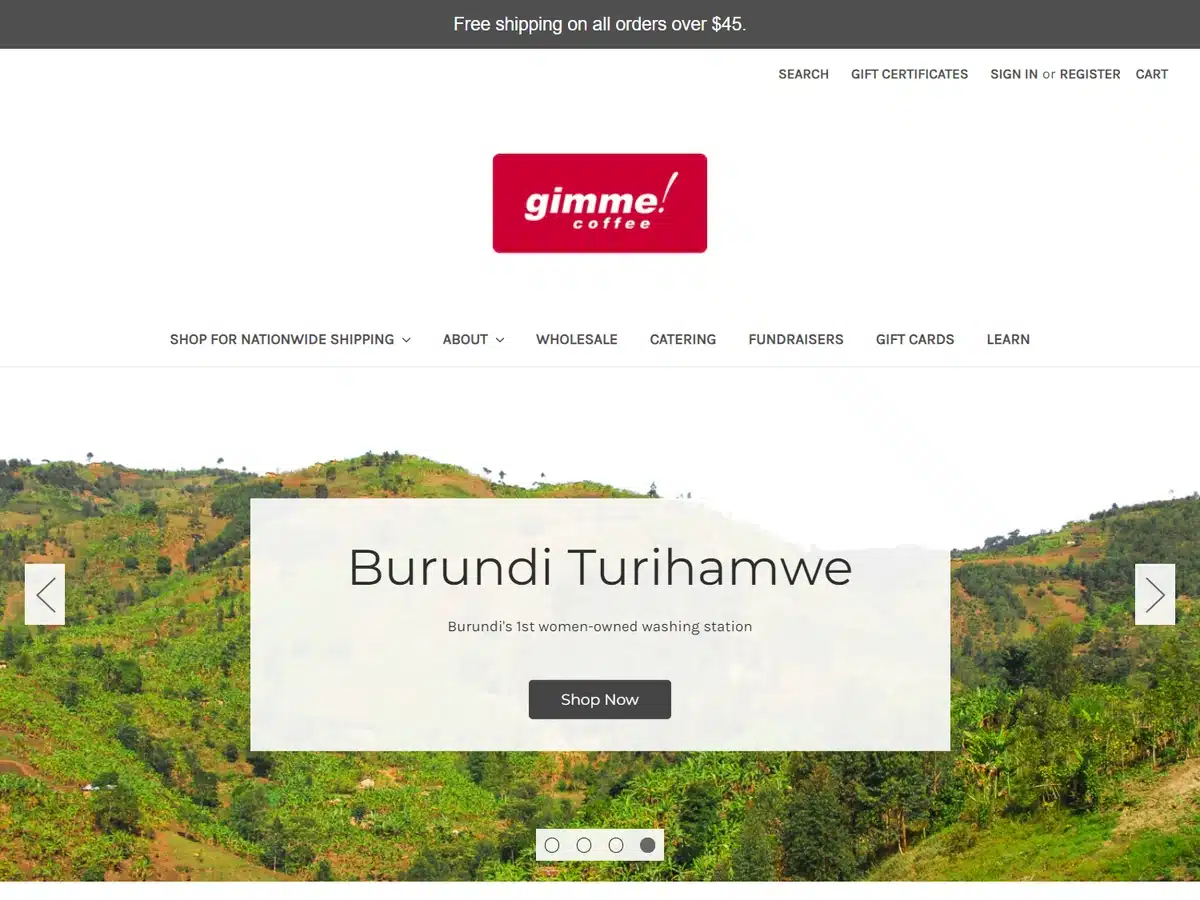 39. Death Wish Coffee
Why it's good: This is a very interesting coffee website with undoubtedly the most unique branding on this list. The website benefits from a bold red, white, and black color palette and skull imagery. People who enjoy darker design elements will love this site.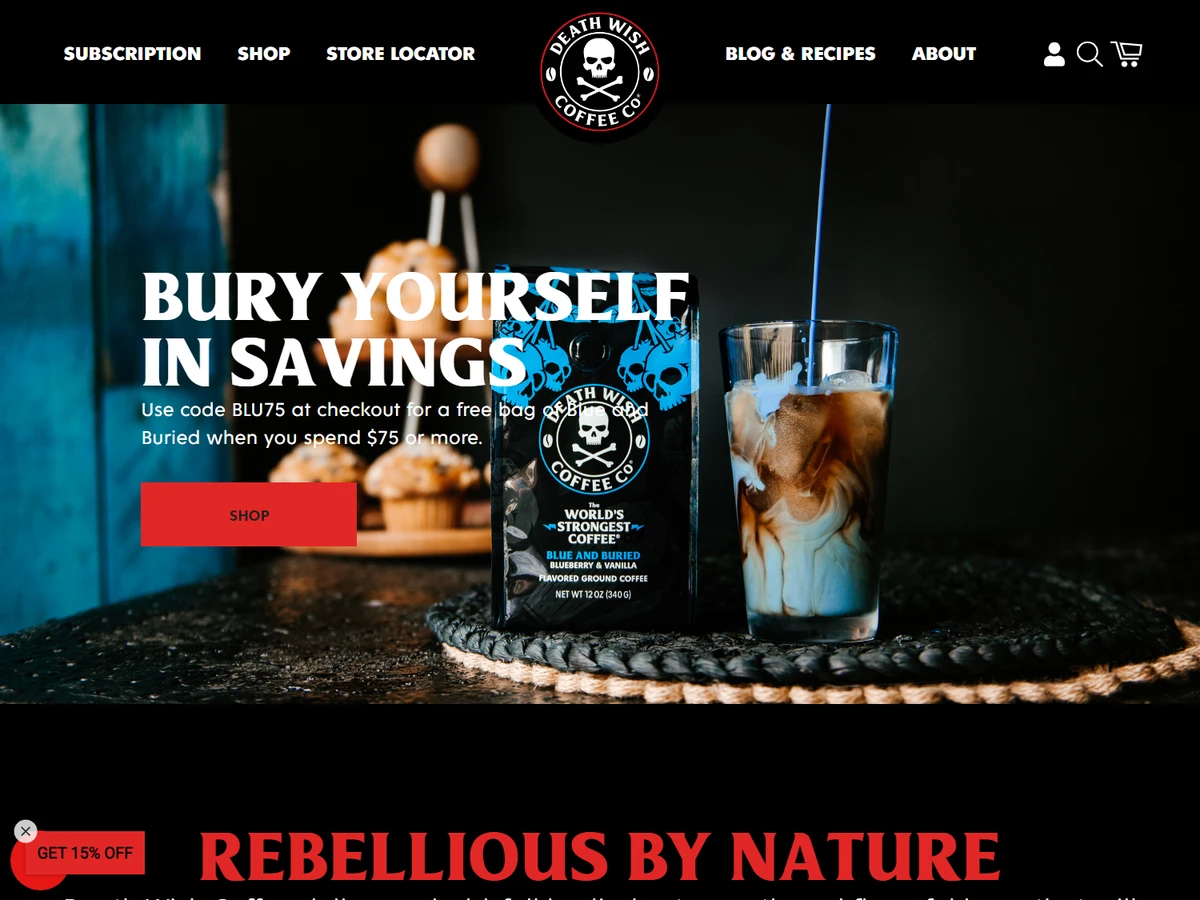 40. Peet's Coffee
Why it's good: We enjoy coffee websites that are organized like this one. The Coffee tab in the navigation offers a straightforward list of delicious products that are definitely worth trying.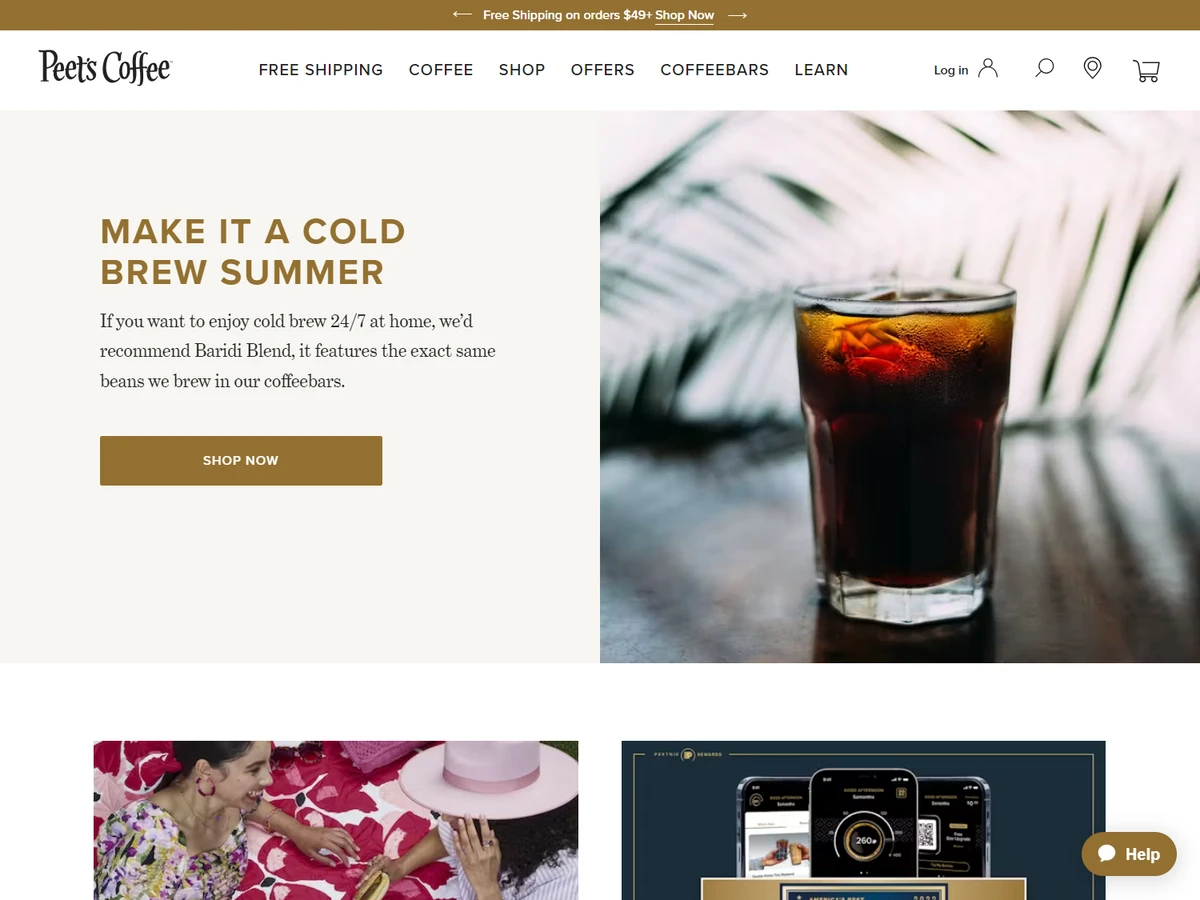 Coffee websites have changed the way we discover and purchase different coffee varieties and blends, making it easier than ever to find the perfect cup.
As illustrated in this roundup, the best coffee websites provide a range of choices that cater to different preferences.
If you're looking to create a coffee website for your business that effectively showcases your products, give us a call at 702-268-9000. Alternatively, you can visit our Project page to schedule a complimentary consultation.