Mistake #1 - Paying Too Little
Sometimes, businesses pay too little for a web design consultant due to budget constraints.
Budgeting and low-cost web consultants
If you're looking to hire a web design consultant, you'll need to set aside adequate resources to hire the right person.
This is because a low-quality web consultant can mislead you and cause all sorts of problems, such as:
Slow website speed
Security vulnerabilities
Incomplete website infrastructure
Subpar user experience (UX)
Hidden charges
Lack of SEO optimization
Lack of scalability
Neglect of mobile optimization
Outdated software
While we certainly don't advocate that you overpay for your website consultant, we do want to drive home the point that low-quality web consulting can seriously hurt your business.
We recommend taking a good look at the opportunity cost and the risk involved when looking for high-discount services.
» MORE: How To Reduce Your Risk of Hiring The Wrong Website Designer
Opportunity cost and your web design consultant
Collins Dictionary defines opportunity cost as, "the cost of not being able to do other things with time and resources because of doing the chosen activity."
Translation:
For every choice you make, there is a potential benefit you lose.
In web design, this applies to the decisions you and your web design consultant make throughout your project, whether it's choosing a particular design aesthetic, a specific plugin, or something else.
The problem of opportunity cost leads to two main risks when hiring a web design consultant:
1. It's possible that your web design consultant could make choices that divert time and resources away from more worthwhile endeavors.
2. Although less common, some unscrupulous web design consultants intentionally add tasks to slow down projects and charge unexpected fees. The cost here, of course, is not only the money you lose but all the things you could have done if you'd chosen a different web designer!
Hiring a web design consultant is a calculated risk. What direction will you take?

Web design consultant scams
Beyond mistakes and unscrupulous charges, you also run the risk of getting outright scammed when hiring a web design consultant.
To be fair:
This is not super likely to happen if you're careful about who you hire, but it still can happen.
Web design consultants are like the Wild West.
Scams occur because there are very few regulations, and WordPress and other platforms are open-source. This means anyone can slap together a website, advertise that they're a web design consultant, and claim to be an expert.
Web design consultant scam example
A common web design scam involves the use of a fake portfolio. Some scammers will showcase plagiarized designs to make themselves appear legitimate.
Then, once they've caught the attention of an unsuspecting client, they will request a substantial upfront payment.
Unfortunately, after receiving payment, these so-called consultants will usually vanish without a trace or, at best, deliver work that is far below the promised standard.
Follow the Golden Rule of Hiring a Web Design Consultant
Before hiring an unknown web consultant with no reviews and ultra-low prices, remember the following rule:
Cheap is expensive when it doesn't work.
Save money in the long run with professional web design
Hiring a web design consultant who is talented, honest, and willing to negotiate a fair price with you is definitely the way to go.
If you would like more information about our pricing, book a Discovery Call. We offer an entirely free, no-pressure consultation.
Mistake #2 - Paying Too Much
It's equally possible to pay too much for your web design consultant. More money doesn't always equal better quality.
Pricey web consultants aren't always better
Paying too much is just as bad as paying too little when hiring a web design consultant.
This is because there are plenty of experts who work for small, fair-priced web design consulting companies who can do an amazing job for you—often just as good as designers at big-dollar corporate companies.
Giant companies also sometimes tack on fees to cover their overhead, making them more expensive than necessary.
After all, who do you think pays for their huge office, bloated staff, and luxury lounge room with ping-pong tables? You do.
So, it's not a matter of finding a super-expensive consultant to build your website. It's about finding a reputable and skilled team that can offer you reasonable prices while following best industry practices.
Ask your web design consultant why they are so expensive
If you encounter a web design consultant with prices way higher than the average running rate, you have to ask why.
We mean it when we say you are at risk of paying for someone else's fancy rental space.
Find out what your web design consultant is billing you for
In addition to questioning high prices, it's a very smart idea to itemize what you're paying for. If you've already hired a web design consultant, and you haven't itemized your charges, we'd strongly suggest doing so now.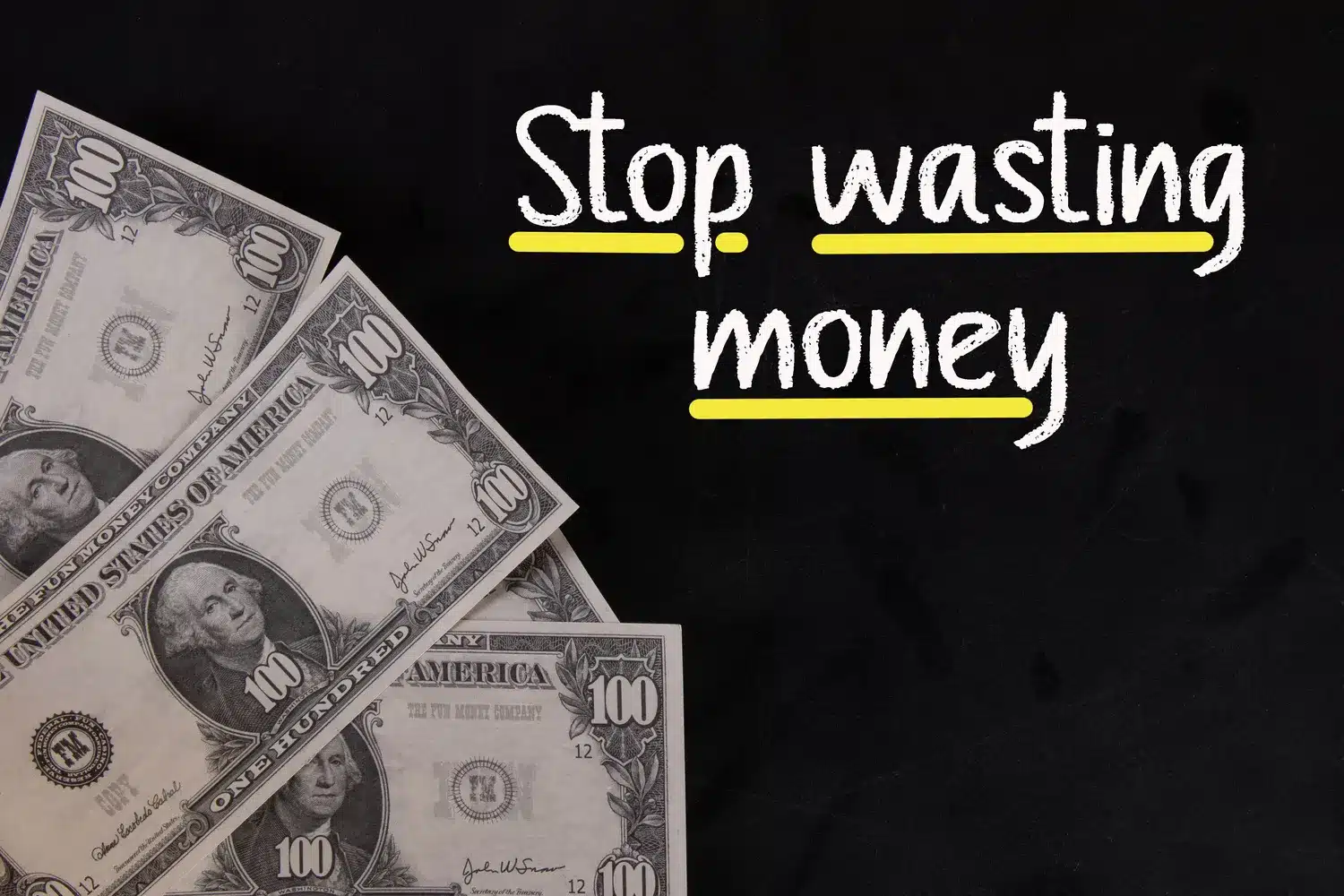 A final word about pricey web design consultants
Price considerations are extremely important, but ultimately, what matters is having a website you're happy with.
You can build an amazing website with a smaller company or a larger one. Much of this depends on your budget and your preference.
Note to startups
Some companies might promise you a one-of-a-kind, unicorn website that nobody else can build. While this may be true in certain rare cases, if you hear this, it's much more likely that someone is trying to sell you something.
Smaller designers who know what they're doing can usually provide you with the same quality design…and at a better price.
» MORE: See our Web Design Portfolio for examples of our work
Mistake #3 - Hiring A Web Designer For Web Development
Hiring a web designer to build your website isn't a good idea. Let's explore why.
Web development requires a certain skill set
You're probably wondering why hiring a web design consultant to build the core components of your website is a mistake.
Well, a web designer is not a web developer. The two have different skill sets.
Here is a comparison:
| Web Developer | Web Designer |
| --- | --- |
| Proficiency in coding languages: HTML, CSS, JavaScript, PHP, Python, etc. | Mastery of design principles: color theory, typography, layout, etc. |
| Focus on building and maintaining a website's core structure and functionality. | Focus on creating visually appealing and user-friendly interfaces. |
| Debugging and problem-solving to ensure website functionality. | Graphic design skills for creating visual elements and branding. |
| Database management and back-end development. | User experience (UX) design. |
| Implementation of responsive design for optimum performance across devices. | Prototyping and wireframing to visualize design concepts. |
Here is a good summary of web design vs. web development from CareerFoundry:

The main role of a web designer
Bear in mind that a web designer's main job is essentially to be a graphic artist.
Now, some people will take issue with this description, and to be fair, it isn't perfect. Web design is not the same thing as graphic design.
However, they are similar in that they focus on the aesthetics of a website and the front-end user experience.
With that in mind:
We should point out that some web designers also do web development. These types are usually referred to as front-end designer-developers.
The thing is, though, a lot of people who hire web design consultants think that every designer is also a developer, so they end up hiring the wrong people.
A web designer is not a marketer
Another thing we'd like to point out is that web designers aren't marketers.
They might be good at what they do, but they might not understand the core purpose of your website, your target audience, and what features your website needs.
Since a web designer is not a marketer, it's important to educate your designer about your products and services so that they can design your website in a way that makes sense for your brand.
At the end of the day, you want to hire someone who understands your business.
As for marketing, we recommend that you have a consultation with your designer about how they will incorporate marketing-friendly design techniques into your project before signing a contract.
Questions to ask include:
Do you understand the audience I'm trying to reach?
How will you ensure that the website design is SEO-friendly to improve my site's visibility?
How do you plan on incorporating strong and clear Call-to-Actions (CTAs) throughout the website?
Can you integrate social media sharing and other features to enhance my online engagement and reach?
How will you design the website to capture leads, and can it be integrated with email marketing systems?
How do you approach designing for mobile-first indexing, given its importance for SEO?
If you are less concerned with marketing, other questions to ask include:
Are you only a web designer or do you have other skills?
Do you have exit costs for website end-of-life (EOL)?
Do you outsource to third parties?
What are your project timelines?
What is your plan for meeting progress benchmarks?
Do you do on-page and technical SEO?
Should I get a website redesign? (To be asked if you already have a website.)
» MORE: Should You Get A Website Redesign or Fix Your Website?
Mistake #4 - Not Using A CMS
It's a mistake to not get a content management system when hiring a web designer since this allows you to make edits as needed.
CMS for ongoing web development
There is nothing more frustrating than not being able to make simple updates to your website, such as changing the text on a page.
Unfortunately, a lot of website owners end up in this situation.
Here's why:
Web designers, as talented as they might be, sometimes get so focused on the aesthetics of a website that they overlook the Content Management System during the site's build phase.
This can leave website owners frozen once their websites have been published.
Not having a CMS is a significant hindrance. Without it, website owners typically need knowledge of HTML, CSS, and possibly other programming languages to make changes, which can be daunting for those without a technical background.
Content management systems are usually easy to set up
The strange thing about this situation is that content management systems are typically easy to set up.
In fact:
One of the most well-known content management systems, WordPress, is simple enough that most people can learn to manage it with free online tutorials.
Ask about your CMS before hiring a web design consultant
Before committing to a web design consultant, ask about the content management system you will be receiving, as well as the backend.
A website that requires custom coding for basic elements is very different than a simple backend that you can edit almost anything on. So, this distinction should be made.
WordPress as a CMS
WordPress is a phenomenal content management system that is easy to use and is widely popular. This is the CMS we primarily use.
Shopify as a CMS
Shopify is a robust ecommerce platform that offers a range of perks to online merchants.
Check out this video from WPBeginner that covers the best and most popular CMS platforms in 2023:
Mistake #5 - Not Doing Your Due Diligence
A simple but effective strategy is checking your web designer's online reviews.
Due diligence when hiring a web design consultant
When hiring a web design consultant, a crucial first step is checking reviews, with Yelp and Google being two reliable sources.
The next step is looking at the designer's website. Does it measure up?
Some website red flags include:
Outdated design
Poor user experience (Difficult navigation, slow load times, or broken links suggest a lack of technical skills or attention to detail.)
Lack of portfolio
No client testimonials
No contact information
Spelling and grammar issues
Lack of responsive design
No SSL certificate
Missing privacy policy or terms of service
No clear pricing or service information
Your web design consultant should be able to answer your questions
Once you've found someone you like, we suggest putting together a list of questions, such as:
Can you describe your design process and the methodologies you use?
What measures will you take to enhance my website's security?
How do you handle website performance and page load times?
Can you detail your experience with different Content Management Systems (CMS)?
How do you manage website testing across different browsers and devices?
Can I see examples of your work?
Can you give me professional references?
Giving a less experienced web design consultant a chance
Depending on the answers you receive, you might end up liking a certain web design consultant and want to hire them, even if they aren't super experienced.
In that case, we say go for it (just bear in mind the risks). Your web designer doesn't need to be omniscient. They just need to be good in their field and good at problem-solving.
A designer who can problem solve will be able to take your requests and develop a mockup that is fantastic, even if they have never done a website in your niche before.
Clarify your contract before the project starts
Warning⚠️
Before signing a contract, definitely make sure you are crystal clear about what your designer is doing, how much they are charging you, and how long your project will take.
Mistake #6 - Choosing A Web Design Consultant Who Doesn't Lead By Example
We recommend choosing a web design consultant who walks the talk.
Choose a web design consultant who leads
A good web consultant has attributes that go beyond mere technical proficiency.
Here's what to look for when hiring:
Proactivity: A skilled web consultant anticipates challenges and acts in advance to mitigate them, ensuring the project stays on track.
Communication skills: Strong, clear, and timely communication are the hallmarks of a good web designer.
Problem-solving: The best web designers actively pioneer solutions to unique project challenges.
Decision-making: A web designer with strong leadership will make decisions that drive the project forward.
Client focus: Understanding and prioritizing your goals is vital. A web designer worth their salt will work collaboratively with you to ensure your website design aligns with your vision.
Adaptability: A web designer with leadership qualities stays abreast of industry changes and adapts their approach to leverage the latest tools and trends.
Accountability: Owning up to mistakes and rectifying them demonstrates integrity and responsibility, which are excellent qualities in a web designer.
Contact our expert web design consultants
If you're looking for an experienced web designer who puts you first, then you've come to the right place.
Whether you own a small business or run a larger organization, we can make you an amazing website.
The kinds of businesses we work with
Small and medium-sized businesses and some large businesses
Individuals who need new websites
Individuals who want a website redesign
System admins or employees of an organization looking to improve a website
More!
Sage Digital Agency's skill set:
Front-end development
Back-end development
Website speed optimization
Responsive web design
User experience (UX) design
User interface (UI) design
WordPress CMS
Ecommerce solutions
Custom theme and plugins
On-page search engine optimization
Cross-browser compatibility
Social media integration
Web security and maintenance
Database management and optimization
Web analytics and performance monitoring
A/B testing and conversion rate optimization
Dedicated web hosting
Continue your digital journey by visiting our WordPress Web Design service page.
Looking for SEO?
Is your website not getting any traffic? You might consider getting on-page SEO or an SEO-friendly web redesign, both of which can help.
See our SEO service page for more information.
You can also visit our Contact page to speak with our team!